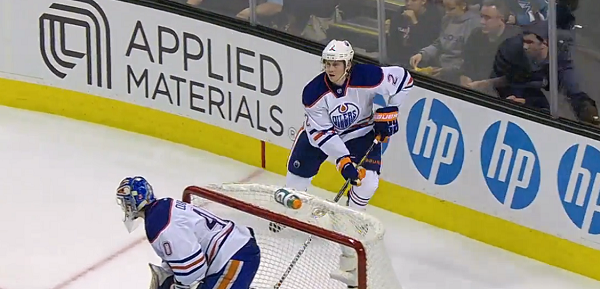 The Oilers defense has come under fire this season, mostly due to TOI usage. Observers wonder about Justin Schultz's excessive minutes and the results seen in that time on ice, especially when legit options are available in Jeff Petry and Mark Fayne.
VOLLMAN SLEDGEHAMMER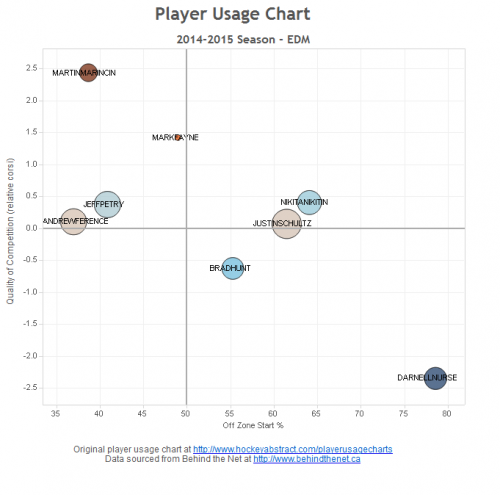 The Vollman shows (as it did with the forwards) Dallas Eakins is using his blue correctly in terms of deployment beyond ice time. This is 5×5 and CorsiOn, and we see several men in the blue at this point in the season. I think we can reasonably assume Eakins/Ramsay have figured this out, but there are areas they might want to look at in order to improve the team performance:
Use Mark Fayne more and Justin Schultz less
Try Nikitin with Petry for a few games
Sign Martin Marincin now
Try Fayne with Petry for a few games
Beyond that, I don't think there's much to quarrel over. I think the Oilers remain convinced that Justin Schultz is a clearly superior offensive player to Jeff Petry, but at evens I don't think that's obvious or even true. They're smarter than I am, but as Dennis King says it looks like an entire year is being devoted to proving Justin Schultz can play big minutes and be successful. The entire 6 is bending over backwards (in this graph) to get clean air for 19 and the results are wildly disappointing.
I have faith in this coaching staff to figure that out, but it might take all season. The reduced TOI in recent games is slightly encouraging. A signed Petry would be music!

The Oilers may be one of them, that would make the most sense. Even if he's a winger at heart, Loktionov has more experience at center than the Oilers' current wingmen and Edmonton has a major need. With Bogdan Yakimov injured in OKC (we'll probably find out how badly he's hurt today) the Oilers may make a move with the NHL team and then send Will Acton to the farm. Or at least that sounds reasonable in theory.

LOWDOWN WITH LOWETIDE
At 10 it's the Lowdown on TSN 1260. Steve Lansky from Bigmouth Sports gets us started and we'll talk World Series and NHL. At 10:25 Kent Wilson from Flames Nation pops in and talks about Calgary's impressive season. At 11, it's Corey Graham talking Oil Kings and their impressive start, followed by Paul Almeida and his Halloween poems. At 11:45, I'll speak to Grant Fuhr about his new book.
10-1260 text, @Lowetide on twitter.
Grant Fuhr! Seriously!