The Oilers ripped through the first 10 games of the season at 4-5-1, and I'd say there are about 10 guys you'd want to shake hands with for their efforts during that time—and one of them is Dallas Eakins (on my list). I like the job he's doing, and the problems on this roster lie above the coach and either have to do with a stubborn GM or what I'm (increasingly) thinking is a "controlled rebuild" in Edmonton.
VOLLMAN SLEDGEHAMMER THROUGH 10 (FORWARDS)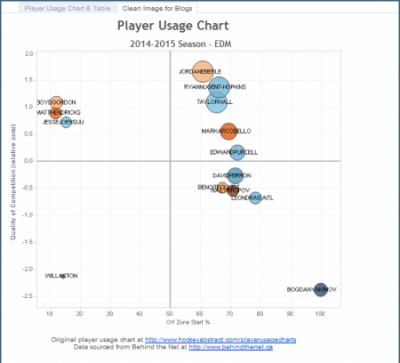 That's a solid board. Your checking line is in Death Valley, your skilled men are getting the ZS push and facing the demons, the second skill line is getting good ZS and the third toughest opps and the four line is beneath still waters. That's a good look, and as we discussed the other day the only issue is 5×5 points per 60—the Leon and Arco lines are going to need more crooked numbers. With that in mind, we saw new lines at practice Friday.
LINES (ON MY FACE)
Hall—Nuge—Eberle
Perron—Arco—Purcell
Pouliot—Leon—Yakupov
Hendricks—Gordon—Joensuu
We discussed Leon and Yak getting the band back together here, and as it turns out Eakins and his merry group of deep thinkers were thinking along the same lines (and probably miles before us). Yakupov played best with Leon early and this makes complete sense, hopefully they find chem and stay together through three Stanley's. One weird WOWY stat is Eberle without Hall (20%) and with Hall (53.2%) and smarter men than me will need to explain that (beyond small sample size).
VOLLMAN SLEDGEHAMMER THROUGH 10 (DEFENSE)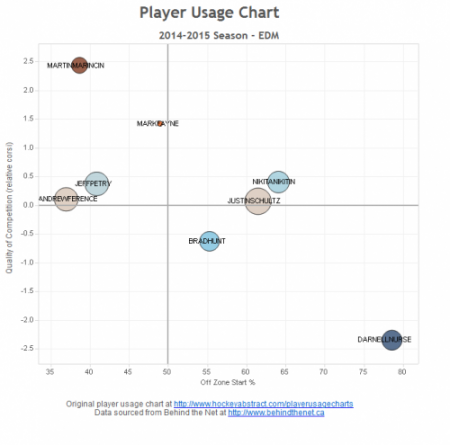 I think the period of adjustment for Fayne and Nikitin, along with the Nurse experiment and Marincin demotion, clouded our view of this group. While they do not have a Shea Weber, there are some nice defensemen here. The biggest weird notch in the graph is Fayne's piddly TOI, but one suspects that will increase as the year rumbles along. There's blue on the page, after a sea of red for ages. Music!
 WHO IS SCORING 5X5/60 (BTN)?
Jordan Eberle 2.52
Ryan Nugent-Hopkins 2.38
Taylor Hall 2.30
Benoit Pouliot 2.28
Nail Yakupov 1.69
David Perron 1.43
Jesse Joensuu 1.14
Matt Hendricks 1.11
Leon Draisaitl 1.10
Boyd Gordon 1.08
Justin Schultz 1.01
Tedd Purcell 0.99
Mark Arcobello 0.92
Niki Nikitin 0.91
Mark Fayne 0.83
Jeff Petry 0.39
Top line is scoring well, and the 4line is phenomenal considering where they start many of their shifts. Nail Yakupov's number isn't far from joy, if he and Leon can score that's going to be a big damn deal. How does Eakins protect them on the road trip? Not one damn clue.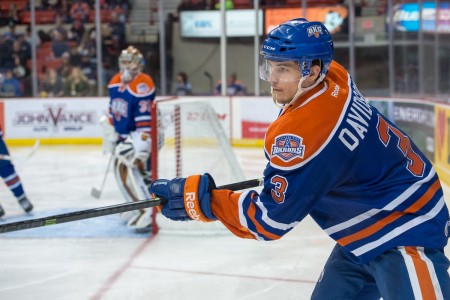 Brandon Davidson was sent down to Oklahoma City yesterday, he's had some tough injuries over the last couple of seasons but he remains a guy to cheer for as an Oiler fan. The Barons have several players performing very well and should a recall be necessary I would think names like Pakarinen, Lander, Klefbom and Pitlick would get consideration.
Iiro Pakarinen 6GP, 5-3-8
Jason Williams 5GP, 4-3-7
Anton Lander 6GP, 2-4-6
Oscar Klefbom 5GP, 1-5-6
Andrew Miller 5GP, 1-5-6
Tyler Pitlick 5GP, 1-5-6
Ryan Hamilton 5GP, 2-3-5
Jordan Oesterle 6GP, 2-1-3
Steve Pinizzotto 4GP, 0-3-3
Matt Ford 5GP, 1-1-2
Martin Gernat 6GP, 0-2-2
Bogdan Yakimov 6GP, 1-1-2
Curtis Hamilton 5GP, 1-0-1
Kale Kessy 5GP, 1-0-1
Dillon Simpson 6GP, 1-0-1
Jujhar Khaira 5GP, 0-1-1
Keith Aulie 6GP, 0-1-1
Martin Marincin 1GP, 1-0-1
Frans Tuohimaa 3GP, 4.22, .904
Richard Bachman 1GP, 2.84 .900
Laurent Brossoit 2GP, 4.07 .867
No word on Bogdan Yakimov, but the Barons play today so we'll at least know if he's well enough to play. This Pakarinen fellow is making some noise, ladies.