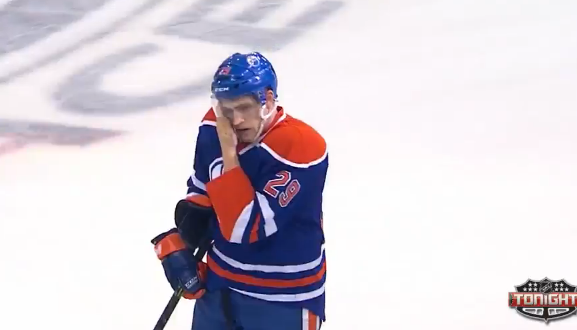 Leon Draisaitl is playing well. He appears to be getting better by the game, and on Saturday night he made a terrific play on the David Perron 2-2 goal against Vancouver. The Oilers are going to need offense from Draisaitl's line, on the road, in the coming weeks. Let's have a look to see how he's progressing.
LEON DRAISAITL 14-15
5×5 points per 60: 1.49 (6th among regular forwards)

5×4 points per 60: 2.10 (5th among regular forwards)

Qual Comp: 3rd easiest among regular forwards (

BTN

)

Qual Team: 11th best teammates among regular forwards (

BTN

)

Corsi Rel: 9.7 (third best among regular forwards) (

BTN

)

Corsi for % 5×5: 52.2

Zone Start: 79.2% (easiest among regular forwards)

Shots on goal/percentage: 17/5.88%

Boxcars: 11, 1-3-4 (on pace for 82, 7-22-29)
I think you can justify the investment in Draisaitl if he can deliver enough offense, and I've suggested 1.50/60 at evens would be acceptable. Leon's there now, but these are early days. The calculations that included Leon on this team also had Taylor Hall pushing the river offensively. I'll be very interested in seeing how close to 1.50 Draisaitl is when Hall returns. This road trip is going to be a good test for the big center. I have to say he's been fun to watch on this home stand.
I think not having the Hall cover may mean a tough month for Leon Draisaitl. It will certainly be a monumental challenge.
A story from Jim Matheson of the EJ about Jeff Petry is an absolute must-read today. In the article, Matty talks about the difficulty Petry has had with the fanbase, and gives us this incredible news about the player:
Representatives from the Newport Sports agency that represents him was in Edmonton in force a few days ago, presumably to feel out a new contract. If he's a second pairing defenceman, he's probably making $4 million a year or so, judging by contracts around the league.
What does this mean? It MEANS, that despite the one-year deal, despite the massive group of fans who don't and haven't appreciated him, Jeff Petry had his agency come to town to presumably "feel out a new contract." $4 million a year? I don't think that gets it done, but hopefully Petry will hear some cheers and have success this winter, signing a long-term deal in the summer (before free agency) with the Oilers.
If the Oilers are going to have success 2016-2021, and that is far from certain, they simply cannot afford to let talented players leave them for less than full value. And since the rebuild phase is (should be) over, then a draft pick in return doesn't help push the river. I've mentioned "controlled rebuild" previously, and for me Petry is a prime example of that idea. IF the Oilers are genuinely interested in turning north today and in the future, a signed Jeff Petry makes so much sense. If they're still somewhat attached to the idea of McDavid—Eichel—Hanifan, then it doesn't matter in the same way trading Dustin Penner for Oscar Klefbom didn't matter: You're building for a distant tomorrow.
In a way, the Taylor Hall injury gives us a chance to see how serious the Oilers are about 2014-15. If the club runs as-is, loses six of seven, then makes no attempt to improve the lineup, we have our answer. That old Chinese curse—"May you live in interesting times"—appears to have season tickets at Rexall for Oilers games.
A few news items to follow today:
Andrew Ference hearing, via rotary dial. I expect one game and wouldn't be shocked by three games. Either way, you will never read a critical word from the blog's author on the play. Reckless? Sure. Angry? Suspect so. Intent? Kassian would have been injured if that were the mindset.
Brad Hunt clearing waivers. It probably happens just this way, but you never know with defensemen. Not ever. And goalies too. Oilers once lost Steve Valiquette for crying out loud.
Oilers may make another move today. Ference, if suspended, will (I believe) remain on the roster, but Edmonton both waived Brad Hunt and IR'd Niki Nikitin yesterday, making room for a recall of another blue if necessary. I'm hoping it's Jordan Oesterle, Martin Gernat or David Musil, suspect it'll be Hunt.
Oilers may make another another move today. Hall will have to be placed on IR, meaning a recall is required. I'm cheering loudly for Iiro Pakarinen (he would be our first Iiro, but not the first Iiro in the NHL). I also think it makes sense to recall Anton Lander, but Luke Gazdic is the most likely recall based on the Oilers own established past.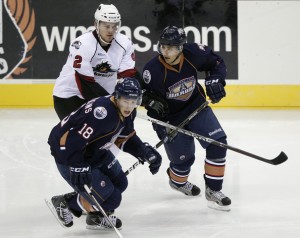 HOW DO I FEEL ABOUT THE NEXT FOUR WEEKS?
Surprisingly positive. There's a sense (imo) in Oilersnation that the Flames are going to make the playoffs and the Oilers will roll back down the hill to 28th, and after these years of suffering that's understandable. The Canucks are looking strong strong strong, and the Oilers have been up and down like a yo-yo:
0-4-1 start
4-0 middle
0-2 lately
However, there are signs of improvement in this team. Their Corsi is No. 19 overall (49.32) and there are some good performances (Nuge, Marincin-Fayne) going on. I think the Oilers can weather this storm and be alive when Hall returns. They are 4-6-1 now, and if they go 5-7-2 in their next 14 without Hall, the club will arrive at the 25-game mark with a 9-13-3 total (7-16-2 one year ago). I don't think Oilers fans expect the playoffs (I predicted 10th in the conference, 20th overall) but improvement season over season is vital.
This is an opportunity for Nuge to lead the way. That's a good thing.
LOWDOWN WITH LOWETIDE
At 10 this morning, we hit the air on TSN 1260. Scott Burnside begins things, we'll talk Hall injury, Ference hearing and all things NHL. Corey Pronman from ESPN will join us around 10:20 for a look at the top 10 outside McDavid, Eichel and Hanifan. At 11, Dennis King roars in on a monster chopper to deliver the gospel to a waiting city, and at 11:25 I'm looking at having a football guest (the situation is fluid).
10-1260 text, @Lowetide_ on twitter. See you on the radio!