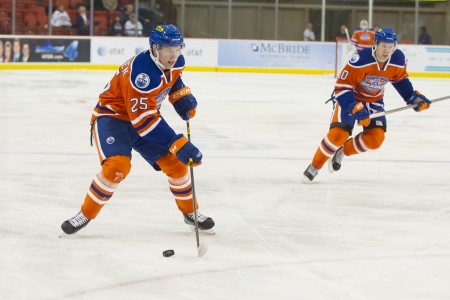 There's more than one kind of pickpocket.
Back in the old Sather days, the GM would find a way to trade two 6's for a 10 and the Oilers would magically have a LW to fill in until Taylor Hall returned. You might think I'm making this up, but I swear he did it and more than a time or two. Today's NHL doesn't give the smart GM's a chance to fleece the dumb ones because the dumb ones can't get hired anymore.
So Craig MacTavish and Dallas Eakins decided to try Will Acton in that spot a night ago, and the team didn't mark their man terribly well. In the world of sports, that means a tweak, and since nothing can stand in the way of Luke Gazdic's roster spot, Acton is on waivers this evening and off the the Barons tomorrow. Meanwhile, we get to discuss replacement possibilities, but of course we've been discussing them for awhile now because we're the cool kids.
There's more than one kind of pickpocket.
The natural order of things has the kids who turned pro in 2011 now graduating to the NHL. For the Oilers, that would be Tyler Pitlick, Anton Lander, Curtis Hamilton, Ryan Martindale and Cameron Abney. Pitlick, Lander and Steve Pinizzotto (acquired for Martindale) are all candidates for callup tomorrow, but Hamilton and Abney have not progressed and wouldn't be considered at this time.
Tyler Pitlick got the call at just about this time a year ago, but he's concussed currently and won't be recalled despite a strong start to the year (6GP, 1-5-6). Lander can play the wing, he played in a utility role one year ago, but with the club sending out Acton it's perhaps unlikely the Swede gets the call.
Steve Pinizzotto is probably under consideration because he brings a physical element, and he has had some limited NHL experience. Against a team like Boston, the Oilers are clearly interested in bringing the heavy (Keith Aulie is drawing in for Martin Marincin) and Pinizzotto is a game rooster.
There's more than one kind of pickpocket.
Elite Prospects: A large winger shooting from his right. An energetic player with good skating and a nice frame. Possesses a good sharp, wrist shot and is a solid finisher. A hard worker and versatile player who can also play as a defenceman. (Matias Strozyk, 2012)
IIRO PAKARINEN RE 14-15 PREVIEW
| | | | | | |
| --- | --- | --- | --- | --- | --- |
| PPG | NAME | GP | G | A | PTS |
| .517 | IIRO PAKARINEN OKC RE 14-15 | 60 | 17 | 14 | 31 |
| .143 | IIRO PAKARINEN OILERS RE 14-15 | 7 | 0 | 1 | 1 |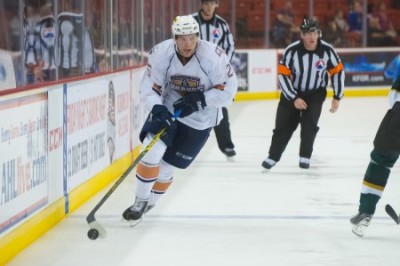 My money is on Iiro Pakarinen, who appears poised to swoop in and steal an NHL job. We talked about him as a TC hopeful here. He's basically the same age as Pitlick and Lander, and is lighting up the AHL in his North American pro debut. (Barons photos by Rob Ferguson, all rights reserved).