Cheering for the underdog and watching teams build to a crescendo are two of my favorite things about sports. The late 1960's Boston Bruins is where I came in, and they offered a young fan both the underdog and the build. I knew the Bruins were an underdog because my Dad told me and the few times I saw them on television it would always be bad for Boston when they posted the score. Same with the Rangers of my childhood.
Along about 1969 they got good, I remember they lost an OT game to Montreal (Beliveau scored) somewhere late 60's in the playoffs and that might have been the first time they made the postseason in a long while (this is from memory, although I'm sure I've looked it up over the years). The 1970 Bruins were so grand because they won it all and broke a long, long run of Stanley's for Montreal and Toronto:
1961: Chicago Blackhawks
1962: Toronto Maple Leafs
1963: Toronto Maple Leafs
1964: Toronto Maple Leafs
1965: Montreal Canadiens
1966: Montreal Canadiens
1967: Toronto Maple Leafs
1968: Montreal Canadiens
1969: Montreal Canadiens
1970: Boston Bruins
That's a lot of Canada. Anyway, the Bruins were cool for kids because they WEREN'T your Dad's team and they didn't have a long tradition of greybeards like Teeder Kennedy and Rocket Richard complicating things. The Boston Bruins of my childhood were long hairs, hoods and rowdies. In other words, perfect. When my Dad decided he hated Derek Sanderson, my fate was sealed.
The Bruins were adding insane talent during the late 1960's, one of the best clusters in the game's history. Here are the Bruins rookies by year 1966 through their first Stanley in ages in 1970:
1966—Bobby Orr, Joe Watson, Gerry Cheevers
1967—Derek Sanderson, Glen Sather
1968—Wayne Cashman, Rick Smith
1969—Don Marcotte, Garnet Bailey, Jim Lorentz, Jim Harrison
That combined with the Phil Esposito trade put them over the top. I've been thinking about this Bruins team, because as much as it was about Orr and Esposito, it was also about Cashman and Sanderson and Donny Marcotte. Role players are readily available until they aren't, and then you're screwed. Do you trade a Jack or King for 7's? God no. So, how do you get them? Draft, trade, free agency.
Find good players. Is the answer Iiro Pakarinen?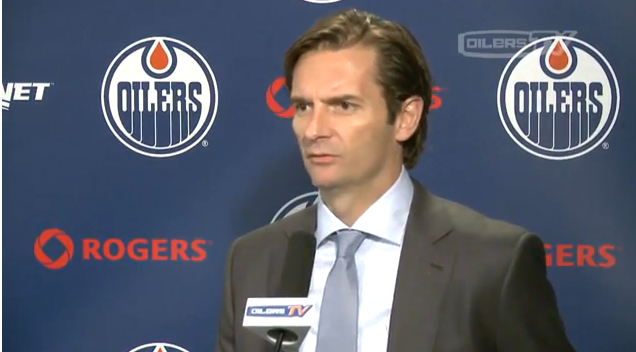 WHO WAS DALLAS EAKINS TALKING ABOUT?
"People are wired a certain way, they have a certain DNA, and when it comes to that there are different ways to go about it. The one thing you don't want to get caught in is every 10 days you have to try and jump start a guy. If you're jump-starting your car every 10 days, you are probably getting rid of it."

 MARINCIN SCRATCHED?
A lot of upset in Oilers nation yesterday when it was announced Martin Marincin won't draw in against Boston. I think it's fine to give young players a night in the gondola to get a fresh view, and there are a bunch of blue who could be better (I'm looking at everybody not named Jeff Petry). It is difficult to project Keith Aulie into the lineup and seeing improvement, but this is a young team on the road and tonight they may just be worried about getting out alive. I think there's a 100% chance Aulie ends up in the penalty box.

HOW BAD IS THIS TEAM?
The Oilers this season are better (so far) than a year ago. Taylor Hall's injury may have something to say about what the analytics reflect three weeks from now, and the home/road ratio skews these numbers handsomely, but here are a few items of interest this morning:
Fenwick 5×5 is 48.14%, which ranks 23rd in the NHL. A year ago, that number was 44.28%, ranking Edmonton 28th in the league.
Fenwick 5×5 close is 47.53%, which ranks 25th in the NHL. A year ago, the same number was 43.61%, good for 28th in the league.
Oilers shots-against/60 is 30.2, ranking them in a tie for 18th this season. It was 32.9 and 26th overall in 2013-14.
Oilers shots-for/60 is 28.1, ranking them in a tie for 24th this season. It was 26.9 and 26th overall in 2013-14.
The shot differential this season (-2.1/60) is much stronger than a year ago (-6.0/60). Of course, the Oilers have played only four away and eight at home so far in 2014-15.
The Oilers haven't had a goalie steal a win many times this season (1)? I think you could argue they lost a couple, though.
 RODGERS IN OKLAHOMA
Interesting numbers and estimates from  Eric Rodgers, Tend the Farm. I won't take his entire graph and post it here, but he's run the numbers (overall and EV) and given TOI estimates for each player. Iiro Pakarinen (in photo by Rob Ferguson, all rights reserved) is 6-1 in EVGA-EVGA and should be on his way to Boston as we speak. Steve Pinizzotto (4-2) and Tyler Pitlick (4-3) could also be up for the job, but Pitlick's concussion protocol likely excludes him. Surprise name doing well? Mitch Moroz. I thought he'd take more time to adjust, good for him. As always warnings about sample sizes, but a fine item from Rodgers.
WHAT THIS TEAM REALLY NEEDS
A few whispers here and there (and of course it's wild on twitter) about Dallas Eakins continuing employment should things continue to slide. As I mentioned yesterday, it makes no sense. This is clearly the middle of the story, not the conclusion. I agree that Eakins will be in peril if this train comes in No. 28 again, but we're miles from that conclusion: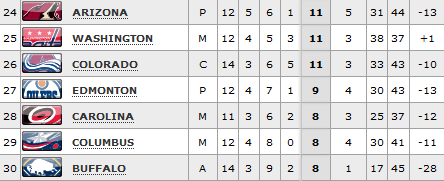 I don't think Craig MacTavish can reasonably say:
He has given Dallas Eakins a balanced roster
All of management's decisions have been focused on winning games, starting from game 1
No. I'm astonished that Craig MacTavish, who said at the beginning of the season the team would address center if it became an issue, remains unwilling or unable to help  his coach. And with that, the coach is off the hook. He just is. You can't send a man into the breach outgunned and call it failure. The rebuild continues, the Oilers are aiming for No. 20-25 this season and another high pick. I can't see any other way to explain inertia at addressing center, the wobbly auditions on the blue that as of tonight are 13 regular-season games old, and the bizarre lineup iced against Philly (breaking up the 4line, splitting Marincin-Fayne, etc).
It's wildly disappointing to contemplate another season behind Calgary, another season in the ditch, another season of Taylor Hall's wonderful contract clicking over. We are here. It makes no sense to fire the coach without gifting him a balanced roster, and there is improvement—just not enough, and help (a center) is not on the way. Instead, Keith Aulie arrives from the dust bowl in time to fight the sons of Paul Revere.
We hoped for the best, and it turned out the same. There's no future in dreaming. None.
LOWDOWN WITH LOWETIDE
At 10 this morning, TSN 1260. Guests include:
Dennis King, Oilogosphere icon. We'll talk about the Oilers and tonight in Boston.
Sean Beissel, Campus Director at Donnan Hockey. ASK THE COACH, feel free to send in questions.
Guy Flaming, Pipeline Show. We'll discuss the fluid Greg Chase situation.
Alex Thomas, Oilers Rig. Nothing like a Bostonian who is an Oilers fan to preview the game!
Geoff Hobson, Bengals.com to preview the NFL Thursday nighter.
Dave Jamieson, Oilers, NFL, CFL and more.
10-1260 text, @Lowetide_ on twitter. Talk soon.

Don't panic, it's only paper. Marincin is one of the six best defensemen on the team, but he's struggled. A night in the pressbox or even a weekend in OKC won't hurt him. Good for the Finn, hope he scores a goal.