That second period last night was a wonderful thing. The Edmonton Oilers, on the road, were quality against a good (but banged up) Boston Bruins team. They scored early in the third, and then someone let the dogs out and that's all she wrote. For fans, that 20 minutes (second period) represented hope, turning north, a nipple slip and a come hither smile on a Friday night, the demon rye, rock and roll, legs for days. Music! For 20, then back to your regularly scheduled programming.
CURRENT STANDINGS

ONE YEAR AGO

Pretty close, no? The kicker: A year ago, the Oilers home/road ratio (4 home/9 away) was more severe than this year (8 home/5 away). Which brings us to today's question: Are the Oilers better? I think they are. And you're saying blasphemy! Burn him! Settle down, have another coffee and let's chat. The Corgi's are barking, and say the team is heading in an interesting direction.
WAR ON ICE CORSI % BY YEAR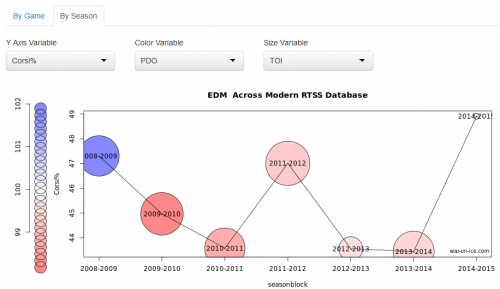 Early days but there's some nice stuff here (via War-on-Ice) and this suggests a turn north is nigh. Why isn't it showing up in the won-loss record yet? Well, honestly, the goaltending has been inconsistent again to start the year and the defense is wobbly—meaning execution, which at this point I'd vote in favor of in several situations. But the numbers are there ladies, and I think it would be a damn shame to shiv the coach now. Seriously. And the PDO is going to come around, at least a little.
THEN A TRADE?
Cliff Fletcher ages ago: "Montreal Canadiens' philosophy on trades, going way back, is if you're getting the best player in the deal don't worry about the sum of the bit parts thrown in. so the key is to get the best player. "
No one loves trades more than me, but the Oilers aren't going to get an even trade today. I think they could help themselves with a veteran center, and would love to see a 25-minute a night defender come this way, but both are a distant bell. What would Sam Pollock do? Plunder, but that's not available now. I do think the Oilers need to make a hockey trade, and that means trading a Marincin or a Klefbom or a Perron. This team badly needs a push and this city cannot keep it together for another winter of losing. At some point, someone is going to buy a "Got McDavid?" billboard that can be seen from the offices on Kingsway, and that'll be the story of the season (and for God's sakes DON'T do that, please).
LET IT BLEED

Tyler Dellow tweeted that out fall 2013, and I think it applies today (it is here).  And then this in December:

I don't like what's happening here, because losing causes rage and losing also inspires change, and in this case that doesn't appear to be the right call. I understand Dallas Eakins isn't everyone's cup of tea, but that's not the vital item. Personality isn't important in this case, we're not choosing a son-in-law here, ladies. What IS important? Turning north, which comes via:
improving the possession game
players performing at expected levels.
War-On-Ice tells me this morning that the Edmonton Oilers' CorsiClose 5×5 is 49.92% idling in the driveway. Blood pressure is a little high, but the timing is better and the engine is running cool. The tank is full, the highway is waiting and adding one important piece (veteran C) may allow a 'take it to the limit' power drive through Christmas and into the new year. We wait.
YOU'LL NEVER WALK ALONE
Years ago, I was in a sales seminar. If you're in media sales with a big company, you've done dozens of them. Usually you can take one or two things from them, and honestly they have value, but there's just so damn much packed into a three-day period most of it becomes waste. Anyway, one time I was in a room with 20 respected colleagues and the instructor stated she would divide us into categories based on personalities: Driver, Expressive, Amiable and Analytical.
I knew I was dead as soon as she told us what she was doing. Because, even though we all have two (or more) parts of those four categories, the dominant one is obvious. So, the instructor asked the drivers to walk over to one corner, and more than half the room did just that thing. Next, the expressive group and they numbered three or four. Analytical types? Again three or four. Which left me and the instructor, and the instructor was a driver.
Now, you may think I was uncomfortable, but I was among friends and it made no difference to me. I knew what I was, knew I was different—hell growing up Jehovah's Witness has made me different in just about every room I've ever been in! I've not only gotten used to it, I'm comfortable in that situation, or at least when I'm with people I know.
Anyway, the point of my story is this: IF the Edmonton Oilers' management believes in the analytics, believe in Dallas Eakins, then they should continue to go down this path. As wonky as games like last night (and photo's like the one above) may appear, being different doesn't necessarily mean being incapable. However, and I've railed on this since summer, you have to give your people the best chance to succeed.
In the Oilers case, that isn't a seminar, it's a veteran center. A veteran NHL center who can play in a platoon with Leon and Arco and cover when injuries occur. Craig MacTavish needs to get that done now, today, in order to give his unusual team the best chance. And if it fails, it fails. Not every innovation is going to become a household need, and not every amiable in a sales department is going to make a living.
One more veteran pivot up front, I maintain it will make a world of difference. Building up the middle is a central theme in sports for a reason. The Oilers owe it to their fans, to their team, to Dallas Eakins, to give this every chance to succeed. In this century, the Edmonton Oilers have had balance, true balance, from the trade deadline 2006 through SCF that year. These men, the ones who wear the orange and blue, they are worthy of the investment. It is time to turn north, and await the beautiful spring.
BUFFALO
No idea. They could win 7-1 or lose 7-1. I hope Nuge slept well, he was a man out there last night. Jeff Petry too, he is such a good hockey player. If the Oilers lose tonight? Well, the pressure just gets more difficult for management and the team. I hope Craig MacTavish is reading these stats and seeing good things, and I sincerely hope he's going to do the right thing and gift this team and this city an actual NHL center.
LOWDOWN WITH LOWETIDE
At 10 this morning, TSN 1260. Scheduled to appear:
10:05 Steve Lansky, Bigmouth Sports. Oilers, Leafs, maybe some Jays too.
10:25 Brian King, NonStop Sports Picks and inventor of PDO. Eskimos, maybe an Oilers question, too.
11:00 Jeff Chapman, Copper and Blue. Breakdown of last night, how do they turn north, best show tunes.
11:25 Open line. Your opinion. 10-1260, and Lowetide_ plus the comments section here.
11:40 Dave Jamieson, CFL, NFL, Oilers, yadda yadda.
Same bat time, same bat channel.