The Edmonton Oilers are 6-8-1 after 15 games, a nice step up from 3-10-2 one year ago. This is a team finding out some things about itself: They can tighten up like Archie Bell (for extended periods) and they can win two in a row without Taylor Hall. This is a great feeling, hold on to it as long as you can, and then let it linger a little longer.
Music.
Dallas Eakins deserves a great deal of credit for forward deployment, and it looks like they're slowly coming together as a defensive unit. It's easy to forget that chemistry doesn't happen overnight and the final piece might be Nikitin-Petry but we'll see. I also think the Oilers might have found their starting goaltender on the trip.
Benoit Pouliot appears to be a target this fall, as that contract has many wondering how he'll cover it. I like him plenty, and will consider this deal a strong one if the big man keeps doing what he's doing. A large winger with size and a physical element, he's been babysitter (early) and then moved up to the big line when Taylor Hall was injured. I see Pouliot as the exact player Edmonton has been pursuing in the draft since Brad Winchester in 2000. He's a big man with enough skill to play a complementary role with really good players (usually smaller) and give the other side a different bat to worry about in the lineup. He's not exactly a power forward, but (like David Perron) can supply that agitating, hustling component and win board battles. I'll call him a modern Wayne Cashman, although that arrow shoots past its mark by more than a little.  I'm loving Benoit Pouliot as an Oiler.
Baby Nuge is all grown up. In the biggest city in the NHL, the young man walked into historic Madison Square Garden and skated like the wind, scoring and creating and generally establishing he was the best player on the ice. I wrote about this day back in the late summer, and would like to quote the final paragraph (imagine a cat kicking another cat off a bed while reading):
So, for those who question the Nuge, his game, his ability get a stick out of his cage (it's probably pretty damn difficult) and anything else, party on. One day soon, Ryan Nugent-Hopkins is going to shock you just like that cat-in-the-bag shocked the kitty kat on the bed above. Nuge will come to your town, play a complete game, and his team will leave with two points.
Five years. You have to wait five years because by then you know what the player is, and we're a year away from five years with Nuge. We're still getting to know Yakupov and all of those second and third and fourth round picks. It's so hard to be patient, but remember someone once waited for you to get to where you are now, maybe even enjoyed watching you grow up. I've thoroughly enjoyed RNH's ascent and can't wait for the next five and ten years. Last night was splendid, just outstanding. What a hockey player.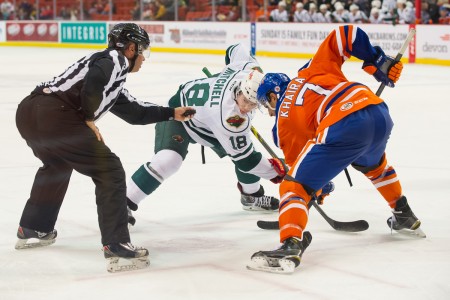 THE FUTURE
I'm doing quite a bit of work on the Top 20 Prospects lists these days (No. 2 prospect will post at 5pm) and one thing that's coming obvious is two recent drafts (2012 and 2013)  are putting a great deal of importance on size.
Bogdan Yakimov 6.04, 232
Darnell Nurse 6.04, 205
Daniil Zharkov 6.04, 212
Jujhar Khaira 6.03, 214
Mitch Moroz 6.02, 214
Anton Slepyshev 6.02, 194
Leon Draisaitl 6.01, 210
Marc-Olivier Roy 6.00, 185
That's a lot of heavy bodies coming into the system, and even a guy like Iiro Pakarinen (6.01, 215) is a load. I'm not saying the Marco Roy's and Andrew Miller's and Kyle Platzer's won't have a place, but they're going to be out there with some bigger men. The question I have about all of the men on this list: How many of them can skate well enough to flourish in the NHL?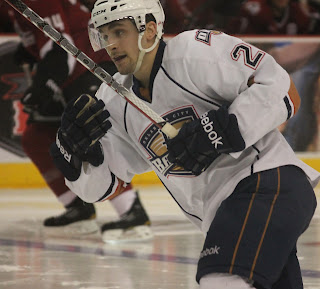 ARCO!
Earlier this season, our man Arcobello looked pedestrian. I don't mean defensively or without the puck (he's got 'future coach' written all over him) but in terms of helping out on the offense. He's now at 15GP, 4-2-6 and on pace for a 33-point season. Nothing stellar, but in his role (2line C on the road, 4line C at home) that's good production (1.19/60 at 5×5 via BTN). Eventually Leon will pass him, but the small center is filling an important role this season.
LOWDOWN WITH LOWETIDE
TSN 1260, 10 this morning. It'll be a fun show, with Scott Burnside from ESPN (10:05), Eric Rodgers from Tend the Farm (10:25) and Dennis King (11:05) providing the entertainment and wisdom. Your chance to chime in on the winning comes at 11:25, and I'll talk Eskimos with Dave Jamieson at 11:45.
See you on the radio!