This is an exciting time to be an Edmonton Oilers fan. (Clears throat). THIS is an exciting time to be an Edmonton Oilers fan. Now that I have your attention, allow me to state my case.
Ryan Nugent-Hopkins is pushing the river.
When Taylor Hall returns the Oilers might have two lines with a river pusher.
Benoit Pouliot may in fact be that unicorn LW who can help with possession, scoring and physical play.
Nail freaking Yakupov.
Jordan Eberle is having a good season at even strength.
Mark Arcobello! Lordy. We should call him Timex.
Boyd Gordon and his demon forechecking linemates Jesse Joesnuu and Matt Hendricks.
Iiro the Hero!
Jeff Petry can wheel.
Mark Fayne is helping with the Keith Aulie.
Viktor Fasth as lightning.
Dallas Eakins deploys the troops like a boss!
TURNING NORTH! (BIG BRAIN SAYS GOOD THINGS ABOUT TEAM!)
Michael Parkatti is a frequent guest on the Lowdown (he will appear again later in the week) and writes brilliantly about the Oilers. He also produces graphs and diorama's for learning, and this time it's a fancy stats breakdown at 15 games. The Corgi's are dancing, baby, and Parkatti is bringing the results in verbal form:
Parkatti: My expected goals formula suggest they've scored 2 goals less than I'd expect and given up 9 goals more than I'd expect given shot locations and types.  So, a touch unlucky on the shooting side, and some amazing combination of sub-replacement level goaltending or historically bad luck on goals against.
And here we are. The Edmonton Oilers are 6-8-1 AND they're not performing at do (re-mi). The downside? They are about to meet some powerful opposition who will stuff your Corsi's in a sack, mister! Put another way, the Oilers didn't get enough out of these 15 games to give themselves any kind of wiggle room against the monsters of the midway. The hammer and the thunder and the floods and pestilence are coming, and we have three sacks of wheat, oatmeal and enough water until Saturday.
Hang on to this, friends. The Edmonton Oilers are turning North. Finally.
5×5/60 (BTN) FORWARDS
Taylor Hall 2.59
Jordan Eberle 2.41
Ryan Nugent-Hopkins 2.31
Benoit Pouliot 2.03
Teddy Purcell 1.67
Nail Yakupov 1.66
David Perron 1.48
Matt Hendricks 1.47
Mark Arcobello 1.19
Leon Draisaitl 1.14
Boyd Gordon 1.11
Jesse Joensuu 0.76
That's a mighty fine list (technically Iiro Pakarinen is No. 1, 2.84/60, but he's played only three games), especially if Yakupov and Purcell can clear 1.80/60. I was mulling over the idea of keeping Pouliot on the 1line when Hall returns (making it the 2line) and Dennis King suggested this yesterday:
Hall—Arcobello—Yakupov
Pouliot—Nugent-Hopkins—Eberle
Perron—Draisaitl—Purcell
Hendricks—Gordon—Joensuu
Thoughts? I would love to see 2 scoring lines (unicorns!) but sincerely wonder if that's possible with this team, this year. Hall and Nuge can each drive the river though, so if you keep them apart until needed, it gives the coach another gear. This is so much better than talking about remaining patient! More please!
BARONS PLAY THIS MORNING!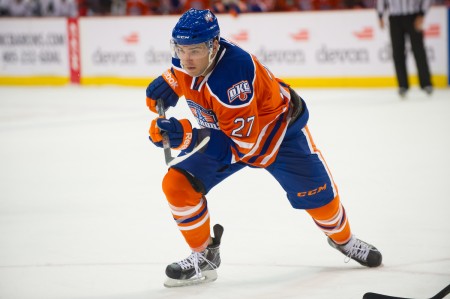 The AHL is delightfully quirky, and today there's a morning game on the slate. I spoke to Eric Rodgers yesterday, and he had good things to say about Mitch Moroz (in photo by Rob Ferguson, all rights reserved), Dillon Simpson and Curtis Hamilton. Rodgers told me that Moroz (despite not scoring) was having a positive impact on the game in the early days of the year. That's a hopeful sign, as new hires (especially the 20-year olds) often take a long period to adjust. Similar story for Simpson, a little older and with the college experience, but Rodgers detailed a specific strong defensive play where young Simpson aided Jordan Oesterle after a wayward decision.
The Hamilton news is interesting and I wonder if he can stay healthy long enough to get an NHL cup of coffee this season. There was talk of it a year ago when Hamilton enjoyed a nice stretch, but again injury took away his chance. I'd like to see it, just so we can get a look at him before the club decides next summer. Honestly, I'm surprised they retained him, and that suggests they see something. Interesting year in Oklahoma City.
LOWDOWN WITH LOWETIDE
First, my sincere apologies for posting this before noon, it's required because I am on the air today and there are things you might be interested in hearing. TSN 1260, 10 this morning.
Bruce McCurdy, Cult of Hockey at the Edmonton Journal. Bruce's Dad served in the RCAF during World War 2, we'll talk about our Dads and why today is so important for all of us. We'll also chat about the Nuge, Edmonton's turn north (is it real?) and the game tonight.
Guy Flaming, Pipeline Show. Greg Chase and his future, and the college experience versus junior experience. Does the NCAA better prepare players for the pro game?
At 11, we'll have a special Remembrance Day presentation and one minute of silence to honor our veterans and those who gave their lives.
Travis Yost, TSN Analytics. A lot of Oilers and Senators questions, including what we can read into the improving shot differential for Edmonton.
Andrew Bucholtz, 55-yard line. Eskimos! We'll talk western semi-final and Grey Cup favorites.
10-1260 text, @Lowetide_ on twitter.