Early in the week, rumor had it we might see Taylor Hall on Sunday against Arizona. With the OT loss last night, and the club's record now 6-9-2 after 17 games, there has to be a certain urgency in the offices on Kingsway. Hall's addition to the roster gives Edmonton a chance to win the Sunday game, and maybe grab another win in the New Jersey game (while losing to the Canucks), they could come rolling in after 20 with an 8-10-2 record and 18 points. It is not good, but it isn't horrible either (the club was 4-14-2 after 20 a year ago) based on how high the climb.
Hall's imminent return allows us to talk about the team splitting up the Kid Line (Hall, Nuge, Eberle) in an effort to ice two significant offensive lines. That's a big deal, because if the Oilers are going to compete in the west they'll need to score goals at a higher rate than they're currently posting.
Pouliot—Nuge—Eberle
Hall—Arco—Perron/Yakupov
I wish they had a 21-year old Leon Draisaitl to throw onto that second line with Hall and Yakupov, that could cause some problems in the wild, wild west. The Oilers have found something very good in Pouliot, and Jordan Eberle just keeps on scoring 5×5 goals (100 NHL goals now, Stu MacGregor's first pick covered the bet long ago) but they're going to need a center for this 'two scoring lines' idea to make it go. I'm loathe to trade any of Eberle, Perron or Yakupov, but for me Hall and Pouliot are set LH side, C has Nuge and a need, and so it's one of the RW's who needs to be cashed for a C.
A quick note on the Nuge: He was central to the comeback last night. The Edmonton Oilers now have two young men who can push the river. Music!
SOMETHING NEW
DraftKings $5,500 One-Day Fantasy Hockey Contest
We're going to try something a little different for this blog, let me know what you think! Lowetide is offering you a great opportunity to win a share of $5,500 by picking a Fantasy Hockey team for Friday night. All you have to do is pick the nine NHL players you think will score the most fantasy points during the NHL games tonight. Draft two Centers, three Wings, two Defenseman, one Goalie and one Utility player while staying under the $50,000 Salary Cap. The entry fee is $2 or FREE with your first deposit. First Place is $500. The top 650 fantasy scores win cash guaranteed. Get your money when the last game ends tonight.
DraftKings user Knup won $10,000 on October 21st with this roster: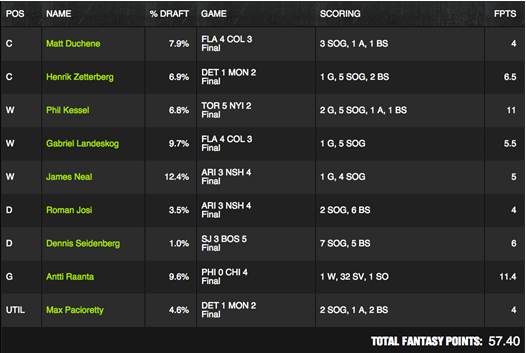 If this is your first deposit at Draftkings.com you automatically get a 100% deposit bonus up to $600. Daily Fantasy Hockey is the easiest way to add excitement to the NHL season. Here is how to enter:
Pay your $2 Entry Fee or get a FREE entry with your first deposit
Finish in the top 650 fantasy scores and get paid tonight
Now, if you're going to play, I ask two thing of you:
Let me know how you enjoyed the experience.
Please use this link: Lowetide
KLEFBOM AND MARINCIN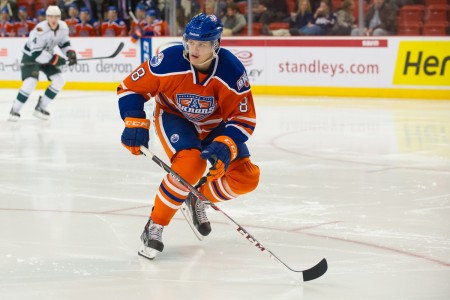 The Oilers (to my eye) now have four defenders they can send over the boards with some degree of confidence. Jeff Petry, Mark Fayne, Andrew Ference and Keith Aulie are being used in roles they can have success in (Aulie has been a pleasant surprise, and Ference is effective with Petry). Mark Fayne is becoming (to my mind) the rocking chair blue and I wonder if they end up trying him with Justin Schultz. Niki Nikitin can't possibly be this bad, I think you have to play him until he calms down or the blood starts running back to his brain.
It's probably time to have Klefbom or Marincin draw in, but coach Eakins seems to be getting comfortable with the current six. That Ranger game offered the template, suspect it'll be some time before both Klef and Martin are in the lineup—maybe they don't play the same night all season. Which is fine, if Marincin ends up around 35 games this season and Klefbom 30, that's probably enough experience to count on one or both next year.
Of course, all this planning is worth nothing, injuries will dictate what happens. The bigger issue, the sphincter tightener, is this: How many years do we lose before the Oilers realize Justin Schultz isn't what they think he is?
I was talking to Dennis King on the Lowdown yesterday, and we got reminiscing about all the bad goalies down through the years. I asked Dennis to name all the good goalies, the ones where you could slip to the can or the beer fridge during a PK, since Curtis Joseph, and Dennis answered 'Dwayne Roloson and Mathieu Garon that one season' and man that sounds exactly right.
I'm not going to debate this goal or that, but overall it's difficult to argue the Oilers goaltending is anywhere near good enough. I happen to think there are some very good things happening for this team:
Shot differential is better and appears to have some sustain (we're coming up on 20 games)
Ryan Nugent-Hopkins is pushing the river
They haven't lost every game Hall has missed
Benoit Pouliot is that big complementary winger we've been trying for since they drafted Brad Winchester
Jeff Petry is settling in again as a quality defender
Mark Fayne is getting comfortable
Nail Yakupov is about to go off
David Perron is a wonderful hockey player
But you have to fix the goaltending, folks. None of this matters when the goalie is swimming and that's a fact. Craig MacTavish made bets I considered solid, but for the second year in a row both goalies are squandering and for a young team trying like bloody hell to turn north it's unacceptable. I'm not saying trade for another goalie, or flush either one of these guys, but there are two games I count as 'stolen by goalie' and at least four where you can say the netminder was responsible for the loss of a point or two.
Devastating for a young team. Can't happen.
LOWDOWN WITH LOWETIDE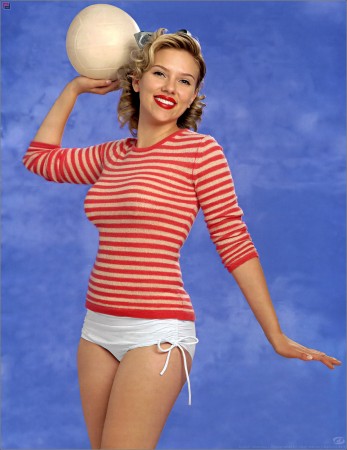 It's Friday! 10 this morning, TSN 1260. Scheduled to appear:
Steve Lansky, Big Mouth Sports. We'll talk Oilers, McDavid, maybe some Raptors if there's time.
Brian King (PDO), NonStopSportsPicks.com. We'll talk Eskimos, I'm worried about the O-line a little.
Jamie Nye, The Green Zone. We venture back into enemy territory for the Roughrider view (spits).
Corey Graham, Oil Kings PBP TSN 1260. Tough road trip for the Oil Kings,we'll talk about scoring goals and great goalies.
10-1260 on text, @Lowetide_ on twitter. See you on the radio!