The Edmonton Oilers are having a tough time sorting out their useful defensemen this fall. Mark Fayne plays six minutes less than Justin Schultz every night, Niki Nikitin has them hornswoggled into playing him every night, while Martin Marincin and his 'gallows conditioning sin' sits in the gondola and wonders where it all went wrong. It's kind of crazy kids, especially considering the rest of the deployment seems absolutely reasonable.
VOLLMAN SLEDGEHAMMER, OILERS BLUE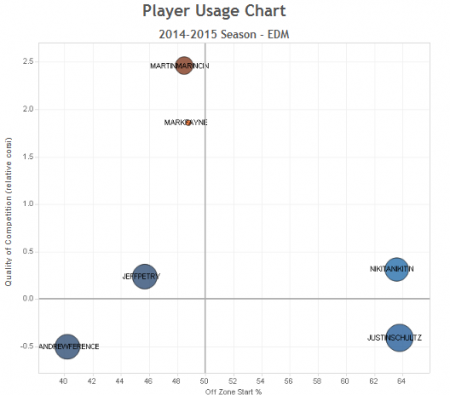 That's fairly perfect, except they've replaced Marincin with Keith Aulie (the Sledgehammer isn't updating on time this season, this is after 15 games) and one imagines the chaos would be reduced if Fayne had a bigger bubble. The deployment looks reasonable:
Marincin and Fayne facing the tough competition no matter the zone start.
Ference and Petry getting the tough zone start no matter the opponent.
Nikitin and Schultz getting the zone start push and (apparently) the softer competition.
I'm not sure there's any quarrel with deployment, but rather the problem is performance and Eakins' inability to identify and punish the culprit. Put another way, Marincin isn't the problem. I imagine Marincin draws in against New Jersey, replacing either Nikitin or Aulie, and I'd be tempted to run Martin with Schultz for a game or two. They played well in OKC and Nikitin and Schultz aren't getting enough done with those cherry minutes.
MACT DISCUSSES SCHULTZ
On the future of Schultz: "I think he's going to be a great player and a great Oiler."
On his defensive ability: "I disagree with the perception on the defensive side of things. I've always believed he's very good defensively."
On his potential:  "Justin Schultz has Norris trophy potential."
On Craig Ramsay as it relates to Justin Schultz: "He's going to give Justin a very experienced perspective."
On the analytics society panning Schultz universally: "I disagree with the analytics on our group."
 EAKINS COMMENTS ON TURNING NORTH
Eakins:  "It's time now. We've shown that we can play with teams. We've shown that we can out-play teams. We've showed that we can get both points and we have to turn the heat on now. It's time to turn the heat up on ourselves, for the result." 
I need a little help this morning, ladies and men. Can you make these two things—"Justin Schultz is good because I said so" and "We need to win RFN!"—and come up with something resembling logical thought? Please and thanks. Show starts at 10, no pressure.

Niki Nikitin, Justin Schultz, Keith Aulie. And you could give Ben Scrivens a day off, too. Just saying. The idea that Dallas Eakins has to worry about a player reacting to a (deserved) benching is ludicrous. And what about Martin Marincin? Is sitting for two weeks a party? I don't understand this quote. Not one bit. Dallas Eakins has no trouble benching Marincin and Joensuu, but is hesitant to bench others? How the hell does that work? Answer: It doesn't. You get lollygaggers from that kind of management template, and sure as hell that's what they have currently in Justin Schultz.

Yes. Quite. The Nuge line was outplayed by the Sedin line, the Schultz and the Nikitin were outplayed by their opponents and as mentioned I think Ben Scrivens could use a rest (although Ryan Miller didn't outplay anyone last night). I think Hall wasn't 100% last night (although he was more impactful in the third, also took a monster hit and appeared shaken) so maybe this was a night where the top line was almost but not quite (I thought Eberle played better to my eye).

Pinizzotto finally jumped on the ice, but goodness gracious that is Oakland Seals hockey. I'm sure this happens in shorter spurts often, but to be shorthanded because you're not paying attention is not acceptable.

Chase is a Victoria Royals forward now, good to have him back in action (maybe this weekend). I'll ever know what happened, but that was one weird development. The young man still has a chance to make the WJ team this Christmas but there's plenty of work to do. He was recently profiled here at Lowetide as the No. 6 prospect in the system.
 PINIZZOTTO GOES BLOTTO!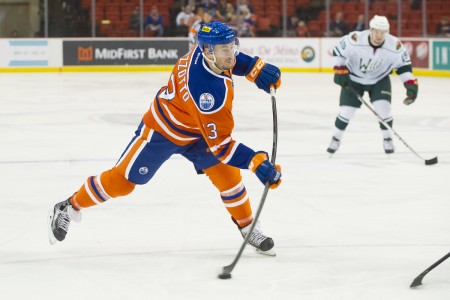 Pinizzotto:  "I felt pretty good. I tried to get that fight out of the way early to get the jitters out, but I said it before, it's about the team and we couldn't come out with the win today. As long as the boys come back in here and battle on Friday, we should be good." Source

FREE MARTIN
Martin Marincin has played 9 games so far this NHL season. The club is 5-4-0 in those games, and 1-7-2 without him (by my count, check the math). I understand he's had wobbly moments, but for me he's a guy who should be in the lineup Friday and then for the next decade. If you're going to lose hockey games, you might as well get some experience for the kids. Unless of course the organization is still fretting over his summer conditioning program, then by all means sit him for another four games just to make sure he got the message.

DEBACLE 2.0
Do you remember before the season, when Craig MacTavish sat down and talked about the 2013-14 season? How it was a "debacle" but better times were ahead? And now we are here. The MSM with access to the Oilers and their sorties into the marketplace are giving conflicting information:
Pierre Lebrun on Monday: "Yeah, I'd say. I mean, I really don't think that management is going to sit back and just take this all in if this continues. I mean, I really think last year – described by Craig MacTavish, no less – in an interview with TSN before the season referred to last year's start to the year as a 'debacle,' and I just don't think that either Craig, nor the rest of ownership and management in Edmonton is going to sit back over the next couple of months and just accept a similar script." Source
Darren Dreger today: "So it's like the league right now is in financial paralysis. No one is willing to make that deal. Unless you're willing to take on a big contract. Now, Marc Bergevin of the Montreal Canadiens acquired Sergei Gonchar from the Dallas Stars for Travis Moen. That's bad money coming in and bad contract going out. That's how you make deals today in the National Hockey League in the first quarter of the regular season. So yeah, you can blame Craig MacTavish for not bringing these players in, and not drafting and all of those things, but I don't know. When I look at the Oilers and I look at their top six, it looks pretty good to me. And I see the holes on the back end and we're still waiting to see if there's a goaltender that's going to emerge, but it's not as easy as it sounds filling those holes." Source
When Dreger says 'no one is willing to make that deal' he may be right, but I don't think Oilers fans are in the mood to here 'we can't do it' at this time. This blog was highly critical of Steve Tambellini for the same kind of inertia and has been generally (some would say wildly) supportive of the Craig MacTavish era. However, when a man stands in front of the camera and calls last season a debacle, and then is unable to give his coach better support at center? I mentioned on the Lowdown yesterday that MacT returned to the organization as (as he said) the guy in the room who said 'are you sure you want to do that?' and I wonder where that guy was when they decided Leon and Arco were good enough to cover the two open positions at center.
I can understand the Scrivens/Fasth bets, and I get the Fayne/Nikitin/Aulie additions. Not every move works out, we know that and it's still miles too early to pass judgement on any of those deals. No such cover is available to Craig MacTavish this morning for the problem at center.
And that's on the general manager, has been since the start of training camp. Dear Mr. MacTavish: Find an NHL center. Seriously. Your good work will go unnoticed if you continue to wait.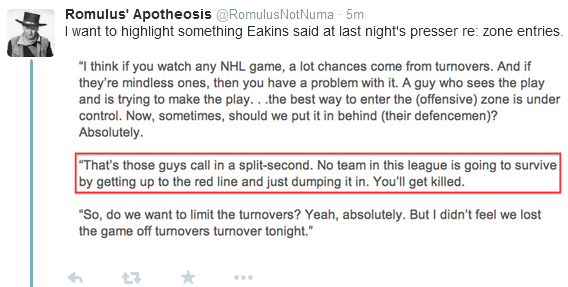 Eakins is off the charts on point these days, I'm convinced that getting him an NHL center (and adding Marincin while pulling Nikitin) would help this team enough for these one-goal losses to turn just enough for point to appear. Rom's tweet should hearten every Oilers fan, while we once again are left to ponder the general manager position and the fixes he was unable to negotiate in the current marketplace.
LOWDOWN WITH LOWETIDE
It's going to be a put up yer dukes kind of day after the game last night. Today at 10, TSN 1260. You can reach me @Lowetide_ on twitter and 10-1260 on text. Scheduled to appear:
Dennis King. Oilers, MacT, goaltending, Schultz.
Alanna Phillips, CFL is for Girls. We'll talk western final, Reilly, Cornish, Vancouver end of November!
Rob Vollman, ESPN and Bleacher Report. We'll drill down on the Schultz/Fayne usage and discuss Oilers deployment.
11:25, we open the phone lines for you to vent.
Dave Jamieson talks Oilers and Eskimos.
See you on the radio!