The Edmonton Oilers made a trade today, perhaps signalling Steve Pinizzotto's arrival as an NHL player. With Pinizzotto scoring a goal, an assist and getting in a fight last night, Craig MacTavish moved quickly to get some toughness for the Oklahoma City Barons lineup. Kellen Lain is a big (6.06, 210) center who is 25 and has limited NHL experience. He isn't going to score you a bunch of goals but he did score a goal in Vancouver's 2-1 win over Edmonton back in January (I believe it was his second NHL game).
We may never see Lain in the NHL as an Oiler but he'll probably play with a few of the club's hopefuls over the next while. He's an RFA summer 2015 and makes 200 large in the AHL.

For Pinizzotto, this has to be legit good news. He stepped right into the lineup (and over Luke Gazdic) last night, scoring a goal and looking like he was right at home (except for that one play). If you read McCurdy's CofH summary from last night's game, you can his possible future in a 'lordy, that Ryan Jones hair sure flies through the air a lot' kind of way:
#13 Steve Pinizzotto, 6. Had a memorable season debut, registering the "Gordie Howe Hat Trick", but a couple of down arrows took the edge off his night. His early fight with Derek Dorsett did little to lift the team, but his second-period goal on a fine rush and wrist shot lit a fire, and he later earned a somewhat cheap assist on Gordon's 3-3 goal. Alas, he was in the box for a Vancouver PP goal for an unnecessary penalty 200 feet from his own net, and made a bad read as the high forward that helped spring the Canucks jailbreak on what turned out to be the game winning goal. Hard to begrudge a guy his first career goal at age 30, however. Now has all 4 of his career points in just 2 games against his former employer, Vancouver. Source
I don't think it's a major stretch to suggest Pinizzotto outplayed the guy (Joensuu) who got the job out of training camp, and this looks like justice to me. Added to Pakarinen, you could make a case that the wingers from the 2010 draft (Pitlick, Hamilton) are on the outside looking in. Of course, there's track to go but that's what it looks like from here. A nice trade by MacT (Martindale for Pinizzotto) and perhaps a tip of the cap to the pro scouts.
PINIZZOTTO'S WOWY  AFTER ONE GAME (FRAME THIS!)

MITCH HOLMBERG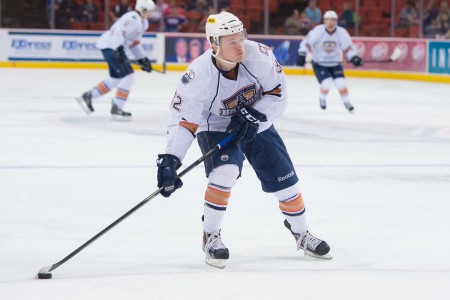 Final item: Trade trade was Will Acton and Mitch Holmberg for Lain, both men likely heading to Utica. He struggled in the ECHL (Bakersfield) so that part of the trade is no big deal short term but you never know. These young men are bound and determined to write their own scripts and counting them out is never a good idea. I hope Acton, Holmberg and Lain flourish in their new situations.
(Barons and Comets photos are courtesy Rob Ferguson. All rights reserved).