I expect the Oilers will start Marincin tonight if Nikitin (back) can't play and they'll farm him out after this weekend if the doesn't play. It's been so long since the young man played (Buffalo game Nov 7) I'm not certain he'll be sharp if he does draw in. That's a long while (two weeks) to be away from game action.
It's an interesting question though: How many of the blue men on the roster today will be here for a postseason game? Maybe fewer than you think:
Elliotte Friedman: Would the Oilers part with Martin Marincin if he could bring them someone who eases their issues down the middle? They desperately need a centre and what they've offered so far isn't getting a sniff. If Marincin could bring back value, there might be a match. I'm a Marincin fan. I like what he's done in short bursts. There are execs/scouts who disagree. One who was not a fan in his draft year said last week, "He has come a lot farther than I thought." So, we'll see. Source.
Well that's fascinating. If we're talking D for C, there are a few suspects out there, beginning with Philadelphia. Sean Couturier would be the ideal target, but Hextall seems a bit too brainy for that one. Brayden Schenn? I wouldn't trade Marincin for Schenn but that's me, your mileage may vary.
Pierre Lebrun on Oilers trading young cluster players for a center: "I don't think Nail Yakupov is going to get you the kind of change that you need. I think if it's really the change you kind of need, do you start to look at Jordan Eberle or Justin Schultz. Again guys that you don't want to keep, you want to build around those guys. Or sorry, guys you don't want to move, but want to keep. But on the other hand, if it's really a bone-rattling, franchise-changing move that has to happen between now and March 2, it's unfortunately going to have to involve somebody you really like because the fact that you really like him, means a lot of other teams will as well." Source
I would trade Schultz for Schenn, and Eberle for Couturier (again, just me, don't get your gonch in a knot. I like Eberle fine, but Couturier solves a lot). The really encouraging thing here? MacT is trying to find his coach some cover up the middle. I'm very pleased, it didn't make sense to me that MacT (a former coach left flapping in the wind) would leave his own coach out there with no cover for an entire season. Good for you, MacT!
LAST 10 GAMES, OFFENSE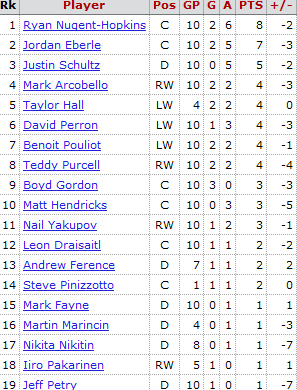 I find it helps to break down these things by 10-game intervals, we see items like Hall's injury and its impact; Nuge and Ebs scoring pretty well in this segment; Schultz posting 5 assists; the veteran wingers (Perron, Pouliot, Purcell, Hendricks, even Yak) dividing up the offense fairly evenly; a couple of minus hockey sticks from Niki and Petry. Mark Fayne plus one. I still don't understand why they won't try a Fayne—Petry pairing.
LEON GETS THE PUSH
The latest lines have this as a probable for tonight's trios:
Pouliot—Nuge—Eberle
Hall—Draisaitl—Purcell
Perron—Arco—Yakupov
Hendricks—Gordon—Pinizzotto
I like the lines, with the Yak flush being the only real negative. One thing I believe we should talk about some time is the overall speed of the forward group. I like the players here, but overall foot speed can be improved.
Leon on playing with Hall:  "To have a guy like him on my side is going to make it easier for myself. I'm really looking forward to the opportunity," said the rookie, who saw more ice time against the Canucks than he had in the previous three games." Source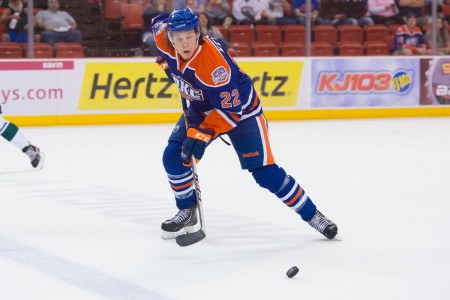 Kale Kessy photo by Rob Ferguson. All rights reserved
HEAVY EARLY
Jason Gregor's conversations with Todd Nelson are always worth a listen, and Gregor's articles at ON that pass along the verbal via written word are as valuable. I've been thinking about the recall of Pinizzotto and the trade for Lain, and this Nelson quote from JG's article is insightful:
Nelson: "We played against some pretty heavy teams, and our so called skilled guys, that we look to contribute, haven't really been finding the back of the net so other guys have stepped up. Kale Kessey has really turned a corner. He's playing great hockey for us right now. He's playing both ends very well. Another guy that falls into that category is Curtis Hamilton. We're seeing his best hockey, well the best hockey I've ever seen him play. And guys like [Tyler] Pitlick and a lot of the role players are playing very strong right now."
The Oilers have (to my eye) adjusted with the times and added 'gritty men who can play' to the lineup since Craig MacTavish has arrived. The entire Gordon line,  Benoit Pouliot give the team a different look. As I've said many times, bring on the big men but make sure they can play. Perhaps one or two of these AHL fellows develops, looks like Kessy is moving up the ranks.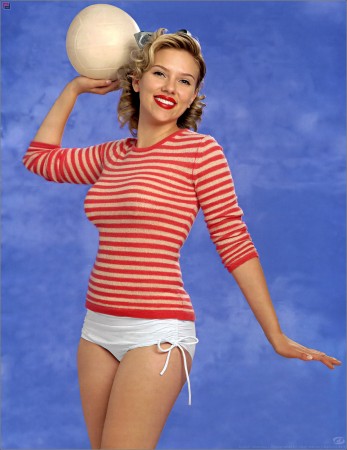 LOWDOWN WITH LOWETIDE
This morning at 10, we hit the air with non-stop verbal! TSN 1260:
Steve Lansky, Big Mouth Sports. Leafs win, but do not salute! Plus Raptors.
Brian King, NonstopSportsPicks. We'll talk western final and the blitz.
Jeff Chapman Copper and Blue. Buffalo snow, Oilers melt, Leon with Hall on scoring line.
Paul Almeida, Saturday Sports Extra. The great man is back from Europe with stories from the old country.
Dave Jamieson, Oilers and Western final.
10-1260 text, @Lowetide_ on twitter. Talk soon.