You never know what happens behind closed doors. An outsider can project and speculate and assume and gossip, but you simply don't know what you don't know. We MAY have gotten a peek inside the Oilers room this weekend courtesy Joanne Ireland (who might be the best reporter in town now).
Taylor Hall: "A new coach isn't going to come in here and not let in seven goals as a team. I'm saying with all honesty, I don't want to play for anyone else. For Dallas to take the brunt of the blame … wouldn't be fair to him. It's on us as players." Source
It sounds genuine to me, Hall could have said less or used words with less iron. "I'm saying with all honesty" is a very specific thing and I think it's reasonable to assume that Dallas Eakins hasn't lost the room.
WHAT ARE THE PROBLEMS
Can't Buy a Save
Insane breakdowns or lapses in judgement are rife
The puck isn't going in
WHAT CAN THEY DO?
They need someone to make a save
They need a center (despite the positive Corsi numbers)
They need the defense to tighten up (part of the problem is surely Nikitin's injury)

There has been progress. The wins are lagging, the coverage issues are real and spectacular and Saturday was the second of a back-to-back and the end of a three-in-four. None of it matters if they don't start winning games, though. A vote of confidence (which will come today) buys you a couple of weeks, and after that something has to give. A trade? That's my guess.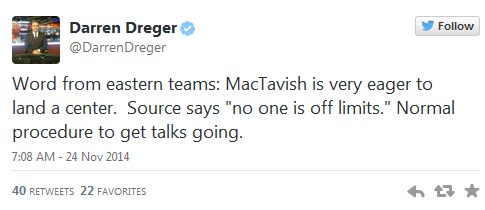 Since it makes no sense to trade Nuge, I'll suggest the 'no-trade list' is probably Hall, Nuge and Gordon. The key exclusion? Definitely Jordan Eberle. If the Oilers are seriously offering Jordan Eberle I expect the return would be substantial. He's a fine young player with an established level of ability, and the kind of player who is not often traded. Philadelphia has long been rumored as a team interested, I wonder if something around 'Eberle for Couturier' is possible.
I don't see it going that far. I suspect David Perron and Jeff Petry are as good as gone, with the Oilers elevating Nail Yakupov to the second scoring line (well, the line that is supposed to score). It is interesting to see the thought process here for MacT. If he trades a winger, Leon can move over and Nail can move up, plus the center should be able to make hay with the remaining wingmen. I don't know that we'll see Nuge-Hall broken up in this scenario, but if the C is strong enough and the Oilers keep Eberle we could see Nuge-Ebs and New Guy-Hall as tandems.
TRADING PROSPECTS
Whenever we get to a point like this, it's important to remember the prospects who arrived after the current GM. A man like Martin Marincin has far less cover than someone like Darnell Nurse, and MacT has in fact (imo) adopted Oscar Klefbom as one of his own based on verbal. So, among prospects who could go this week, my list of top players includes:
Martin Marincin
Martin Gernat
Anton Lander
Tyler Pitlick
Marco Roy
Only Roy (who is hurt again and hasn't progressed as hoped as of yet) makes the list among picks during the MacT era. Since time began that's true, general managers have an attachment to the players they've acquired since arriving on the scene. Makes sense, I'm sure it would be the same for any of us. Bottom line: Martin Marincin is on shaky ground as an Oiler this morning. In my opinion.
LOWDOWN WITH LOWETIDE
10 this morning, TSN 1260. Scheduled to appear:
10:05 Scott Burnside ESPN. Oilers rumors, Jack Johnson, Bruins callup David Pastrnak.
10:25 Brian King, NonStopSportsPicks. Eskimos lost WF, what a year. Offseason questions include Mike Reilly's health.
10:45 NFL results, open line.
11:00 Dennis King. Trade rumors, weekend disaster, vote of confidence for Eakins.
11:25 Open line
11:45 Dave Jamieson, Eskimos and Oilers weekend.
If anything breaks, we'll have it. 10-1260 text, @Lowetide_ on twitter. Lt. Eric is back, giddyup.