Dillon Simpson is an intelligent defenseman who has a nice range of skills. He is likely to be a 'defense-first' pro player and his first games in the AHL have been an education. Betting on Simpson over other prospects still on the list comes down to his progression curve: He's come a long way since draft day.
PREVIOUSLY NUMBER EIGHT ON THE WINTER LIST
December 2004: D Matt Greene (526)
December 2005: D Tom Gilbert (543)
December 2006: L Alexei Mikhnov (2)
December 2007: L Slava Trukhno (0)
December 2008: C Chris VandeVelde (60)
December 2009: D Taylor Chorney (61)
December 2010: L Linus Omark (79)
December 2011: L Curtis Hamilton (0)
December 2012: D David Musil (0)
December 2013: D Dillon Simpson (0)
By this point we're getting down to the long shots, also-rans and the place I park the college defensemen. If there's one thing about my list that shows as a bias, it's that I underrated guys like Greene and Gilbert (and may be doing the same here with Simpson). It's also interesting to see the progress of VandeVelde, who at this point has a real chance to pass 100 NHL games. Like Colin McDonald before him, Edmonton drafted VandeVelde, developed him, and then sent him away to find success (at some level) in another NHL city.
 WHAT THEY SAID ON DRAFT DAY
Redline: Stay at home defencemen with savvy and size. Son of former longtime NHL'er Craig Simpson has very good hockey sense and understands game situations instinctively. Had trouble getting qualilty icetime as a 17-year-old true freshman on deep, veteran defence corps of top collegiate program, but did show steady progress adjusting to the pace of play against older, stronger opponents. Rarely saw the ice on either special teams units. Sluggish skater with a short stride, but shows good gap control and lateral mobility. Tentative to do anything offensively and always has one foot back on defence. Doesn't see the ice well and hurries to get the puck off his stick. Makes sharp defensive reads and is rarely out of position. Struggled 1-on-1 in the corners and down log against more physically developed forwards.
Red Line Report scout Max Giese: "He's a smart player defensively, rarely out of position; but he's a pretty bad skater and he doesn't have any poise moving the puck. He's a slushy skater with a short and sluggish stride. His hands are stiff, he struggles to put passes on the tape and he always hurries to get the puck off of his stick. He's getting the ice time right now because of North Dakota's injuries."

Kirk Luedeke: A bit of a disappointing season for a player scouts had some real high hopes for coming in. The son of former NHL forward and HNIC analyst Craig Simpson (and nephew of television reporter Christine Simpson) has decent size at 6-1, 195. He scored 2 goals and 10 points in 30 games as a freshman and wasn't overly involved in the offensive scheme/didn't get a lot of ice time. He's a work in progress who has some soft hands and hockey sense, but isn't a great skater. He's slow out of the blocks and needs to work on his stride to get the most out of his movement. Scouts see intriguing elements of his game, but after 12 goals and 41 points last year with Spruce Grove of the AJHL, more of an impact was expected from him- he did not deliver. This is not to say Simpson isn't a legitimate NHL prospect- he is. He grew up around the game and has the natural athleticism to be a player, but this season showed that it is going to take time and he'd require a leap of faith for a team to draft him in the first two rounds.
POINTS BY DISCIPLINE, DILLON SIMPSON
| | | | | |
| --- | --- | --- | --- | --- |
| PLAYER | EV | PP | PK | TOTAL |
| SIMPSON 2010-11 | 30, 1-6-7 | 30, 1-2-3 | 30, 0-0-0 | 30, 2-8-10 |
| SIMPSON 2011-12 | 42, 1-6-7 | 42, 1-10-11 | 42, 0-0-0 | 42, 2-16-18 |
| SIMPSON 2012-13 | 42, 2-8-10 | 42, 3-11-14 | 42, 0-0-0 | 42, 5-19-24 |
| SIMPSON 2013-14 | 42, 1-11-12 | 42, 6-5-11 | 42, 0-0-0 | 42, 7-16-23 |
Simpson's NCAA career with UND featured some significant power play time in his final three seasons. Over many years of looking at defensemen, it's reasonable to assume they will never be a power play factor—Jeff Petry, as an example, has five power-play points in his NHL career, and three of those came in his rookie season. Even very good puck-moving defenders don't spend a great deal of time on an NHL power play. Dillon Simpson would fall short of that description, and yet he found a way into that situation and performed at a quality level. The young man is a hockey player.
Coach Dave Hakstol

: "He's only 20 years old, we have freshmen older than him. But it's really not about the date on your birth certificate, it's about your level of maturity and your life experiences, your mindset and your ability to be consistent and accountable and do things the right way. I think Dillon is at the highest level of those areas."
PREVIOUS TOP 20 RANKING
Summer 2011: 24
Winter 2011: 17
Summer 2012: 14
Winter 2012: 10
Summer 2013: 10
Winter 2013: 8
Summer 2014: 7
Winter 2014: 8
If you read the original scouting reports and rookie boxcars, then follow his progress, these rankings make sense. He arrived in the system as a fourth-round pick with a famous Dad, and he left college with an NHL contract and a bright future based on solid development at North Dakota.
14-15
WHAT THEY'RE SAYING THIS SEASON
Bruce McCurdy from April 2014: Overall I found myself more impressed with Simpson's game than with his physical skills. His innate understanding of where to find the "good ice", to recognize and execute the simple play, and to read opposition threats all scored high. The defender prides himself on his ability to stay out of the penalty box, having taken just 48 penalty minutes in his four years at UND. Still, there's a lack of physical bite to his game which is bound to alienate a portion of the fanbase should he make it as far as the NHL."

Lowetide Blog: Oiler fans should expect more of a 'defense-first' type as described in this recent game summary: Dillon Simpson's final game for North Dakota was one for the ages. He was huge, and I'm not just talking about the two back door plays he broke up. He also blocked two shots, played a ton of minutes, and assisted on Connor Gaarder's game-tying goal.
Neal Livingston, Tend The Farm: Started solid, but with AHL forwards progressing, and teams gelling, he's struggled. Has a tendency to be stuck in a puck moving / sturdy defender role. In the end he does neither well – too soft, and not good enough with the puck. Smart player, though, and in time could be a bit more capable (and given better minutes).
Eric Rodgers, Tend the Farm: Quite good in my opinion. Has had a few mistakes, but nothing horrible. Is usually strong in the D-zone, rarely out of position.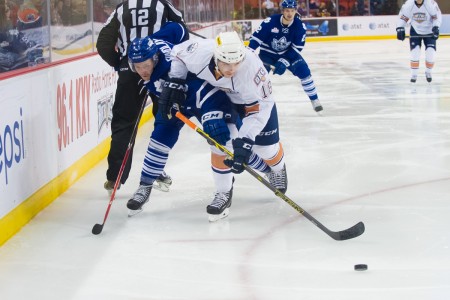 THE FUTURE
Dillon Simpson is beginning his pro career with reviews similar to the ones we saw when he began playing at UND. I wondered over the summer how he would fit in at the AHL level (and felt it was possible he would go to the ECHL), but he is hanging in and learning his craft. Simpson doesn't have a specific calling card—no bomb from the point, he doesn't murdelize people, he is not a fast train and does not possess a massive wingspan.
His super power? It appears to be grey matter. Simpson is a good hockey player, full stop. His skill set doesn't imply a power-play option, but he played that role three of four college seasons. I think it probably has to do with aptitude, this is a big brain and a player who can adapt. Being the son of a former NHL player likely helps, but if you go back and read the summaries and game reports over his college career, the line of improvement is real and obvious.
If he can do that in the AHL, we'll see him in the NHL sooner than later. Dillon Simpson is probably going to take most or all of his entry level deal to get a real shot at the NHL, but in ranking him No. 8 overall this blog isn't betting against him.
The 2011 NHL Draft
Ryan Nugent-Hopkins, No. 1 overall. Splendid young player and may be adding another gear in year four after his draft. Graduated.
Oscar Klefbom, No. 19 overall. A big piece of Edmonton's future on the blue line, Top 4D with an emphasis on defense. No.3 on the winter 20.
David Musil, No. 31 overall. Playing solid D in OKC, working on foot speed. Inside the winter 20.
Samu Perhonen, No. 63 overall. Big goalie hasn't progressed. Back in Finland. Not in organization.
Travis Ewanyk, No. 74 overall. Tough as nails checking C doesn't bring offense. Candidate for winter 20.
Dillon Simpson, No. 92 overall. Turned pro this season, impressing in OKC. No. 8 on the winter 20.
Tobias Rieder, No. 114 overall. No longer in organization. Scouting home run, he's in the NHL.
Martin Gernat, No. 122 overall. A solid young prospect maturing in the AHL. Inside the winter 20.
Frans Tuohimaa, No. 182 overall. Prospect has shown some interesting progress. Candidate for winter 20.
The 2011 draft is in its fourth year and there are some promising things. Nuge and Klefbom are on track to be part of the cluster for years to come, and there are several candidates to join them. The sheer number of blue taken in this draft dictates not all of them will be Oilers, but there are some nice trade assets in the group. Tobias Rieder, cashed early, is the third player from the 2011 Oilers draft to make the NHL.
Dillon Simpson? Can't skate, can't shoot, doesn't have much to recommend him and the only thing he does well is pass people on the depth chart. I think intelligence, pedigree and determination are going to get him to the NHL, and despite all evidence I wouldn't be shocked to see him on an NHL power play someday.