They were hiding behind hay bales,
They were planting in the full moon
They had given all they had for something new
But the light of day was on them,
They could see the thrashers coming
And the water shone like diamonds in the dew.
(Neil Young)
The team built with the Hall—Eberle—Nuge—Paajarvi cluster is not alive, and we can see the thrashers coming. By this time tomorrow, there's every chance the Oilers will have their No. 2 center. A team that needs help everywhere but wing will address one need, hope for the best at G and D and we expect it'll turn out the same. David Perron's Oilers career is best reflected by the crossbar hit with 10 seconds to go: It should have been so much better, he deserved a more elevated place in Oilers lore.
I'll have the Sail On post ready to go this afternoon.
ARTEM FOR ARTEM'S SAKE
Artem Anisimov is a Russian center with a nice range of skills and enough offensive ability to play a complementary role with the dynamos. He's 6.04, 200 and is a big presence, although he is not a physical player. Anisimov has skill but can play a two-way game and that's good because he is prone to dry spells with the lumber. He's 26, from Yaroslavl, and I've always liked him. Woodguy REALLY likes him.
VOLLMAN SLEDGEHAMMER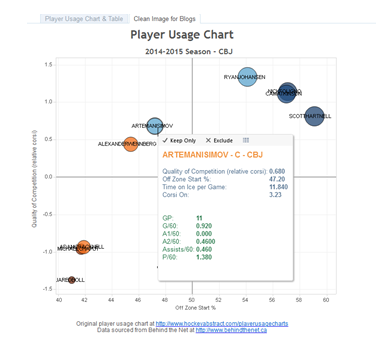 Anisimov is in the tougher quadrant with a blue bubble—good day sunshine!—and he's always in that quadrant. Johansen gets the tougher opposition but Anisimov is facing <50% ZS's and stout opponents too. He bubble is blue, which as you know is a very good thing.
Elliotte Friedman: Senior vice president of hockey operations Scott Howson attended the Blue Jackets' 4-2 loss to Winnipeg Tuesday night, but that in itself is not newsworthy. He still lives in the area. But Howson obviously knows the Columbus roster and traded for Artem Anisimov, reportedly the key piece in a potential Jackets-Oilers deal. Source



Ward is connected, so this looks like a strong rumor that could tumble today. Elliotte Friedman's piece (linked to above) suggests that Montreal, Ottawa and Pittsburgh are also in pursuit, and I always think it's wise to throw Philadelphia into the conversation since they make so many damn trades. If the deal with Columbus is wider, I fear we may see Jack Johnson as an Oiler. There's always been interest, this could be a blockbuster to end all blockbusters. Fedor Tyutin, on the other hand, would be welcomed.
 ABOUT LAST NIGHT
What can we say? Three terrible goals against and they lost by one. Taylor Hall's 100th was a thing of beauty, really I can see why the Oilers don't want to break up that top line. Having said that, the defense is so wobbly and the goaltending addled that the Oilers could trade for a G, D and C today and still not be right. It is to laugh. And the hit on Hall was filthy, should be a suspension. I'm not a violent person, and don't believe Gazdic is going to have a career because the game is changing, but that's the kind of thing I have no problem answering with extreme prejudice.
Yep. There's not much left to say, is there? The Oilers 'system' is either faulty, their players are unable to handle it, or too complicated to remember. And for God's sake can we go one freaking game without a soft GA? It's beyond insane.
10 BEST, 2015 DRAFT
Since it's going to be the topic of conversation from now to June (le sigh), here are the 10 best names available in the 2015 draft. There are some hammer of the Gods players available this year.
C Connor McDavid, Erie Otters (OHL) NHLE 82, 22-48-70. A generational talent, first real challenge to Sidney Crosby for player of the century.
R Jack Eichel, Boston (NCAA) NHLE 82, 19-32-51. Speed, strength and skill in a wonderful package. Best consolation prize of your lifetime.
C Dylan Strome, Erie Otters (OHL) NHLE 82, 20-35-55. Big, better version of his brother. Off the grid offense playing with two rookies.
D Noah Hanifan, Boston College (NCAA) NHLE 82, 5-11-16. Wide range of skills, lots of glowing scouting reports.
D Oliver Kylington,

Farjestad

(SEL) Two-way defender with terrific speed and an across the board skill set.
C Nick Merkley, Kelowna (WHL). NHLE 82, 8-35-43. Powerful skater with plus playmaking ability.
C Mitch Marner, London Knights (OHL) NHLE 82, 22-25-47. Tremendous skater, very skilled. Undersized. Trending.
L Evgeni Svechnikov, Cape Breton Screaming Eagles (QMJHL). NHLE 82, 10-20-30. Sublime talent, can dominate games and is off to a tremendous start.
C Mathew Barzal, Seattle Thunderbirds (WHL) NHLE 82, 11-17-28. Intelligent offensive player with exceptional passing ability and speed.
C-L Pavel Zacha, Sarnia Sting (OHL) NHLE 82, 9-13-22. Huge forward with skill, work ethic and ability along the wall.
LOWDOWN WITH LOWETIDE
10 this morning, TSN 1260. Bruce McCurdy begins the proceedings, I imagine there's a fire burning there over last night's result. We'll follow it up with Nathan Dempsey from Vimy Hockey and "Ask the Coach". We'll discuss the difficulty of being an offensive blueliner and knowing when to pinch and when to keep your powder dry. At 11, Scott Cullen from TSN pops in and we'll talk about the Columbus deal, and what part of the problem to address first for Edmonton. At 11:25, Alex Thomas from Oilers Rig joins the party, he saw Jack Eichel play last night and will give us a scouting report.
10-1260 text, @Lowetide_ on twitter. Talk soon!