The Edmonton Oilers didn't make a trade on their off day, so it's unlikely we'll see a deal until the weekend (there's a game tomorrow, too. Easy prey, no worries). The Oilers play tonight in Nashville, tomorrow in St. Louis and then fly back for a home game on Monday. I think we see a trade before Sunday morning, we'll see how things roll. The Oilers often make their trades on the road, but there may not be anything out there.
SOMEONE FEEL A DRAFT?
A couple of subtle changes in the Oilers way of doing business appeared yesterday. First, Bob Nicholson speaking up on hockey ops. That's a major item, although it makes perfect sense (the new head man arrives as a consultant, gets to work on work seemingly outside the central hub—then slowly works his way to the big desk on the top floor). The second item speaks directly to the amateur scouting department:
Bob Nicholson:  "We're going to have to look at every part of this organization — how we scout, look at players, develop players. The only non-first-round Oilers draft pick since 2007 on the current roster is defenceman Martin Marincin. We need to get more out of those second, third, fourth-round players." Source.
Absolutely true. Of course, the team didn't have a second or third-round pick in 2008, rushed their second-round pick (Anton Lander) from 2009 and had an 'average success rate' for their 2010 trio* of second round selections (Marincin turned out). They also traded Ryan Martindale for a roster player (Steve Pinizzotto) and of course Tobias Rieder is playing in Arizona. Finally, judging a draft so early (I'll include 2011+) is folly. *Scott Cullen's TSN study showed a 28% success rate for second-round picks ('success being 100 NHL games).
It's important not to jump to conclusions, but it's also true the verbal frames Edmonton's amateur scouting staff in the most negative light possible. You don't need a weatherman to know which way the wind blows.
 JULTZ!
A change in the weather for Justin Schultz this week. He was the main culprit on  the first Seguin goal and Dallas Eakins finally decided his own survival was more important than feeding the young man minutes. I'm not sure what the Oilers had to promise Schultz to get him here, but have been saying for ages that Jeff Petry and Mark Fayne should be playing more at evens.
The callup of Oscar Klefbom yesterday suggests someone might be sitting, and maybe the club will try Niki Nikitin on the RH side. HS Jultz? Could happen.
WHERE IS YOUR CORSI NOW?
Make no mistake, this is an execution issue. This season's Oilers are free-range Corgi's, dancing about and having a real good time. War-on-Ice has the Fenwick (all) at 51% (No. 14 in the NHL) and Corsi is 51.68% (No. 11 in the NHL). PDO?? 96.14, worst in the NHL. They are out shooting opponents 30.2 to 30.
LE BARONS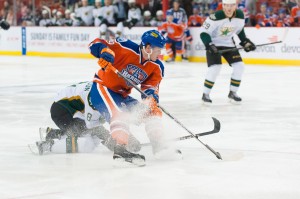 Bogdan Yakimov had a strong third period last night, picking up a couple of apples. He has three assists in his last three games and seems to be coming around after this injury. Yakimov's speed is the thing, if he can get some torque there's an NHL player there. When we talk about the Oilers drafting, I do think MacT brought some urgency to the process and Yakimov might be an actual player. Laurent Brossoit is also trending well, he's sporting a .918SP this morning, and that Pakarinen kid is probably ready for the NHL. The farm team has some nice things. Seriously.
OILERS DEFENSE IN A BOX, 2014-15
| | | | | | |
| --- | --- | --- | --- | --- | --- |
| PLAYER | BOXCARS | PROJ14-15 | CORSI FOR % | OZ STARTS | 5X5 PER 60 |
| KEITH AULIE | 8, 0-0-0 | 68, 0-0-0 | 54.46 | 44.8 | 0.00 |
| JEFF PETRY | 21, 1-2-3 | 81, 4-8-12 | 52.97 | 42.7 | 0.39 |
| OSCAR KLEFBOM | 2, 0-0-0 | | 52.86 | 50.0 | 0.00 |
| JUSTIN SCHULTZ | 22, 2-8-10 | 82, 7-30-37 | 51.37 | 62.5 | 1.05 |
| ANDREW FERENCE | 19, 1-1-2 | 79, 4-4-8 | 50.88 | 40.6 | 0.44 |
| MARTIN MARINCIN | 12, 0-1-1 | 72, 0-6-6 | 50.15 | 48.5 | 0.43 |
| NIKITA NIKITIN | 18, 1-3-4 | 78, 4-13-17 | 49.15 | 56.4 | 0.45 |
| MARK FAYNE | 22, 1-3-4 | 82, 4-11-15 | 47.74 | 45.9 | 0.68 |
Some of these numbers are after 19 games, Vollman and War-On-Ice haven't updated for a few games (BTN as well). There are some good things here, but  when people say 'the Oilers could learn some things from the Flames' they're absolutely right. Example? Dear Oilers, your best defenseman will be a free agent in the summer and you're probably going to trade him. Yeah.
Jeff Petry has the toughest zone start and delivers a nice Corsi for and decent offense (no one is scoring well on this list).
Andrew Ference is also having a very nice season. He doesn't seem to be getting credit for that, but the numbers say it is so.
Martin Marincin rebounded nicely over the 7-12 games, he's over 50% CF.
They need to play Mark Fayne more.
Justin Schultz has lost his confidence, and that's an issue. He's a wobbly go when things are going well.
Niki Nikitin is just starting to turn the corner back to health, that isn't reflected in the numbers above.
If they do rest Jultz, I'd like to see:
Marincin-Petry
Ference-Nikitin
Klefbom-Fayne
I trust Craig MacTavish to keep his powder dry if a deal isn't there, but am uncertain if we can trust the team's evaluation of talent. Jeff Petry is close to free agency, and his money was spent on Niki Nikitin. How do we come to terms with this? The biggest news of this day is that Bob Nicholson is moving his chess pieces and the end game may be underway. Is this Daryl Katz being passive aggressive? Or is this the very beginning of the scene that ends with 'leave the gun, bring the cannoli'?
LOWDOWN WITH LOWETIDE
At 10 this morning, we hit the airwaves on TSN 1260. Scheduled to appear:
Dennis King, Oilogosphere Icon. We'll talk about the future and the past.
Matt Henderson, Hockeybuzz and Oilers Nation. New hire at the Nation, we'll go inside these trade rumors.
JR Lind, Nashville Post. Preds have an offense. Hide the children!
Jeff Hauser, Radio Hauser. A lot of NFL talk, probably an Eagles-Cowboys question here or there.
10-1260 on text, @Lowetide_ on twitter. It's going to be a fun day, and of course if anything breaks we'll be talking about it.