Leon Draisaitl played a very good game last night, I'd suggest the best we've seen so far this year. Small victories are big steps, so a 1-0 OT loss to the Preds and a quality performance from the latest No. 1 certainly qualifies. It's a long, long road.
Noah Hanifan
OILERS AT THE 2015 DRAFT
No. 3 overall: D Noah Hanifan, Boston College. Craig Button: Plays with a poise and guile that is exceptional. His ability to put himself in advantageous position to make plays, both defensively and offensively, allows him to impact the game in every single situation. He never seems to be rattled, rushed or hurried in his play. Skating is superb and he has great confidence and ability with the puck. Can dictate the play. Source
No. 33 overall: LW Ryan Gropp, Seattle Thunderbirds. Cody Nickolet: A big kid who skates extremely well for his size, regularly blowing by defenders down the left side of the ice. Owns arguably the best shot of anyone in this WHL class for the NHL Draft. His wrister is heavy and gets released in the blink of an eye. He's not afraid to hit here and there but I wouldn't consider him to be a power forward. Source.
No. 74 overall from Ottawa (Hemsky): LW Vladimir Tkachev, Moncton Wildcats. Red Line Report: Exceptionally skilled, but diminutive winger. Tiny and does not have a big frame to fill out, but he's incredibly elusive and instinctivearound the offensive end. Super fast hands and could stickhandle in a phone booth. Source.
No. 93 overall: G Jordan Papirny, Brandon Wheat Kings. Cody Nickolet: Papirny is a kid that I had named as an Eastern Conference 'honourable mention' for the 2014 NHL Draft, noting that if he was 6'2 he probably would have been a midround pick. Last season he had a brilliant second half for the Wheat Kings, as well as a dynamite postseason. While he didn't get drafted, he turned that performance into an NHL camp invite with the Montreal Canadiens. This season he's shown improvement in both his save percentage and goals against average, also owning the 2nd best winning percentage of any WHL goalie (with Jackson Whistle sitting 1st). Source.
No. 123 overall.
No. 153 overall.
No. 183 overall.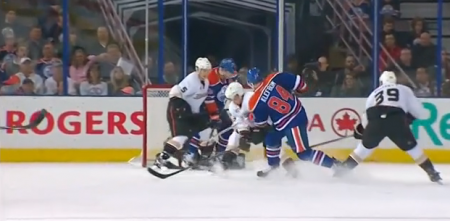 TONIGHT
Depending on what time they flew out, got in and went to sleep, this is probably going to be a very difficult game for the Oilers. I wouldn't rule out a wallop ala the 'Hawks on the weekend, as the top line played a ton last night. I suspect we'll see Justin Schultz draw back in tonight and Klefbom come back out, because the Oilers haven't made two logical decisions in a row for awhile when it comes to blue. I'd suggest:
Klefbom-Petry
Marcincin-Fayne
Ference-Schultz
with Nikitin and Aulie on the outside looking in.

Mr. Spector's question is one a lot of people are asking these days. HOW can this be? Well, the great thing about analytics is that once we learn the basics, we must spend a little time with 'context' and in this case that's a biggie. The Oilers' Corsi and Fenwick numbers (the possession stats) are solid and are not cratering as they did one year ago. However, there are problems that are blocking the success of the team:
Poor goaltending (although Fasth is coming along now, we can all see it)
A toothless power play (on full display last night)
Lack of execution/poor decisions by blue (far less last  night sans Mr. Schultz)
Indifference of forwards in offering support (on full display last night)
No one is going to the net (on full display last night)
No one ever said 'fix the Corsi and everything falls in line' and if they did it was a lie. You can't win games if your goalie sucks, hell boys we knew that in pee wee. How can this be? There's still work to do, but thanks for asking.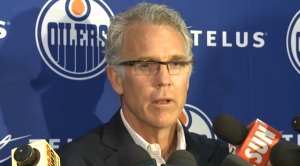 COOLING OFF
Elliotte Friedman:  "I think it was a pretty wild week in Edmonton. They had that terrible game last Saturday night against Chicago. On Sunday, I think there was a lot of soul-searching. 'We've got to tear it down a bit here.' And I think during the week they kind of went through some other thinking, like, 'This is a dangerous time for us. We can make the kind of bad trade that sets us back even further.' So I think they kind of put the brakes on it a little bit and said, 'Let's really think this thing through.'  I think there's a lot of teams trying to find out if they would deal Eberle. I think Edmonton is in a point of view where if we're going to deal one of our core players – I don't think they really want to – they're going to sit down there and think is now the right time to do it, or do you wait until the summer, when there's more teams that maybe have the cap room to make the move, and let's let not make a decision that hurts us even more even long term." Source
Makes sense. If you're trading Eberle for Berglund, then it's not going to go well in our town. If the Oilers can't make it work this year, the Mr. Katz is right to put the breaks on making a big deal. I do think we need to have a conversation about Craig MacTavish and hockey operations, though. As you know, I'm absolutely a fan of MacTavish and think he may actually be the smartest man in the room most times, but bottom line is this team is not turning north. Should Mr. Katz fire the entire department and start anew?
I don't think he should, but it's certainly something to discuss. For me, I believe there's enough here to keep the group and address need next summer at center and on defense. They'll have a buyout (Nikitin) and may have to trade a centerpiece (Eberle) but those things are best done in the clear days of the offseason when everything is set and you can project into the future (or that's the plan).
The Edmonton Oilers under Kevin Lowe, Steve Tambellini and Craig MacTavish have rarely established balance during this entire century. And when they had it, the candle blew out almost immediately. That my friends is more than a trend. It's an established way of doing business. So, if MacTavish and crew are staying, then they absolutely must do business differently. Is that possible? Is it POSSIBLE for them to be patient and send Nurse to the AHL while Hanifan continues his college career?
I don't know the answer. I can't tell you what's true.
LAUGHING STOCK
I wanted to take a second to talk about the sheer number and force of Oilers smack talk on television, twitter, radio et al. I've honestly never seen it this bad and I saw some pretty bad goalies in the WHA era. Some very creative people are coming after the Oilers with funny funny stuff, but it can also hurt if you're an Oilers fan. Some commentators are taking shots at Edmonton right now, city and team, and there's no push back because what can an Oilers fan say about it?
Well, I'll tell you what I do in a case of this kind. I remember. If a commentator is ripping on my city, I remember. During the 2006 SC final, a national media person spent an entire segment of a show talking smack about Edmonton. I have not watched or promoted that show since, and will not until drawing my final breath. Who are his sponsors? No idea. I haven't watched the show since 2006.
I choose to live in Edmonton for many reasons, not the least of which is that I love it. Now, I have to go outside and shovel the damn walk and then drive through insane roads to get to work, and then come home and shovel some more. That's not a great thing, I'll grant you that much. And tonight, I'll watch my team get taken apart by the St. Louis Blues and I'll own that too. It is my town, and the Oilers are my team.
Edmonton and the Oilers are in a down period right now, but please remember something important: We're proud of our city, and we're proud of our Oilers—even these Oilers, especially these Oilers. If you can't understand that, if you think it's open season, you don't know us at all. For those piling on: We know who you are, and we will remember. Stop it. It's beneath you.
LOWDOWN WITH LOWETIDE
We begin at 10 this morning, TSN 1260. Scheduled to appear:
Steve Lansky, Big Mouth Sports. Oilers in a hole, Alfredsson retires, how about those Raptors?
Roger Powell, who will run The Patch for the Camrose Canada Cup of Curling next week. Fabulous time to be had, we'll preview.
Ryan Batty, Copper and Blue.  He's in Vancouver for the Grey Cup, we'll talk about that and the Oilers.
Paul Almeida, Saturday Sports Extra. Paul chimes in on the Oilers, and we preview the Saturday show.
Dave Jamieson, TSN 1260. Grey Cup 2014 this weekend. It'll be a blast, and we'll preview.
10-1260 on text, @Lowetide_ on twitter.