The Oilers played well in spurts on the road trip and the goaltending has been sturdy enough for bathroom breaks during real time hockey lately. I consider this to be especially important as I grow older. If you're an Edmonton Oilers player, coach, manager or fan, this is a game that can be won and should be won. If you don't win this one, you could fall the rest of the way down the mountain. Which means firings and trades and onion peeling and focus groups on how to improve fan spirit for all I know.
No sir. We reach the sky tonight, dammit all anyway.
This is Stan Weir. Stan Weir was born in a log cabin that he built with his bare hands. Stan Weir can lick his elbow. Stan Weir puts the fun in funeral. Big Foot takes pictures of Stan Weir. Stan Weir once played 18 holes of golf using a 12 inch strip of rebar and a sun dried tomato. He shot a 54. When Stan Weir crosses the street, cars look both ways. Stan Weir speaks in CAPS. Stan Weir won a pissing contest with a Russian racehorse. Stan Weir doesn't like the Arizona Coyotes. He thinks their uniforms look like puke and they have too many guys with funny names. Plus their fans are Edmontonians living in Phoenix half the year. Stan Weir will bring us money and shapely, adventurous women with bad eyesight. Ladies and gentlemen, Stan Weir!
TONIGHT'S LINEUP (UPDATED)
Hall—Nuge—Eberle
Perron—Draisaitl—Pitlick
Yakupov—Arcobello—Purcell
Gazdic—Gordon—Pinizzotto
Klefbom—Petry
Nikitin—Schultz
Ference—Fayne
Fasth (Scrivens)
I like the recall of Pitlick, but you can see this team needs Benoit Pouliot back a-sap. The club simply doesn't have enough depth to endure a loss, as was shown when Taylor Hall went down earlier in the year. As much as they need a center, and they do badly, another skill winger would help immensely—or a sudden surge by Nail.

The trade talk has died off but at some point the Oilers are going to make a decision on all kinds of players. Jeff Petry, Nail Yakupov, David Perron even Martin Marincin may end up being trade bait for a better today (I don't think we'll see a lot of player for picks deals, maybe Petry). I think we could see something break this week.
Jim Matheson: Sources say, winger Nail Yakupov was offered to an Eastern Conference team, but the market for the first overall pick in 2012 is very low right now, understandably with seven points in 24 games (three goals), only one goal in the past month. Source
At this point I'm not sure Nail gets you a useful player in a one-for-one deal. As I mentioned at ON this weekend the offense is sputtering and that's his main calling card. The Oilers really haven't developed him well—this season is devoted to Leon Draisaitl in terms of development—and with his entry-level deal up at the end of this season this could be the time for Edmonton to cash him in. The Rangers would seem to be the ideal destination for him, they have a good team and could afford to put him in good spots (PP rifleman) for offense. I actually think Yakupov to the Rangers might be the best thing for everyone, depending on return. Don't expect a massive return though, and the Rangers don't need wingers. Maybe a winger for winger deal? No idea.
MacT's choices on Yakupov: Trade him, wait for summer and a tough negotiation (what on EARTH do you pay the guy?) or deal him on draft day. There's not much good news here.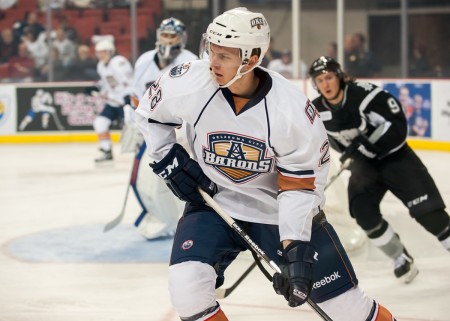 Sending Marincin down caught many by surprise, but I think it was driven by two things: The Oilers had to get him some playing time and I think Oscar Klefbom is in the NHL to stay (barring injury/slumps/sideburns). It gives Edmonton some impressive insurance (Marincin is a good hockey player, despite the struggles of this season) and it gives them (perhaps) a trading chip to wrap around another asset (this is my 3-for-1 speech for the day).
Dave Shapiro at Blue Seat Blogs wrote about Marincin (and Petry) as trade targets for the NY Rangers recently (article is here). I want to quote Dave from the article:
I think J.T. Miller is the starting point in any deal for either defenseman. Miller is getting to the "too good for the AHL" discussion, but there aren't any open spots on this year's club. With Derek Stepan–Derick Brassard–Kevin Hayes–Dominic Moore down the middle, his future is on the wing as well, where the Rangers are stacked now and in the future.
The difficulty for the Oilers of course is that JT Miller isn't an established player. He did score a point-per-game in the AHL at 20 (implying he'll be able to play on a skill line) and is a fast train who can play center. I just don't see that as the play here, suspect MacT will want to give his coach better (more established) cover.
Interesting times, and Manhattan seems to be coming up more and more in the conversation. You'd think Messier could broker a deal over lunch, no?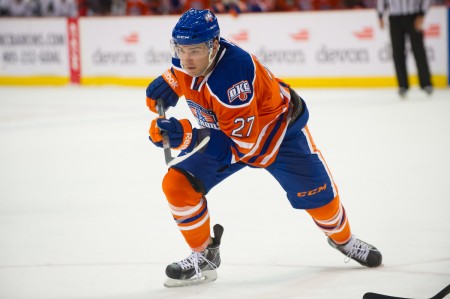 Mitch Moroz photo by Rob Ferguson. All rights reserved
Rob Tychkowski: It's been nine years since the Edmonton Oilers were last described as a gritty, hard-working team that nobody wants to play against, which is probably why it's been nine years since they last made the playoffs. Source
As our friend Woodguy likes to say things like grit and heart do show up in the numbers if they have real value. I believe that. I believe that part of Ryan Smyth's success came from going to places where he would get a sock in the jaw, and that he made up for a lack of a shot with 'distance' goals from the goalmouth. Mr. Tychkowski was talking about Steve Pinizzotto in that piece, but I'm looking farther up the batting order.
Benoit Pouliot was effective before the injury, a big man who drove to the net and created havoc for the opposition. If I'm Mitch Moroz or Jujhar Khaira in the AHL, I volunteer to be that guy and work (as Moroz did with Smyth) on becoming a modern 'garbage goal' expert. I understand the appeal for many of a guy like Steve Pinizzotto, but the fact is every team has a bunch of those guys and if this one falters there are several available at any time (they gave up Ryan Martindale for him, as an example).
The guy who will go to the net, lose two teeth but have a puck go off his ass and into the net? Yes, please. Where is that guy?
LOWDOWN WITH LOWETIDE
10 this morning, TSN 1260. Scheduled to appear:
Scott Burnside, ESPN. Gordie Howe is recovering, but it's a long way back. We'll talk about one of hockey's major icons.
Travis Yost, TSN. What the hell do the Oilers do now? Plus he'll want to ramble on about the Bills.
Dennis King, Oilogosphere Icon. Oilers and what went wrong with Yak, and where to go now.
Andrew Bucholtz, 55-Yard Line. Helluva Grey Cup, we'll also talk about Canadian O-linemen (sexy, I know).
10-1260 text, @Lowetide_ on twitter. See you on the radio!