This one has a weird feel to it as we get closer to game time. Winnipeg is the site of a few monster Edmonton victories over the years (1990) but it's been so long since games were played there I don't really have a feel for the rivalry. The Jets can poke a gigantic hole in the the Oilers with a resounding win tonight and the visitors have to be at a low ebb after a ghastly game at home on Monday.
BRYZ?
Word last night that Ilya Bryzgalov was close to signing with a 'mystery NHL team' and of course that has to mean the Oilers. Right? I would not put it past MacT to gather up yesterday's papers and use it as a cushion one year later. His Oilers SP (.908) would tower over Scrivens and Fasth so far this year. It could happen.
POINT COUNTERPOINT
I don't know where this is heading, but it'll be fun to see how it works out. Two prominent men in Edmonton media have chimed in on the Oilers and what's about to happen, meaning there's more than just the game to follow tonight.
Ryan Rishaug: Conventional hockey logic suggests it is time for Craig Mactavish to fire Dallas Eakins.  In most other markets, it probably would have happened already.  I'm here to tell you, it's not going to happen. At least not in the near future.  MacTavish still believes in Dallas Eakins' message and he believes the players do, too. Source
Mark Spector: My suspicion is that he will be let go after a loss on Wednesday in Winnipeg, and MacTavish will take over behind the bench with assistant Craig Ramsay. Eakins was never ready for this job, and like his predecessors, has let the young players run amok, with leashes so long that the rank and file players simmer every time they suffer another minus on yet another egregious Taylor Hall giveaway. Source
Interesting stuff, and a unique opportunity to see who has their finger on the pulse of the Edmonton Oilers. Will Dallas Eakins be Edmonton's coach tomorrow? I believe absolutely he will, but this will be an interesting item to follow this evening.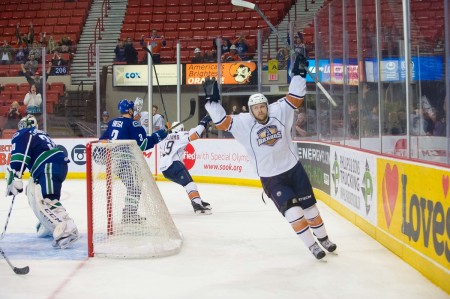 Curtis Hamilton and Jason Williams after scoring an OT goal last night to get past Utica.Photo by Rob Ferguson, all rights reserved
A great play by Hamilton (who has 4 assists in his last 4 games) led to the winning goal for the Barons, who are streaking. Todd Nelson has his troops playing well and the prospect development on the farm this fall is exciting. I expect we'll see more callups and the season rolls.
Todd Nelson on Martin Marincin: "The biggest thing for Marty when he's up there is making plays under pressure. He needs to more aware of space and make quicker decisions. Those are things he can work on here. Without the puck he's excellent. He has a great stick. It's more making plays with the puck under pressure." Source
Marincin hasn't been as sharp as last season, hopefully some time with Nelson and he regains his confidence with the puck. There's over 50 NHL games to go, many opportunities for all of these young Barons' prospects.
 RIP
My Dad hated the Habs, but always spoke about Jean Believeau with respect and any fool could see he was first class. I saw him right at the end of his career (my Bruins would lose to the 1971 Habs and that was the final spin for Beliveau—he scored 22 points in 20 playoff games) but his splendid retirement included acting as a statesman for the game and for the Canadiens. He did it in grand style. It is so very sad to see these legends go, and I'm mindful of the struggles Mr. Howe is experiencing these days and the recent losses of Pat Quinn, Murray Oliver and Gilles Tremblay. They were towers of the game in their time. Get well Gordie. RIP Jean.
 DYLAN STROME
I know, I know, but it's reality and we might as well start getting to know these young men. Dylan Strome is Ryan's brother and man he's talented.
Brendan Ross, Dobber, McKeens and TheScout.ca: "He plays the game at a high-pace and is always pushing the pace of the game. He is a creative passer with elite level vision and his crafty puck skills allows him to a strong possession game. His skating is improving from what used to be somewhat wild and heavy footed. With an elongated stride, Strome propels himself up the ice with ease erasing any of those previous concerns. Strome is a confident offensive player but at times he tries to do too much and it leads to some unnecessary turnovers but it's this individual skill that is what makes him a special talent with intriguing upside." Source
One thing the comments made by Andrew Ference accomplished? Putting the spotlight on Taylor Hall, Ryan Nugent-Hopkins, Jordan Eberle and Justin Schultz. That can be good and bad—good because you want your best players to rise to the challenge, and bad because the fanbase is ripping the team's best players—and of course the media sees blood in the water and that will have its own impact in due time.
This has been a difficult season for the Oilers management, players and fans. This could get ugly, but it could also result in a brand new day. The fracture is clearly there, does this force the issue to a blow up and then conclusion? Or is it the ignition for another blow up when the media finally gets to ask Andrew Ference 'who were you talking about?' for the 100th time? If this team keeps losing, we may see some unfortunate moments. I hope this team starts winning, the cracks are certainly forming and this is as bad as I can remember since the Ted Green—George Burnett era.
For what it's worth, I think blaming Taylor Hall is just about the craziest thing I've seen as an Oilers fan. It does have precedent however, losing teams often target their best players for ridicule. So far it's the fanbase, and that's fine rock on. If the organization turns on him? Well, that's the worst case scenario from where I sit. One thing I can say with authority: It's pretty damn irritating to see MANY media and fans delighting in the misery of the Oilers and their fanbase. I sincerely hope that I live long enough to see the turnaround and promise to be a complete asshat to other fanbases when it does. Who's with me?
WHAT'S NEXT?
At this point, Craig MacTavish is very likely to tweak the roster between Thursday morning and the Sunday game. As mentioned above, we might see Bryzgalov coming in (I have no proof but it makes some sense) and we could see another callup depending on how well the team performs tonight. The Oilers have had too many 'must win' nights since MacT stepped down as coach and it has to stop. Whatever they do, the Edmonton Oilers have to figure out a way to avoid gassing a season in the first two months of the schedule.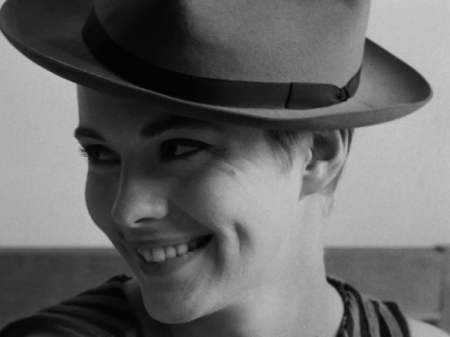 LOWDOWN WITH LOWETIDE
We are live from Camrose and the Canada Cup of Curling today, with plenty of Oilers talk and opportunity for you to vent. Scheduled to appear:
10:05 Bruce McCurdy, Cult of Hockey. We'll talk about 'when was it this bad?' and look forward to tonight's game.
11:05 Michael Parkatti, Boys on the Bus. Michael will have a new post up this morning, we'll talk about the season and the gap between good possession and success.
The rest of the morning will be spent talking to you about the Oilers and talking about curling in Camrose. The format for the Canada Cup allows some of the best curlers this country has to offer this week, I'm looking forward to talking to some of the big names in the sport.