We're at that weird point in the season where predictable things become less trustworthy. San Jose played last night, barely won the game and Edmonton's team has enjoyed days of rest and preparation. You would think the Oilers have the advantage tonight, but…..
There is much that can be salvaged this season, but the coach and players will not be getting any help to turn this thing around. It's fairly obvious (verbal from players, the fact the Oilers didn't fire the coach) Eakins still has the room but the team needs wins to save his job. These young Oilers often play up (or down) to the level of their competition, but will need much better coverage defensively to win tonight and this week. What are the odds the club comes out with four points against San Jose (times 2) and Anaheim (times 2)? Their best chance for a win is tonight, and one hopes we see more of Fayne and Petry and less of Schultz and Nikitin. For Eakins, this isn't about development, it's about wins. As December reaches the midway point, with four more losses, we may see trades and OKC airlifts. I believe it's that close to happening. I also believe this team can win hockey games if their goaltending and coverage gives them a chance. Call me crazy.
Bruce Garrioch: Six teams (possibly Montreal, Ottawa, Columbus, Florida, Anaheim and Boston) have shown interest in forward David Perron. Source
This trade might become easier with the change in the weather (cloudy, with a 90% chance of McDavid/Eichel). If the Oilers are willing to take a package that includes a draft pick as part of the return and (especially) a dead contract, the procurement department (whoever that may be) may be happy with the deal. Disappointed to see him in these trade rumors, David Perron is a fine, fine Oiler. Damn shame.
Steve Simmons: If Todd McLellan doesn't make it to next season as coach of the San Jose Sharks, don't be surprised if he ends up coaching the Edmonton Oilers. Source
That's the kind of coach Edmonton would no doubt pursue, a veteran with solid-to-great credentials. McLellan is in a weird spot with the Sharks but has them winning now so this could be much ado about nothing.
Sidney Crosby QMJHL 62GP, 66-102-168 (2.71 points-per-game); Connor McDavid OHL 18GP, 16-35-51 (2.83 points-per-game)
Steve Simmons: I have to be honest: I'm cheering against the Oilers on the road to McDavid or Eichel. They have tripped over themselves so often that I really would like to see McDavid or Eichel somewhere where not having a clue isn't a prerequisite to a management position. If I could a place for McDavid it would be Columbus: A McDavid-Ryan Johansen combination going forward reminds me of Tim Duncan and David Robinson in San Antonio. One bad year meant more than a decade of great seasons. This Edmonton bunch isn't deserving of anything that great. Source
He's right, they aren't deserving and maybe the NHL offices are loading the dice in an effort to Ewing the process (I don't believe that by the way). I would argue the long-suffering fans of this franchise are deserving though. I don't think Craig MacTavish can walk to the podium and make the pick, they'll have to get Nicholson or the next Stu MacGregor to do it. New face, new result and all that jazz.
McDavid's NHLE is 82gp, 22-48-70. He's incredible. A top line of Hall—McDavid—Eberle could shoot the moon, and a second line of Pouliot—Nuge—Perron might just be the second unit this team has been waiting for since 2006. We'll see, sounds like Perron is gone, but that's a nice 6.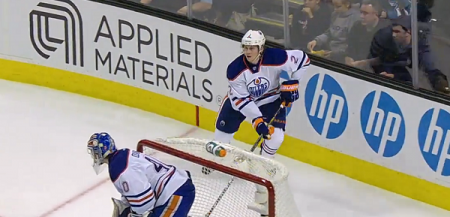 CROUCHING TIGER, HIDDEN DRAGON
As this season winds down, it's probably time to discuss Jeff Petry and Nail Yakupov. I wrote about Petry's one-year deal back in the summer:
Who do you blame? Craig MacTavish is the GM, buck stops there. Shameful contract, no defending it.
Oilers seem to do that a lot. ALWAYS!!! The Oilers haven't had a balanced defense since 2006!!! As soon as Gilbert resembled an NHL defenseman they couldn't wait to cash him in for Nick Schultz—who closely matches the traditional Oilers version of an effective veteran. The problem is that the position has changed, and mobile, quick thinking defenders who can win battles but may not knock people's heads off are the preferred skill set.
That's kind of where we sit with Petry, can't imagine he'll return. The additional problem is what the Oilers will get back—it'll be a draft pick or a mid-level prospect—and the difficult depth chart (Fayne, Petry RH side) facing the new management/coach. Losing Petry for a distant bell is absolutely noxious, and that's on Craig MacTavish. He was left with a difficult negotiation because Steve Tambellini fiddled but it didn't have to end this way.
The Oilers are going to need some finishers if their 'up the middle' center depth chart is Nuge—McDavid—Draisaitl and that could mean room for Nail Yakupov. The brilliant Russian has not adjusted to the Oilers way (perhaps an endorsement of the young man) but remains a legit talent. If the Yak side insists on big money then he'll be down the line but there's a better chance (imo) Yakupov stays than Petry does.
Hall—McDavid—Eberle
Pouliot—Nuge—Yakupov
How's that look?