Size, speed and calm feet. Oscar Klefbom played 24 minutes (again) last night and in 35 shifts turned away dozens of sorties with aplomb. On an Edmonton Oilers team where chaos rules from the blue line in, square-jawed Oscar sliced through the enemy advance like a seasoned warrior. And the crowd was well pleased and knew what they were seeing: 24 minutes a night when their sphincters would not be in a fright. Thanks Stu MacGregor, probably a good idea to put Oscar on your resume.
The hype surrounding McDavid, Eichel and Hanifan obscures a strong 'group of five' emerging in the race for spots in the 2015 Top 10 overall. It's a strong year for the OHL, NCAA and the WHL at the top of this year's draft.
TOP 10 DRAFT PROSPECTS,  2015
C Connor McDavid, Erie Otters (OHL) Insane talent, franchise cornerstone, empire builder.
C Jack Eichel, Boston U (NCAA) Speed, strength and skill in a wonderful package. Best consolation prize of your lifetime.
D Noah Hanifin, Boston College (NCAA) 6.03, 205 world-class speed, exceptional offensive skill. Similar to Seth Jones.
D Oliver Kylington, Farjestad (SEL) 6.0, 174. Two-way defender with terrific speed and an across the board skill set.
C Mitch Marner, London Knights (OHL) Tremendous skater, very skilled. Undersized. Trending.
C Dylan Strome, Erie Otters (OHL) Speed, shot, creativity, smarts. Lots of PP (McDavid) points.
D Zach Werenski, Michigan (NCAA). Sound defender with outstanding offensive ability. Quality in all three zones. Source
C Nick Merkley, Kelowna (WHL). Powerful skater with plus playmaking ability. Crazy offensive season.
C-L Pavel Zacha, Sarnia Sting (OHL) Huge forward with skill, work ethic and ability along the wall.
C Mathew Barzal, Seattle Thunderbirds (WHL) Intelligent offensive player with exceptional passing ability and speed.
Kylington has been named to Sweden's WJ roster, as has William Lagesson. Strome's draft number may be impacted by the large point total amassed with Hockey Jesus 2.0. Corey Pronman had the story via twitter last night: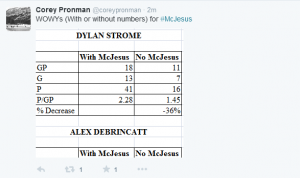 DRAFTING PHILOSOPHY
Matt Henderson is a frequent guest of the Lowdown and has an interesting article up at ON this morning. It is here. In the article, Matt quotes MacT on the scouting since he took over:
"We've worked hard to improve all our processes, in terms of our drafting. We're more regionally focussed. Uh, there's more of an emphasis on getting to know the players, interviewing the players. We've integrated a lot of, uh, uh, analytics into our decision making. We've integrated technology into our video scouting. We've got more management now in the field communicating with our scouts and watching games. We've got a Draft philosophy…since I took over. We've got a Draft philosophy in an effort to improve our Draft record." (Emphasis Matt"s)
Here's the thing (and please read Matt's article because it is very insightful): There ARE picks in 2013 and 2014 that suggest a change in the weather since MacTavish took over. However, it is wildly inconsistent and the draft team is still prone to walkabout. Back in 2013, leading up to the draft, Stu MacGregor had this to say about that change in philosophy:
Stu MacGregor: "Well with Mac, skill is really important to him. That's something that he's looked for. Obviously the other intangibles of character, hard work, quality of people and players who are passionate to play the game are important, but he really has a high regard for skill."
If you look at the Oilers drafting since 2013, size, skill and 'up the middle' selections have been front and center. Here are a few items of interest:
The first player winger selected in those two years came at No. 88 (Slepyshev) in 2013.
The size/skill at the top (Nurse, Draisaitl, Yakimov) is very clear.
The club did draft smaller C's (Roy, Platzer) but they came with 'two-way' reputations.
The 2013 draft looked strong the day it happened and has trended well. This past draft looks like mush to me, did on draft day. Leon was a terrific pick, Lagesson and Nagelvoort are interesting but I'd suggest there were better players on the board, and there were ABSOLUTELY better players on the board when Coughlin, Vesel and Bouchard were selected. If Craig MacTavish wants to get better at the draft table, he should do these things:
Go back to the conversation about Keven Bouchard versus (another player we haven't identified) and re-visit the priorities. Skill, skill, skill MacT. You had it right in 2013.
If Bob Nicholson is doing a witch hunt on the scouts, tell him to read every scouting report on men like David Musil, Samu Perhonen, Nail Yakupov. THEN figure out who in the room influenced those picks and then proceed accordingly. I sincerely believe Nail was the right guy, but if your scouts (as has been reported) weren't strong on him, and he was taken away, who's running this joint? I think the disconnect on a guy like Musil probably came down to relationships, which is a real sign of danger. Knowing the Oilers, they'll be drafting the grandkids in another 25 years.
Duct tape the guy who keeps pushing overage BCJHL people. Seriously. Jesus God it's getting annoying.
BOYD GORDON
Boyd Gordon missed the end of last night's game and that brings up the Kyle Chipchura issue from the weekend. I'm thrilled with last night's victory but am very disappointed this organization is shutting things down in the procurement department. MacT, give your man a chance!
TYLER PITLICK
Early days, but three games into his audition this season I like his game. Offense is going to be the issue—he's going to have to score Ryan Smyth goals or he won't score much at all—but this player looks like he can play at speed and do some good things. It's nice to see, if he graduates as a prospect Pitlick would be the third player from what has become a star-crossed 2010 edition.
LOWDOWN WITH LOWETIDE
At 10, TSN 1260 we are back in the studio for the week. Scheduled to appear:
Scott Burnside, ESPN. BOG meetings in Florida today, we'll talk expansion (Vegas, baby!!!) and 2015-16 cap.
Travis Yost, TSN Analytics. Why did Craig MacTavish give up on a team that showed decent underlying numbers?
Dennis King, Oilogosphere Icon. MacT media avail Friday, Oscar Klefbom, inaction on Chipchura waiver.
Lots of open line time planned, when the Oilers win it usually becomes less driven. So this is your chance! 11:25-ish. I'll also be filling in for Dave Jamieson noon to 2pm this week, guests today include Aaron Ward and Pierre Lebrun. 10-1260 text and @Lowetide_ on twitter. Talk soon!