The Edmonton Oilers did some nice things in San Jose but lost a road game to a better team. No sin there, and LOTS of good signs for a young, building team. Leon Draisaitl had another strong game, Oscar Klefbom showed some nice skating and a howitzer from the point and Tyler Pitlick crashed and banged his way to a solid performance. You may not like it, but these are the things to discuss for the rest of the season (along with the draft). The Corsi's were dancing, but the dogs were barking and the goalie wasn't stopping pucks. Again.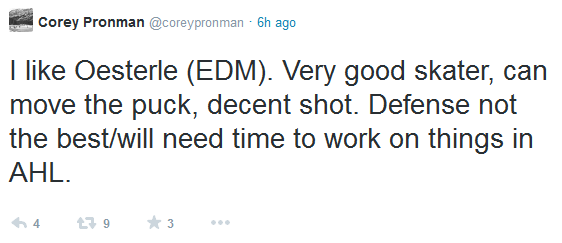 A CONVERSATION WITH TODD NELSON
I spoke to Todd Nelson yesterday on Dave's show, we chatted on numerous subjects—several items that may be of interest to you.
On D who haven't played in the NHL yet: "They're all playing well right now, it's a healthy competition. Jordan Oesterle is having a very strong season, his skating ability is excellent and he has the ability to skate out of pressure. Dillon Simpson makes smart plays and is adjusting to the AHL. The guy who has turned the corner for me over the last couple of weeks is Martin Gernat. Marty was very inconsistent at the start of the year, we had to communicate to him we wanted him to play with more intensity and more consistently, he's bringing it the last five of six games."
On prospects developing at their own pace: "Everybody has a different adjustment curve. We're seeing that this year with Curtis Hamilton, he is having an outstanding season for us. This is his fourth year, people may have thought and I think even the coaching staff thought we'd see this game out of him in his second year, but he's playing well and he's a player knocking on the door for a callup."
I like the Hall—Nuge—Perron and Yakupov—Draisaitl—Eberle trio's, maybe we see them again tonight. Pitlick isn't a scorer but he can do some things on a checking line and he's certainly fast enough to forecheck and perhaps eventually penalty kill. For fun, here are the D TOI totals from last night:
Oscar Klefbom 23:22
Jeff Petry 22:32
Justin Schultz 22:05
Andrew Ference 20:55
Mark Fayne 20:33
Keith Aulie 10:33
Is it too late for Calder Trophy contention? Probably. The kid can flat out play. I don't know that Brandon Davidson will draw in tonight (this is his second recall, so one hopes he gets a chance) but if they scratch Klefbom for any hockey reason for the rest of the season there needs to be an investigation. And recall Marincin while you're at it, men. Mr. Ference could use fewer minutes.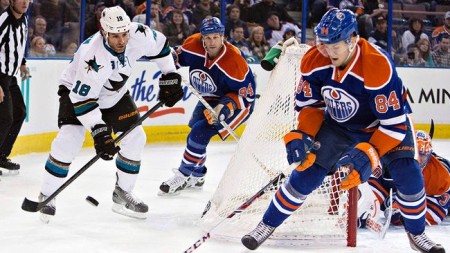 Klefbom took the puck from deep in his own end and swept out from behind his net with authority. As he gained speed and exited his own zone, the young Swede first readied himself for a pass and then decided to carry it to the opponent's blue line. It was SO good. Later, Klefbom destroyed a post with a stunning slap shot that could have changed the outcome of the San Jose game. This young man is bona fide. I spoke to Nelson yesterday about him, suggesting his speed was the key. Nelson acknowledged the speed, but is as impressed with his quickness and ability to recover on a play. Man, this is an exciting development, right in the heart of a massive weakness. I know it's open season on the scouts but that was a fine selection.
IT'S THE GOALTENDING, STUPID
The Oilers Corsi for % at 5×5 last night was 54%, but Ben Scrivens save percentage was .792. Fasth starts tonight, I've never seen a team that killed goalies like this one. I don't know if there's a goalie on the planet who can fit this wayward bunch, but MacTavish hasn't found him yet. Good Christ this is four good men and one Bryzgalov now.
Taylor Hall is off his pace of one year ago by some margin now (projects to 59, scored 80 a year ago) but he usually market corrects just about the time I identify a slump. If your problem is Taylor Hall being off the pace that's a good thing in one way: He should make it up in a fast hurry. He's had a subpar season in many ways (turning over pucks in flagrant areas, poor coverage decisions), I'll bet on him recovering offensively in the coming weeks.
 PRIORITIES
As badly as this team needs a center, at this point I'm prepared to suggest goaltending is the bigger issue. Sending away draft picks and prospects is not a plan for the season (who cares if they lose 50 games?) but it's pretty clear the Oilers will need to (once again) address the goalie position in the summer. Any preferences?
LOWDOWN WITH LOWETIDE
10 this morning, Lowdown with Lowetide on TSN 1260. Scheduled to appear:
Bruce McCurdy, Cult of Hockey. Plenty to discuss, including one Swede up (the emerging Klefbom) and one Swede down (the forgotten Lander).
Sean Beissel, Donnan Hockey. Canada Winter games, and playing defense.
James Mirtle, Globe and Mail. How good are the Leafs? On pace for 100 points? We'll find out what's going on.
Corey Graham, Oil Kings PBP on TSN 1260. Struggling Oil Kings may mean deadline deals. We'll talk to Corey.
10-1260 text,  @Lowetide_ on twitter. I'll be sitting in for Dave Jamieson again, so stick around if you can. Same bat time, same bat channel.