The Edmonton Oilers are back from their road trip (0-2) and will attempt to improve their home record (5-9-1) against the de facto No. 1 team in the NHL at this time. The 2014-15 Oilers are bad in a lot of categories:
No. 28 in goals-per-game (2.17)
No. 29 in goals-against-per-game (3.34)
No. 27 in PP % (12.6)
No. 19 in PK% (79.8)
No. 23 in shots-per-game (29)
No. 15 in shots-against-per-game (29.5)
No. 19 in faceoff % (49.4)
No. 20 in missed shots (327)
No. 16 in shots (842)
No. 16 in shots-against (855)
No. 14 in CF% All (50.8)
No. 18 in Fenwick % All (50.0)
No. 30 in PDO (96.1)
Interesting set of numbers (nhl.com and hockey-reference) for this team. Corsi For, Fenwick and shots on goal (plus per game) all look average and they're not getting outshot by much this year. The gap between goals and goals-against seems very severe based on the other numbers and that is confirmed by the PDO number.
WINNING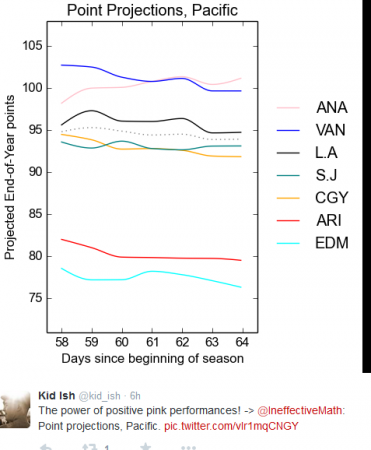 Matt Eakin (@Kid_Ish) tweeted this to show the strong season (with a perky uptick) being enjoyed by Anaheim but it works for the other Pac-7 teams too. The Oilers, Coyotes and Flames (lost three in a row now) are heading in a downward direction with Edmonton the Valley team in the entire project. It's a cool way to track teams and show the massive gap between the good and bad teams. Hi Calgary, see you when you get here.
 THIRTY WINS
I think that's near the 'line in the sand' for Dallas Eakins. If I'm reading the tea leaves correctly, the players are onside with the coach and we know Craig MacTavish is extremely loyal. He hired Eakins, has given him some not all roster tweaks needed, and some of those additions have been poor so far. I suspect MacTavish remains in charge and that the coach has cover if the results are there.
MacT: "So the positive things for me are really the accountability I'm hearing come out of the dressing room at a level that I haven't heard. I think our roster has much more capability in terms of our ability to win hockey games and close out games. We've got to execute better. We make mistakes that young teams and developing teams make and we don't often get reciprocated by the opposition. A lot of times that's enough to turn the game one way or the other. But I think it's always darkest before the dawn, and I think that it's a pretty dark time right now. With some of the improvement in our execution and our accountability we're going to be a team that is going to get turned around." Source

If Eakins gets to 30 wins, I think the coaching staff stays. What changes? A more aggressive summer gets real solutions in goal and on defense (I'm less convinced at center because MacT is now officially stubborn at the position. When MacT makes up his mind, Toby Petersen ends up on the power play) and Daryl Katz writes a letter to the fans in August guaranteeing the playoffs (because Oilers).
ON THE OTHER HAND
If the Oilers can't go 6-6-2 in December then I think the organization probably deals their UFA's and maybe more (depending on return). I think we can all agree that not signing Jeff Petry was a mistake and that the organization is always often stubborn once they make a decision. If the season is lost and it's another "free fall for No. 1 overall" then I'd think Jeff Petry gets dealt. He should get an amazing return based on what is currently available and may be one of several Oilers leaving between now and the deadline:
Jeff Petry should get you a second-round pick even in a deep draft. Fair? Maybe a little more but not a first-round selection.
David Perron would be a nice add for a contending team. I hope he stays, really like Perron as a player.
Viktor Fasth has an even-strength SP of .906 and it's improving. He should have value by the deadline.
Boyd Gordon would fetch a nice return and could sewer the Oilers roster in a Petry kind of way. He has one year left on his deal at $3M.
Keith Aulie has played well and would be an inexpensive add for a team looking for depth at the deadline.
I don't expect the Oilers to trade five guys at the deadline but we haven't heard much about contract talks with Petry. If the club decides not to sign him, then a deadline trade is certain.
GET YOUR RESUME'S IN ORDER
I think we'll see more change in scouting this summer (pro scouts sooner than later, amateur scouts fired/not renewed after the draft) and suspect the club will draft a big player at D or C with the lottery pick. McDavid, Eichel, Hanifan, Zacha, Strome, that kind of thing. Edmonton won't draft a winger in the first round, probably not the second round either although Paul Bittner will be tempting in the second and third rounds if he falls that far at the draft. My current bet? Oilers draft Hanifan. My current top 10:
TOP 10 DRAFT PROSPECTS,  2015
C Connor McDavid, Erie Otters (OHL) Insane talent, franchise cornerstone, empire builder.
C Jack Eichel, Boston U (NCAA) Speed, strength and skill in a wonderful package. Best consolation prize of your lifetime.
D Noah Hanifin, Boston College (NCAA) 6.03, 205 world-class speed, exceptional offensive skill. Similar to Seth Jones.
D Oliver Kylington, Farjestad (SEL) 6.0, 174. Two-way defender with terrific speed and an across the board skill set.
C Dylan Strome, Erie Otters (OHL) Speed, shot, creativity, smarts. Lots of PP (McDavid) points.
C Pavel Zacha, Sarnia Sting (OHL) Huge forward with skill, work ethic and ability along the wall.
D Zach Werenski, Michigan (NCAA). Sound defender with outstanding offensive ability. Quality in all three zones. Source
C Mitch Marner, London Knights (OHL) Tremendous skater, very skilled. Undersized. Trending.
C Nick Merkley, Kelowna (WHL). Powerful skater with plus playmaking ability. Crazy offensive season.
C Mathew Barzal, Seattle Thunderbirds (WHL) Intelligent offensive player with exceptional passing ability and speed.
If the Oilers pick No. 3, it's Hanifan. After that, I suspect it could be any of Kylington, Strome, Zacha or Werenski at No. 4 overall. If we're following along with MacT at the draft table, think big and up the middle.
LOWDOWN WITH LOWETIDE
At 10, TSN 1260. Scheduled to appear:
Steve Lansky, Bigmouth Sports. Storm in Toronto, Leafs playing well, saying goodbye to legends.
Paul Almeida, Saturday Sports Extra. Oilers tonight and through December's end.
Alex Thomas, Oilers Rig. Game preview and do they offload to load up?
Matt Eakin (@Kid_Ish) talks Anaheim and how are they getting this done?
10-1260 via text, @Lowetide_ on twitter. It's Friday! Going to be fun.