Martin Gernat is one of many defense prospects trying to stand out in the crowd that is the Oilers current prospect cluster. He appears to have taken a backwards step this season but it isn't clear if the down arrow is real or an organizational  hammer over fitness. Either way, he's talented enough to make the list and could be underrated at this number.
PREVIOUSLY NUMBER THIRTEEN ON THE LIST
December 2004: C Jesse Niinimaki (0)
December 2005: C Jonas Almtorp (0)
December 2006: D Bryan Young (17)
December 2007: L Liam Reddox (100)
December 2008: L Slava Trukhno (0)
December 2009: L Phil Cornet (2)
December 2010: C Ryan Martindale (0)
December 2011: L Tobias Rieder (18)
December 2012: L Tobias Rieder (18)
December 2013: D Taylor Fedun (4)
Mostly cups of coffee, with two legit successes (Liam Reddox and Tobias Rieder) in the group. Gernat seems to fit right in with these names, a cluster with ability and issues running alongside each other.
WHAT THEY SAID ON DRAFT DAY
Stu MacGregor told us the scouts had Martin Gernat inside their top 35.
Redline scout Radim Jelinek: Gernat is a smooth skater with fluid stride and decent footwork for his size. Has very good vision and hands, moves the puck well, handles the puck with confidence making solid decision with puck. Likes to join the rush regularly and shows good instinct in sliding from the point into scoring positions. Just started developing physical play in his game, still very inconsistent using his body, needs to play aggressive, physical game all the time. When he uses it then he is tough to beat 1 on 1, angles forwards to the outside, tights forward up at the boards, hits hard. Lacks strength right now and still growing but has frame to fill it out. D-zone coverage is still very average, needs to read the play better defensively, improve positional play and play much tighter game. Very raw but I like his progress throughout the season and see some similar things in his game as in Martin Marincin's. He is far from him as Marincin was first rounder in my eyes while Gernat is later-round pick but upside is there.
Kirk Luedeke: Slovakia's best defender has excellent size (6-5) and good mobility for such a big kid. He's fluid in his movements and still a little gangly, but had a couple of memorable plays where he jumped in from the point to get a good shot off, but was denied by Gibson. He was burned on a couple of missed coverages, but overall, was one of Slovakia's better players in a thrashing. Lack of physical play and strength is his biggest shortcoming right now, but he has the kind of projectable upside that makes him a solid sleeper for the 2011 draft.
POINTS BY DISCIPLINE, MARTIN GERNAT
| | | | | |
| --- | --- | --- | --- | --- |
| PLAYER | EV | PP | PK | TOTAL |
| GERNAT 2011-12 WHL | 60, 7-25-32 .533 | 60, 2-20-22 .367 | 60, 0-1-1 | 60, 9-46-55 .917 |
| GERNAT 2012-13 WHL | 23, 1-5-6 .261 | 23, 2-5-7 .304 | 23, 0-0-0 | 23, 3-10-13 .565 |
| GERNAT 2013-14 AHL | 57, 4-15-19 .333 | 57, 0-2-2 .035 | 57, 0-0-0 | 57, 4-17-21 .368 |
| GERNAT 2014-15 AHL | 20, 0-3-3 .150 | 20, 0-0-0 .000 | 20, 0-0-0 | 20, 0-3-3 .150 |
That healthy Oil King season in 2011-12 was so much fun to watch, one of my favorite junior seasons (and I've seen a lot of junior hockey over a long period of time). He was injured in his final junior season, but showed well enough in year one AHL. This season has been very different, more on that below.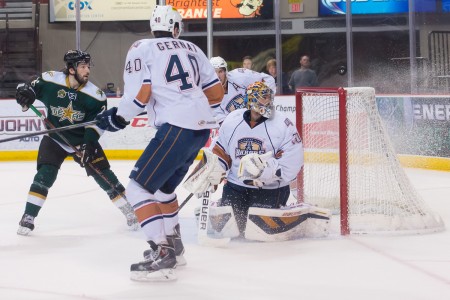 PREVIOUS TOP 20 RANKING
Summer 2011: 19
Winter 2011: 7
Summer 2012: 5
Winter 2012: 6
Summer 2013: 5
Winter 2013: 9
Summer 2014: 11
Winter 2014: 13
Gernat has been all over the top 20, his healthy season with the Oil Kings clearly impacted the rating. His AHL debut was good not great, he played in 75% on the Barons' games as a rookie and showed well enough defensively. A scout I talked to when Gernat was in junior said he wouldn't bring the offense with him to pro hockey and that has held true so far.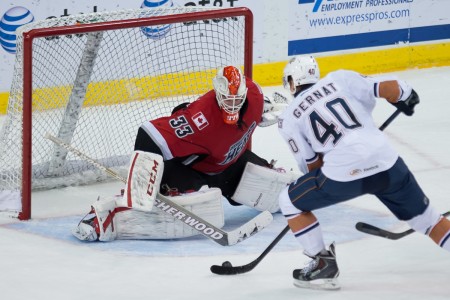 14-15
WHAT THEY'RE SAYING THIS SEASON
Dallas Eakins on Gernat: "Has to get stronger and play a simpler game with more will."
Jonathan Willis on Gernat's early demotion: "This is an embarrassment for a guy who should be an NHL recall option in 2014-15. He has been passed in the view of the coaching staff by both Dillon Simpson and Jordan Oesterle – rookie pros – and both those guys played last night. Eakins praised his work in the summer but said he's "still far below what it's going to take" in terms of strength and endurance to survive in the NHL."
Todd Nelson in December: "The guy who has turned the corner for me over the last couple of weeks is Martin Gernat. Marty was very inconsistent at the start of the year, we had to communicate to him we wanted him to play with more intensity and more consistently, he's bringing it the last five of six games."
THE FUTURE
Gernat is not bringing the physical play and the Oilers are clearly not happy with his progress in this area. Gernat's other problem is that he's playing a position in which Edmonton has exceptional depth, so he's not terribly unique (despite impressive size and some puck-moving ability). I think the Oilers see enough in Gernat to keep him around through the length of his entry level deal (expires summer 2016) but this young player trails Darnell Nurse, Oscar Klefbom and Dillon Simpson on my list and there are several prospects not far behind. Each AHL defender (aside from Oesterle and Simpson) must ask themselves why Brandon Davidson was the recall and Gernat should be pushing for that kind of opportunity.
As that old scout mentioned, the offense hasn't come; despite impressive size/speed Gernat isn't winning battles and imposing his will physically. I think the the Oilers are at a crossroads with Gernat, similar to the one they're currently experiencing with Martin Marincin. It's difficult for fans to know which way the wind blows (is this the fault of the player? The team? Both?) but Gernat earns this spot based on ability and should have a solid pro career. I think the Oilers believe he's a tweener, but the Oilers believe a lot of things.
The 2011 NHL Draft
Ryan Nugent-Hopkins, No. 1 overall. Splendid young player and may be adding another gear in year four after his draft. Graduated.
Oscar Klefbom, No. 19 overall. A big piece of Edmonton's future on the blue line, Top 4D with an emphasis on defense. No.3 on the winter 20.
David Musil, No. 31 overall. Smart defender, it comes down to foot speed. Candidate winter 20.
Samu Perhonen, No. 63 overall. Big goalie hasn't progressed. Back in Finland. Not in organization.
Travis Ewanyk, No. 74 overall. Tough as nails checking C doesn't bring offense. Candidate for winter 20.
Dillon Simpson, No. 92 overall. Turned pro this season, impressing in OKC. No. 8 on the winter 20.
Tobias Rieder, No. 114 overall. No longer in organization. Scouting home run, he's in the NHL.
Martin Gernat, No. 122 overall. A solid young prospect maturing in the AHL. No. 13 on the winter 20.
Frans Tuohimaa, No. 182 overall. Prospect has shown some interesting progress. Candidate for winter 20.
The 2011 draft is in its fourth year and there are some promising things. Nuge and Klefbom appear to be major pieces of the future and Rieder looks like a helluva player. Dillon Simpson and Gernat have a chance—it's highly unlikely both play 100 NHL games and very possible neither play 20—but Gernat certainly covers the bet involved in taking a player No. 122 overall. His range of skills and relative youth have him at No. 13 overall.