A large portion of the Oilers fanbase appear convinced this team lacks passion and preparedness and based on wonky starts it's a fair criticism. I don't buy for a minute that the current Oilers are lazy rabble, they work harder on conditioning than the boys on the bus ever did (this is a universal truth btw, if RNH played a 1971 Phil Esposito shift at the modern pace, he'd pass out) and it's not an argument that holds water.
Many Oilers fans believe the team doesn't care or is indifferent, that professional pride takes a holiday when the team dons the blue, white and orange. I say bollocks. In some cases (Taylor Hall, Justin Schultz, Ben Scrivens, Nail Yakupov) players are trying to do too much, to hit a 5-run homer. Indifferent? No sale.
What then, is it? Here lies the gap that comes from being a fan. I could tell you with authority (and many fans will say or tweet this today):
They're over-coached
The practices lack intensity and so then the feet aren't underneath the players at game start
They're holding their sticks too tight
The goalies have to make some damn saves
The coverage issues are so so bad (in a significant number of sorties) the team dies nightly under the avalanche
The defense gets beaten routinely by the stretch pass
The forwards don't offer support in the defensive zone and lack the ability to give their D a clear, open lane for a pass
Very few defensemen on the team can pass tape to tape
Martin Marincin, Anton Lander and Iiro Pakarinen could help but MacT is stubborn
Taylor Hall, Jordan Eberle, Mark Fayne and others are playing with significant injuries or playing too soon after injury. In any other vocation, you would have a functional capacity evaluation (learn more here!) upon returning to work, but not in this job!
The power play is costing this team games every week
And all of those things are probably contributing. You know what isn't (imo) contributing to losses? Lack of passion or caring. I'm calling bullshit right now on that train of thought. The msm is out for blood on this Oilers team and the 'lack of passion' drum is being pounded hard and heavy. Poppycock.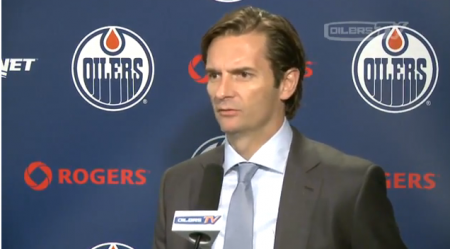 UNDER PRESSURE
The bottom line on this Oilers team is another season is gone, they let go the rope and are now at sea waiting for the end. What will it look like? My own feeling is that Craig MacTavish is still in charge of the team and is both loyal and intelligent. Casting Dallas Eakins as the villain in this piece is farce-look at this team's shortcomings and tell me honestly the coach is primarily to blame-and there are some important positives on the ice this morning.
Oscar Klefbom. What a terrific young player. Last night he made a rookie mistake and then made up for it by going all Jason Smith on the poor bastard fortunate enough to gain an edge due to the original error. Oscar Klefbom is manna from heaven.
Accountability. Young Leon had a bad second period and was pulled from the rotation. That's a good sign, now the coach has to do the same thing higher up the chain. Benching a teenager may seem like a cowardly act but for me it has two effective purposes: Sending a message to a young man who has some lessons to learn, and showing up the general manager for yet another incredibly shortsighted decision.
WHAT'S NEXT?
Craig MacTavish will want to call up Anton Lander, Martin Marincin and Iiro Pakarinen soon. Two things are very clear this morning: No help is coming unless Daryl Katz or Bob Nicholson step in (and they may in fact be the ones who have enforced the 'no fly' procurement policy).
And Craig MacTavish has a vision for this team that includes Connor McDavid in Edmonton opening night. Daryl Katz' apology letter will be along shortly, this one with a promise of a 2016 playoff spot. Next stop: World Juniors to see the next great one. One suspects the management meetings surround a center depth chart of Nuge-McDavid-Leon-Gordon next season, with a blue line that includes Oscar Klefbom and Darnell Nurse. What about the Taylor Hall cluster? Well, that's just yesterday's papers, that's just yesterday's girl. The new Originals are in town.
It is incredible and it is exhausting and it is here. We're sailing to the Hinterland again friends. Pack a lunch, its a poke.