Shame. Shame on the Edmonton Oilers. This is the fifth year of Taylor Hall's NHL career and he hasn't been close to a playoff game. Five years is a long time but it's a drop in the bucket compared to the long suffering of Oilers fans through these years. The year is ruined, the decade is ruined and now they're working on the century. When will it end? When will this team begin to win hockey games consistently and contend? When will fans be able to enjoy themselves during an Oilers game? Don't know.
Shame on the Edmonton Oilers. Shame on Craig MacTavish. You can say (and he did) that it's unfair to include him in this mess, he has been on the job for less than two full years. That is not technically true—he was hired as a consultant in 2012, and one imagines MacT had sweeping powers, just as Bob Nicholson may have today—but even with that the decisions of the MacT era are incredibly similar to previous Edmonton regimes.
During his media avail Friday last, MacTavish said any decision made in regard to Leon Draisaitl would be made with the player's best interest in mind. Doing what's best for the player. Man we've heard that before, about Sam Gagner and Nail Yakupov and on and on and on. Leon Draisaitl probably loses sleep at night fretting over being sent back to junior (or Europe) but if the team has his best interest (long term) in mind that's exactly what they'll do. Short term pain, long term gain. The Oilers don't turn back on a decision because admitting you're wrong isn't in the playbook. You know what the best thing for Leon would have been? To be drafted by the Calgary Flames.
The Edmonton Oilers under Daryl Katz have been a simply awful organization. From threats to move to Seattle because bully to the current state of affairs on the ice. And we get 'Daryl is very upset' as a response. WHO CARES? Do something Daryl. Reduce ticket prices, throw in another $10 million on the arena, free beer Sundays, something.
"Daryl is very upset" doesn't mean one damn thing. NOT plucking Kyle Chipchura off waivers a week ago is absolutely the personification of 'we're drilling down for the No. 1 overall pick" and frankly the league should step in.
Shame on you, Edmonton Oilers. You're robbing the fans, Taylor Hall and yourself of the most precious thing: Time. Every day of suffering is another day of good feeling wasted and yet the decisions of the past are rinsed and repeated.
Shame, shame, shame. Shame on you.
MACT'S MEN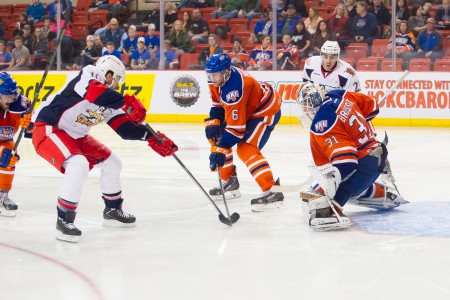 Ordinarily this morning I'd talk about Anton Lander, who is a perfect fit recall for the Oilers at this time. However, it's fairly clear the Oilers have a plethora of players in OKC who are on the 'bad bad man' list for one reason or another—Lander, Martin Marincin—so let's talk about players who are in fact part of this organization's future under Craig MacTavish. Until the Edmonton Oilers are run like an actual hockey team, where good performance is rewarded, it's about all we can do.

That's some very nice progress by Brossoit and there's no denying it. He did not project as an especially spectacular prospect when Edmonton traded for him, but Bob Green (who may end up having a stronger voice in the New Originals Oilers front office 2015) looks like a pretty smart man this morning. Edmonton should keep Brossoit on the farm for this and next season to make sure he's a player, so you can assume he'll be recalled later today.
FINDING RYAN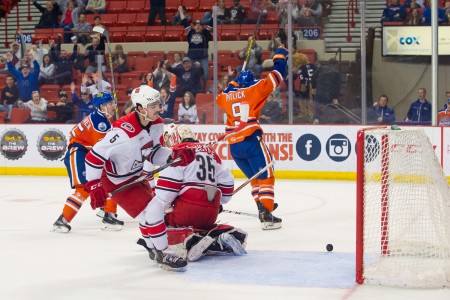 At practice yesterday the Oilers used Matt Hendricks (1PP) and Tyler Pitlick (2PP) as guys who will go to the net and do their Ryan Smyth impersonations. Smyth was a brilliant player in this area, one of the very best I've ever seen. WHY isn't he coaching this for, you know, the Edmonton Oilers? Seriously? I'm asking because I don't know. It seems to me Smyth would be a really good candidate to spend time with Tyler Pitlick or Matt Hendricks (or Mitch Moroz or Jujhar Khaira) and teach them about shielding the goalie without taking a penalty, or tipping pucks and how to get good at it. Ryan Smyth. Hire him. And get Billy Moores back in there while you're at it, I suspect the ideas department could use an upgrade.
WASTE NOT, WANT NOT
With Martin Marincin well on his way to joining Jason Chimera, Kyle Brodziak and Andrew Cogliano as excellent NHL players the Edmonton Oilers were too good for, it's worth speculating what 'might have been' with the Oilers blue line before the Oilers break up the band. Jeff Petry and Mark Fayne would have been a nice RH tandem moving forward, and LH might have offered the team Oscar Klefbom, Marincin and eventually Darnell Nurse. Marincin's shortcomings—skinny, not physical, sideburns—are maladies that afflict the young and many of them will likely be overcome by Marincin through the natural progression of aging. It's going to be painful watching him sent away for 10 cents on the dollar and combined with the Petry trade it will be such a disaster for this organization.
I think Riley Nash and Tobias Rieder may have had the right idea.
ANYONE BUT MARINCIN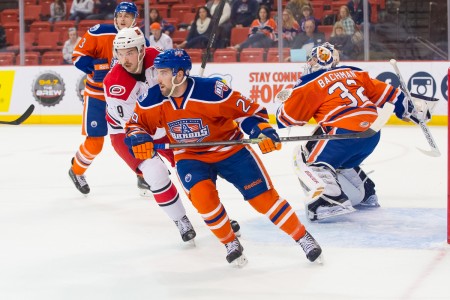 The Oilers have recalled Brad Hunt from OKC this morning. Free Martin. Send him to a good team so he can get on with the business of doing what he was put on this earth to do: Play good hockey for a good hockey team. The Edmonton Oilers are a bad hockey team in the National Hockey League and they make decisions based on things other than winning.