Todd Nelson makes his NHL coaching debut tonight with Craig MacTavish alongside, or vice versa. I doubt it matters to Nelson, this is a long time coming and there's finally a real opportunity to become an NHL head coach full stop. As for the rest of these Oilers, losing a coach can't be fun but today a new opportunity dawns. Winning is still the object of the game.
There are individuals who will look to make light, or mileage, or reads from yesterday's news, but I think the wise man (or woman) watches things unfold. The adjustment period will take some time but Craig MacTavish was a very good coach in this league and I'm sure he'll see things that can be fixed. He isn't superman—bloody get ready for some of the craziest power-play adjustments you've ever seen—but 5×5 this team should be tight when things settle.
The concern is really personnel. I don't think this team has iced an ideal lineup much this season because there's always something. That's what happens to losing teams. It is my sincere hope that we see Martin Marincin and Anton Lander up with the big club soon, certainly after Christmas. What would a solid Oilers lineup look like with everyone healthy? If Boyd Gordon and Benoit Pouliot return and Niki Nikitin can be sort of good, then there are some nice options for this team.
I'm not certain Craig MacTavish believes recalling Martin Marincin and playing him over Keith Aulie or Brandon Davidson is a good idea and that's a big concern for me. I'm not certain that Craig MacTavish believes recalling Anton Lander and playing him over Luke Gazdic or Steve Pinizzotto is a good idea and that's a big concern for me.
Who knows? Maybe Todd Nelson and Craig MacTavish will help each other out. It's possible.
Dallas Eakins, June 2013:  "I don't coach a team. I coach anywhere from 23 to 27 individuals. The way you coach players now is you get them one-on-one. You grab them for lunch, you hit them at the coffee machine. It's small group meetings, it's one-on-one meetings and it's constant. It's every day. You've got to know their triggers. You have to look under a lot of stones sometimes to find out what makes a guy tick. But once you've got it, you can really help push him in the right direction." Source
Todd Nelson: "Being a head coach is more or less managing people, trying to get players to care more about each other than themselves.  I really enjoy that aspect." (via Patricia Teter's twitter account)
One thing appears certain: The Oilers' players will have a coach with a different approach. Will it be successful? No idea. Based on comments from everyone I follow, Nelson appears to be genuine. I NEVER tell people what to do, but Neal Livingston is a wonderful writer who has a gift for passing along valuable information in a very compelling way.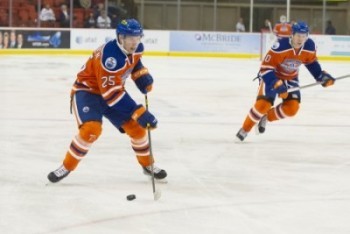 BARONS CALLUP?
So far this season, the Oilers have called down to Oklahoma City for several players:
Steve Pinizotto 13GP, 1-1-2
Tyler Pitlick 7GP, 1-0-1
Iiro Pakarinen 5GP, 1-0-1
Martin Marincin 12GP, 0-1-1
Oscar Klefbom 10GP, 0-1-1
Keith Aulie 12GP, 0-0-0
Brandon Davidson 3GP, 0-0-0
Bogdan Yakimov 1GP, 0-0-0
I don't really understand why they sent Pakarinen or Marincin down in the first place. They are joined by a few other candidates in OKC:
C Anton Lander 24GP, 6-18-24. No idea why he hasn't seen action this year.
R Iiro Pakarinen 19GP, 10-4-14. Absolute no-brainer recall.
L Curtis Hamilton 23GP, 5-8-13. It'll be interesting to see if he can stay healthy long enough to get a recall.
D Jordan Oesterle 25GP, 4-6-10. College blue has chaos defensively but can post offense.
C Bogdan Yakimov 20GP, 1-6-7. Too soon really but MacT likes him and may want to see him in the NHL.
D Martin Marincin 7GP, 0-2-2. Excellent young blue should be in the NHL. This team needs to find its future.
G Laurent Brossoit 10GP, 2.59 .917. MacT traded for him wouldn't be surprised to see him called up for a game.
TRADING HALL
Taylor Hall:  "You hear things. Whether the rumours are true, you never really know (but) the best teams in the league don't break up their core. They're not trading guys because they're winning so it's on us to improve and do whatever we can to get respectability back this year." Source
Darren Dreger: "Yeah. I think it speaks from a willingness to adapt. So I am choosing my words carefully in saying that. I don't – I'm not in that room… We gather our information from the sources that we have and my sense is Taylor Hall has a pretty specific way/vision of how he sees he needs to play, and maybe how the team needs to play. And he isn't really open to the idea of change. And that's a problem." Source
Bob McKenzie: "I don't know that he's uncoachable. I suspect that – if I had to guess, and it's only a guess – if they're thinking of trading Taylor Hall, Taylor Hall might be the first guy to say, 'great' after everything he's been through. But when I look at this, I think Dregs is right. I think everything is going to be on the table and that includes, potentially, Taylor Hall." Source
Look I don't like this story any more than you do—Taylor Hall is all that and then some more—but we don't know the inner workings of this team and we can't be confident in the management of this team. That's really what this season is about, the lack of confidence in management to make good decisions. Craig MacTavish made some good bets in the summer but didn't get close to giving his coach a center depth chart that could win hockey games. That's a problem because it speaks to competency. The team never came close to icing a balanced lineup and again that speaks to competency. They chose wrong on the goalies, and again……
That said, if you're asking me if the Oilers will trade Taylor Hall, my answer is no. Unless he's asked for a trade—and that is possible, folks—and even then the club has every right to keep him until full value is offered by another team. The thing about Hall is this: He's the franchise player. We can talk about what-if's in terms of McDavid and Eichel but there's no guarantee either player ends up in Edmonton. Whatever the problems are involving Hall, real or imagined, they should be solvable with a winning team and a good environment. Taylor Hall went through four years of hell and back—I suspect he'd like to be here for the good times. That's my opinion, anyway.
As for Hall being a drag, it's always wise to be careful when throwing around opinions about another person who we don't really know. People may have met the young man when he was not at his best, but that's not really the same as being a drag on an entire organization. These Hall items were no doubt planted in the moments after the firing for a reason, but I've no idea who planted them or why they're so strong. It's always best to take the word of the people involved.
Taylor Hall: "I got drafted by the Oilers and I love the franchise, I love the city. Standing here, having a new coach again, really makes you look in the mirror and wonder what you've done wrong." Source

I will leave you with one more thought on the matter: Losing teams ALWAYS focus on the wrong thing. Always. They just can't help it. This scenario reminds me of the time the Montreal Expos slipped in the standings and decided the problem was their All-Star catcher Gary Carter. Carter was a unique player (power-hitting catcher who could actually catch) and the Expos dealt him to the Mets for four guys you've never heard of, before or since.
Losing organizations do supremely stupid things. In this way, the Taylor Hall trade rumors are less about Taylor Hall and more about the Edmonton Oilers. If you're worried about a Taylor Hall trade, be worried about the organization entrusted with putting a good team on the ice. They are the same people who felt it was a good idea to start the season with two NHL centers and mud.
That my friends is the worry. Simple, beautiful competence. There was a time when the Montreal Expos looked at their entire roster and decided the problem was their most uniquely-talented player. Don't tell me it's impossible, I've seen it before.
The one reason you should feel confident it won't happen? The Edmonton Oilers are an absolute laughingstock league-wide. If they trade Hall, they won't get full value. If they don't get full value, those $7 Stubhub Oilers tickets are going to be going for $3 or less.
The Edmonton Oilers would be better off keeping Hall and trading management. It has come to this.
LOWDOWN WITH LOWETIDE
Today at 10, once again a very fluid show. Sceduled to appear:
Live coverage of the Dallas Eakins media avail.
Jonathan Willis, Oilers Nation and Cult of Hockey. We'll talk about the coaching change and what else may come. Jon also has a lot of great information about Todd Nelson, so we'll discuss the new coach.
Jeff Chapman, Copper and Blue. Jeff has a unique take on things and I'm looking forward to finding out what he thinks of the moves this week.
Dennis King, Oilogosphere Icon. We were cut short yesterday and I want to pick his brain about this Hall thing.
Calls and texts from you. About 11:25 I'm hoping to open the phone lines. Our show gets really good callers, so feel free to join the fun. I won't cut you off or anything!
10-1260 via text, @Lowetide_ on twitter. See you on the radio!