Why can't the Oilers score goals? A few reasons: The power play is daft, the top line isn't together and injuries have impacted most of the top end of the roster. The loss of Benoit Pouliot robbed the team of badly needed speed among the forward group (this isn't Steve Kelly's Oilers) and of course they simply don't have enough centermen to cover all these good wingers (Edmonton has a few of them).
OILERS SCORING LAST 10 GAMES
Ryan Nugent-Hopkins 10, 3-3-6
Taylor Hall 10, 0-5-5
David Perron 10, 3-2-5
Teddy Purcell 10, 1-4-5
Jordan Eberle 10, 2-1-3
Jeff Petry 10, 2-1-3
Leon Draisaitl 10, 0-2-2
Justin Schultz 9, 0-2-2
Nail Yakupov 10, 1-0-1
Mark Arcobello 10, 1-0-1
Mark Fayne 10, 0-1-1
Tyler Pitlick 8, 1-0-1
Boyd Gordon 5, 0-1-1
Brad Hunt 1, 0-1-1
Jesse Joensuu 1, 0-1-1
Fifteen goals in 10 games? Lordy. No goals from Hall in 10—that will change, I've no doubt of it. In the last 10 games, Edmonton's centers have four goals, three from the Nuge. Man they're awful right now.
OILERS GOALIES LAST 10 GAMES
Ben Scrivens 7GP, 2.36 .913
Viktor Fasth 4GP, 3.23 .884
Ben seems to be settling down, that's going to be important moving forward. It would be nice if Fasth could increase his value for the annual cattle drive.
LINEUPS!
Joanne Ireland: Pitlick will play with Leon Draisaitl and Nail Yakupov against the Sharks, while Perron moves up to play with Mark Arcobello and Eberle in yet another attempt to ignite someone. Source
The Arco line looks like the 2line and with Gordon back in blue (and orange) it looks like a 4line decision will be between Luke Gazdic and Steve Pinizzotto (with Matt Hendricks and Gordon forming 2/3's of the fourth line). At some point, they're going to need offense, so my guess is we see Hall—Nuge—Eberle tonight.
BARONS SCORING, LAST 10 GAMES
Anton Lander 9, 3-9-12
Jason Williams 9, 3-7-10
Curtis Hamilton 10, 1-7-8
Matt Ford 9, 4-3-7
Brad Hunt 9, 3-4-7
Ryan Hamilton 9, 3-4-7
Andrew Miller 10, 3-2-5
Jordan Oesterle 10, 1-4-5
Iiro Pakarinen 10, 3-1-4
Bogdan Yakimov 10, 0-4-4
Dillon Simpson 8, 1-1-2
Martin Marincin 7, 0-1-1
Brandon Davidson 6, 1-0-1
Josh Winquist 4, 0-1-1
Tyler Pitlick 3, 1-0-1
Kellen Jones 2, 1-0-1
28 goals in 10 games, that's a much nicer neigborhood. Anton Lander should be in Edmonton now (well, San Jose) and I think Curtis Hamilton is pushing for his first NHL recall at some point this year.
BARONS GOALIES LAST 10 GAMES
Richard Bachman 6, 2.04 .938
Laurent Brossoit 6, 2.27 .923
Lordy that goaltending tandem is kicking ass. Can you imagine the kind of season we'd be enjoying in Edmonton with those totals? No reason to believe either goalie will be recalled, in fact Bachman was hurt the other night and Tyler Bunz has been recalled to backup LB.
TRADE FREEZE
There's a chance someone comes calling in the next several hours in search of some help. David Perron's name has been out there awhile, and Nail Yakupov, Justin Schultz and others may be available. I don't think Jordan Eberle moves now—that's a summer trade because cap—but a David Perron deal might be something that could get done in short order. I hope the Oilers try Anton Lander at center before making a trade and hope they recall Martin Marincin to have a long look before dealing him.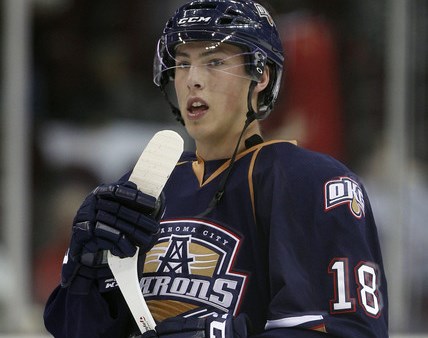 THE NUGE
There aren't many positives in a lost highway season, but baby Nuge growing up is something we can all cling to in these lonely hours. Ryan Nugent-Hopkins is doing some fine work this year.
RYAN NUGENT-HOPKINS 13-14 (14-15)

5×5 points per 60: 1.57 (2.05) That's a nice step forward on a team that can't shoot straight.
5×4 points per 60: 4.49 (1.44) It's been incredible.
Corsi for % 5×5: 44.9  (51.4) A nice recovery for the entire team, Nuge included.
Boxcars: 80, 19-37-56 .700 (30, 8-12-20 .667) A strong season in a difficult situation.
BABWATCH*
As God is my witness I hear "Mike Babcock to the Oilers" rumors a few times a year and it's been going on for most of a decade. Seriously. The most famous time (for me) came when I dropped by the butcher for steaks (steaks from a butcher are the Lowetide family version of living the life—don't judge me) and was informed that a friend told a friend who knew a guy who talked to Katz about Babcock and his future.
I want to tell you this is a pretty famous rumor. It's right up there with Comrie-Salo (please don't ask) or Moreau and the family running all around the owners lounge (again, no ask) or any number of infamous events since 1980 (WHAT did I JUST say!). Anyway, Terry Jones has the latest and maybe the butcher, the baker and the candlestick maker are right. For me, Mike Babcock leaving Detroit for the Oilers is akin to Carey Grant leaving the dining car (and Eva-Marie Saint) to jump onto the Runaway Train with Jon Voight, Eric Roberts and Rebecca De Mornay. WHO does that?
That said, Mike Babcock would be a dream and he loves fishing. How long does it take to fly from Edmonton to Meadow Lake?
*The title Babwatch is taken from Elliote Friedman's 30 thoughts last week. It struck me as clever because my actual last name (Babcook) has been used and misused over the years to hilarious extremes. I've been called "Bab-ook" and "Bapco" and "Babchuck" and of course "Babcock" thousands of times. When I was newly married, my wife and I stayed at the Marriott in Calgary (it was called I think the "Skyline" at the time) and we arrived early, checked our bags and went for lunch. After arriving back, there was a massive lineup and the concierge asked if we could wait for a few minutes and he'd call our name when ready.
"BAT-POLE" came ringing across the crowded room a few minutes later. I stood up, knowing that was me. My wife, poor girl, remained sitting, at first wondering what was happening and then in slowly increasing depths of horror realized exactly what she'd married into. Mrs. Batpole remains a trooper.
LOWDOWN WITH LOWETIDE
Today at 10, TSN 1260. Scheduled to appear:
Dennis King will help us get the Todd Nelson era underway with great frivolity.
John Matisz, Toronto Sun. We'll talk World Juniors roster and expectation.
James Mirtle, TSN analytics and the Globe and Mail. WHAT are the Leafs doing right? Can it be duplicated?
Derek from Fear the Fin. The only thing cooler than Sharks' uniforms are their bloggers. We have a gem.
10-1260 text @Lowetide_ on twitter. Talk soon.