William Lagesson is a player Oilers fan will enjoy (should he make the majors). The Swede has a reputation for playing hard-nosed hockey and packs a rugged style. The Oilers drafted him in the fourth round of possibly the craziest draft of the century—he might have been a second-round talent. Why the gap in rankings for Lagesson? Foot speed will be the issue.
PREVIOUSLY NUMBER FIFTEEN ON THE LIST
December 2004: R Troy Bodie (154)
December 2005: R Colin McDonald (124)
December 2006: D Jeff Petry (267)
December 2007: R Colin McDonald (124)
December 2008: G Devan Dubnyk (171)
December 2009: D Alex Plante (10)
December 2010: G Olivier Roy (0)
December 2011: D Brandon Davidson (4)
December 2012: D Joey Laleggia (0)
December 2013: R Tyler Pitlick (18)
Four of the men listed reached 100 NHL games, and Petry is an actual NHL player (Dubnyk may well be too, when all is said and done). McDonald and Bodie were/are unusual progressions/outliers and there are several top 60 picks in here who struggled at points during their time as prospects. That may bode well for a player like Tyler Pitlick but I believe these are such one offs at this point it's a case by case.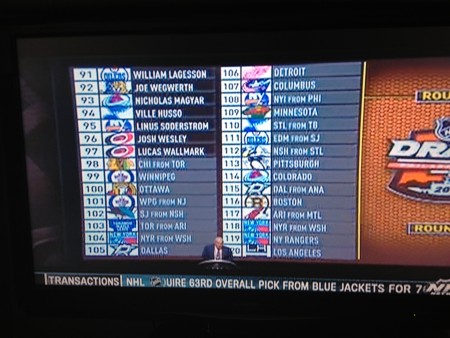 WHAT THEY SAID ON DRAFT DAY
Corey Pronman: "He's a guy I had rated around 60. I've seen him play well many times, he's a player I really like. At the U-18 level, in the tournament in February and in April, he was a top player for Sweden U-18s). He's a physical defenseman he skates well and defends well. I don't think he's a sterling offensive player, but he has average puck moving ability. He won't be in the World Juniors this year. I think this is a guy who is going to be a very good prospect and the Oilers got good value where they picked them."
ISS Lagesson shows traits of a good two-way defender with some intrigue in the offensive zone as he displayed flashes of a big shot. Good mobility, foot speed and overall skating ability for a defenseman of his size. Good presence on the offensive  point, great shot that he is able to get through traffic and keeps it fairly low to the ground. Good release, doesn't need a full wind-up to get pucks off. Physicality should be a bigger facet to his game to give him that defensive upside and promise that he shows on the puck. William shows a good basis for the two-way game with a good shot and mobility when running the offensive point.
McKeens: A favourite of coach Andres Eriksen at the 2014 World U18 Championships; Lagesson played quality minutes and finished the tournament with three goals .. a scrappy, physical hard-nosed competitor who competes for every inch on the ice .. an 'in your face'type of defender who reacts quickly to loose pucks and is able to identify threats. Feet are subpar especially when defending in a reverse movement, resorting to skating forward which makes him easy to blow by .. speed and power is not quitethere yet despite having a short, stocky build with a developed core ..plays with sand paper and is not unlike Ulf Samuellson in his abilityto get under the opponents skin to goad them into penalties.
Elite Prospects: A strong defenseman that can put up some points, but plays more convincingly in his own zone. Likes to get involved in the rough stuff and has a pretty good physical game. Strong positionally, but could work some on his skating skills. (EP 2014)
Stu MacGregor: "He makes a good first pass and has some hockey sense but I can't emphasize how much he wants to battle and compete. One-on-one he's a warrior. Doesn't hurt that he's coming over here to get used to the ice surface. He's probably going to college after Dubuque."
Martin Lunden: "Solid pick at 91. made a huge impact in with jr team. 1st team coach loves him (former U20coach Rönnmark). good size, average+ puck handling. He doesn't stand out in the SHL, but he's a 17 y/o playing with men so no wonder. He doesn't make a fool out of himself though.."

PREVIOUS TOP 20 RANKING
Summer 2014: 13
Winter 2014: 15
Lagesson ranks behind defenders Darnell Nurse (No. 2), Oscar Klefbom (No. 3), Dillon Simpson (No. 8), Martin Gernat (No. 13) and Joey Laleggia (No. 14) on this year's list. Like Lalaeggia, he is unique compared to the men in front of him. When you read 'in your face' as part of the bio, the only defenseman ahead of him who could be tagged with the same description is Nurse. Lagesson will be applying for the same job as David Musil and is a better skater.
14-15
WHAT THEY'RE SAYING THIS SEASON
Lagesson on being part of Sweden's WJ camp: "I'm really excited about it. It's a great opportunity for me, and it's going to be a great experience. I was a little surprised at first, but the (Team Sweden) coach came over and watched one of our games about two weeks ago, and that's when I kind of knew I had a chance to make the team." Source
Oliver David, Dubuque Associate Coach: "William is very strong, he's an alpha dog out there on the ice. He is an imposing defenceman. His role on our team is to play big minutes. He has different D-partners week-to-week, day-to-day, primarily because he is a guy we can rely on. He does not rely on us to tell him what to do; he's got a knack for the game and great space awareness. When he's on the ice everybody in the building is aware of it. It's not necessarily punishing hits, but he's very very efficient with his movements. He's got a good stick, he wins corner battles like no other that we've had here." Source
THE FUTURE
We're miles away from knowing if Lagesson is going to be an NHL player but there's a lot to like. He's a rugged player with good (not great) speed and some natural ability. Reading the scouting reports it sounds like we're dealing with a raw player (similar to Gernat) who may not make much pro impact this decade. Fans need to think long, long term in regard to William Lagesson.
THE 2014 ENTRY DRAFT
Leon Draisaitl No. 3 overall and a splendid prospect. No. 1 overall prospect.
William Lagesson No. 91 overall and having a very good season in the USHL. No. 15 overall prospect.
Zach Nagelvoort, No. 111 overall. He started slowly but has improved. He is a candidate for the winter 20.
Liam Coughlin, No. 130 overall. He is back in the BCJHL and U Vermont is his destination for next year. Outside the 20.
Tyler Vesel, No. 153 overall. Also outside the 20, he's having some success in Nebraska. Outside the 20.
Keven Bouchard, No. 183 overall. He's struggled and lost his starting role. Outside the 20.
I think it's already clear we are dealing with three legit prospects from the 2014 draft and an extreme flier in Vesel. Bouchard has been horrible and Coughlin is 20 and playing in the BCJHL while also being unable to score at a point-per-game. I don't know how many kids with that resume have made the NHL, but they're likely defensemen or goaltenders.
An example of the strange 2014 draft: Craig Button has Andrew Mangiapane at No. 48 in a very deep draft. I had him No. 52 in 2014. Math works.