Mitch Moroz is a very famous prospect among Oilers fans for a couple of reasons. He was selected early in the second round of the 2012 draft when Bob McKenzie ranked him No. 56 and many fans never forgave team or player for the perceived sin. I've argued for two and-a-half years that blaming the player is ridiculous but the slings and arrows continue. The other reason he's famous? Moroz was part of one of Edmonton's rare championships in hockey this century, a breathless run to the Memorial Cup in 2014 spring. What do those two things tell us about Moroz the player? Not one damn thing, actually.
PREVIOUSLY NUMBER EIGHTEEN OVERALL
December 2004: L Jani Rita (36)
December 2005: G Jeff Deslauriers (62)
December 2006: D Mathieu Roy (66)
December 2007: C Chris VandeVelde (69)
December 2008: L Teemu Hartikainen (52)
December 2009: R Colin McDonald (124)
December 2010: D Brandon Davidson (4)
December 2011: L Phil Cornet (2)
December 2012: D Taylor Fedun (4)
December 2013: L Luke Gazdic (78)
I swear that a lot of thought goes into these lists but the hockey Gods mock me by choosing No. 18 overall to present a list of men who managed to play in at least one NHL game. These are all role players (Rita aside) but credit where due they found a way. Mathieu Roy was a personal favorite, I've never seen a hockey player more hellbent on getting himself hurt—and I saw Marc Pouliot!
 WHAT THEY SAID ON DRAFT DAY
Redline Report: Big, edgy power forward plays an in-your-face style and looks to initiate hard contact all over the ice. A feared enforcer who picked up 20 fighting majors, yet skates and handles the puck well enough to take regular shifts. Coaches eventually rotated him into the top six to give scoring lines a boost – gives smaller, skilled linemates more room to work with his physicality. Has surprising offensive tools with a heavy snap shot. Puckhandling confidence is soaring and he's willing to try things with the puck now he wouldn't have dreamed of six months ago. Skating enables him to play in open ice and even has decent lateral agility. Spins off checks to find space and gets to open ice. Emerging force uses great size/strength to dominate below the circles and is impossible to move around crease. Development curve is heading straight up and has upside.
Craig Button: Mitchell is a player who enjoys the physical game. He will hit and punish opponents but is also willing and able to stand up to the challenges that comes with playing that particular style. He's a very good skater and can close on opponents very quickly and thus there is not a lot of wiggle room to avoid a check when he's on the ice. Because his skating is so good, he can play versus better players and make them uncomfortable. He plays in straight lines and is very effective along the boards. He doesn't run around without purpose and he is very effective in his approach. He has very good awareness playing and is capable of contributing in areas other than physical play. He battles for the puck, will go to the net and is a player who plays with energy and an undeniable spirit and determination. He gives players on the ice a certain comfort but only if you are on the same team. Playing versus him, is a challenge and not fun because he is focused on doing what he can to disrupt you and help his team win.
POINTS BY DISCIPLINE, MITCHELL MOROZ
| | | | | |
| --- | --- | --- | --- | --- |
| PLAYER | EV | PP | PK | TOTAL |
| MOROZ 2011-12 WHL | 66, 11-8-19 .288 | 66, 5-1-6 .091 | 66, 0-0-0 | 66, 16-9-25 .379 |
| MOROZ 2012-13 WHL | 69, 10-17-27 .391 | 69, 3-4-7 .101 | 66, 0-0-0 | 69, 13-21-34 .493 |
| MOROZ 2013-14 WHL | 70, 26-24-50 .714 | 70, 9-4-13 .186 | 70,0-0-0 | 70, 35-28-63 .900 |
| MOROZ 2014-15 AHL | 24, 0-2-2 .083 | 24, 0-0-0 .000 | 24, 0-0-0 | 24, 0-2-2 .083 |
Moroz dominated junior at 19 but as we say those kids should do exactly that against younger opposition. The early struggles of Moroz in the AHL are somewhat predictable (he's not going to get a push on a skill line because he isn't the best option) and his TOI estimates (below) suggest he's getting little ice time so far. It is important to keep in mind that successful players find a way to move up the depth chart in year one. Luke Gazdic went 2-0-2 in his first 24 games, Curtis Hamilton went 2-5-7 in his first 24. If Mitch Moroz is going to play a regular shift with skilled men, he needs to show some offensive ability this season. It's early but the TOI is a concern.
PREVIOUS TOP 20 RANKING
Summer 2012: 17
Winter 2012: 12
Summer 2013: 14
Winter 2013: 11
Summer 2014: 15
Winter 2014: 18
The Oilers spent a very valuable pick on Moroz and he developed well during his junior career. We're at Christmas of his first pro season and by Eric Rodgers' estimate the young man has played less than 3 AHL hours so far this season. You can't develop players that way but you can send them to the ECHL for big minutes. If the Barons can't find a way to get Moroz ice time, it's the best thing for the young man. If the Oilers aren't offering, he should ask for the demotion. Career progress won't come via riding the bench.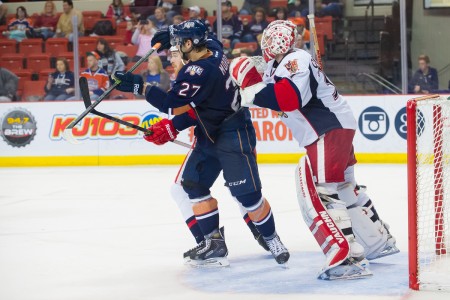 14-15
WHAT THEY'RE SAYING THIS SEASON
Moroz on his health, late summer: "It might have been three or four weeks ago if you had asked me that but I've come such a long way that I'm not thinking about those things on the ice anymore. It will be nice just to go in and play and be able to play my game right away. Hopefully I will be able to bang some bodies and create some stuff out there." Source
Todd Nelson on Moroz: "First year is exploration in the American Hockey League. Maybe that's hard for people to understand who don't want a lot of American League games, but it's a wake-up call for a lot of players." Source
Tend The Farm: Eric Rodgers estimates TOI for Moroz through 14 games at 6:44 per night.
THE FUTURE
The Oilers are a strange organization in development (we know this) but it seems as though the scouts, minor league coaches and management aren't thinking along the same lines. If they brought the ECHL into the conversation—maybe 20 games on the top line in Bakersfield and then a 10 game stint with regular shifts in the AHL—could it help a player like Mitch Moroz? I think it's worth a try. As it is, if Rodgers' TOI estimates are true, Edmonton is wasting a development season on a second-round pick.
2012 NHL DRAFT
Nail Yakupov, No. 1 overall. Young Russian winger has been a disappointment so far in his career, but possesses tremendous talent and is making progress. He's one of the most naturally talented players in the organization. Graduated to the NHL.
Mitch Moroz, No. 32 overall. Big winger with some skill just turned pro. Not playing a lot so far.  No. 18 overall prospect.
Jujhar Khaira, No. 63 overall. If he can improve his speed, he'll have a career. If he can improve his offense, he'll have a long one.

No. 7 overall prospect.

Daniil Zharkov, No. 91 overall. Big Russian winger has been lost in the hinterlands back home. Outside the Top 20.
Erik Gustafsson, No. 93 overall. Productive defender in Europe, Oilers passed on opportunity to sign him. No longer in the organization.
Joey Laleggia, No. 123 overall. Undersized but splendid puck-moving defender. No. 14 overall prospect.
John McCarron, No. 153 overall. Big winger playing his final college season. Candidate for winter 20.
The 2012 draft (like the 2014 edition) has some unusual arrows. ONE player Edmonton drafted in 2012 has enjoyed what we might call typical progress. Nail Yakupov's rookie year was his best, Moroz was in a shutdown role for a year after draft and then blossomed in his final junior season before playing a part-time role in OKC. Jujhar Khaira has size and speed but has been offensively challenged since draft day. Daniil Zharkov may or may not exist in real life, Erik Gustafsson is no longer part of the organization and John McCarron has been on the outskirts of the prospect list since 2012 (we have no idea if he's going to sign).
Joey Laleggia stands alone as the one member of the 2012 draft who has progressed in a normal fashion.
Mitchell Moroz has power, speed and size but the question is (and has been) his ability to play with skill. The Oilers (so far) have chosen to slow play his development, one suspects (partly) because of their disregard for the value of pro at-bats. There may be a hesitation on the part of the player to go down to Bakersfield but that's one way to improve. Moroz began this season a little behind and is now playing sparingly and it's completely possible he'll spend the season in this part-time role. It is a very poor way to develop a player, especially with 15 minutes a night just waiting for him in Bakersfield. Once it is established the AHL coach will not play the winger in a feature role, the organization owes it to themselves and the player to get him to a place he can succeed.
This is an important season for Mitchell Moroz. I'm not sure the Edmonton Oilers are treating it that way.