I confess to thinking that at some point the Edmonton Oilers would have these No. 1 overalls firing live ammo into the soft white underbelly of Canada's west—allowing me ample joy and license to once again be an idiot. Like the olden days, when an Oilers fan had a hammer for every conversation. It was kind of a 'get out of jail free' card because the push back (Steve Smith, 1989) didn't match the Oilers' fan counter attack (99, 11, Stanley's annually, on and on and on).
We're coming on five years since Taylor Hall was drafted and he looks like an extra in Papillon these days.
Taylor Hall: "Hopefully, we come back rejuvenated and all pointing in the same direction. The season is – I couldn't imagine a worse start to the year than we've had." Source
Yes. Well put, young man. It's been a disaster and it really does make one wonder about the wisdom of 'looking forward' to Connor McDavid doesn't it? The question I have this morning is this:
If 'it's the goaltending stupid' and this team is dead in the water (and they are), then the right plan of action is to play out the season, sign Petry, audition worthy minor leaguers, watch the waiver wire, deal off excess at the deadline. Right?
Bob Nicholson can forensic to his heart's content, peel back onions every hour on the hour, walk down the hallway and stink eye every Mother's Son he can find, but the business of the Oilers continues. There are important things that must be addressed. I think the Oilers keep their powder dry on the goalie, it's only a 20% chance of McDavid but at this point they're going to get him or Eichel and that's a monster.
I do think they have to stop looking at the draft (alone) as the solution though. One of MacT's biggest mistakes (imo) has been at center, where he simply didn't address the situation at all. The fact that he remains (in his most recent media avail) stubborn on this issue does not bode well for his summer. It's completely possible—I'll argue probable—the GM simply drafts McDavid or Eichel and considers his summer work at center complete.
Surely they've learned it's a bad way, but with these generational talents hanging around, I think it's a done deal. We should expect it.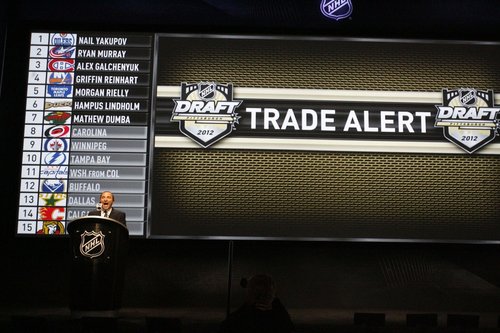 Elliotte Friedman: The Oilers will continue to look for centres, defencemen and a goalie, and I asked around to see who might be a fit should they decide to try something significant. There were a lot of votes for Pittsburgh, with a plethora of young defenders. One exec said if he was Edmonton, he would target Brandon Sutter, although he added he thinks the Penguins hold on to Sutter until the salary cap makes it impossible for them to do so. But you know who got a couple of votes? Florida. It's a good theory: cap room, a need for wingers and two promising defence prospects — 2012 first-rounder Michael Matheson and 2013 second-rounder Ian McCoshen, both at Boston College (McCoshen will be at the world juniors for Team USA). Anyway, worth watching. Source
The WJ's this season have many many players worth watching, add those two to the pile. I think Edmonton should be looking for established NHL defensmen though, the prospect cupboard is full. As for Brandon Sutter, I'd be disappointed if he were the significant portion of any deal. That's not a player you acquire in a package for Taylor Hall, if Craig MacTavish makes that trade he'll be out of work in a heartbeat.
Elliotte Friedman: One AHL coach on what to expect from a Todd Nelson group: "Good cycle team that moves in the offensive zone with all five players, three (of them) high. Come through neutral zone with good structure, and try to pressure you before you set up in d-zone coverage. They have the (number two) power play in league, with quick puck movement, player movement and…outnumber you to the net for rebound goals."
I'm not like these really smart people who see structure and systems, for me it's a case of watching and getting a feel for things (plus paying attention to the math). Edmonton does seem to have a little more structure and maybe get an extra rebound here or there but the defensive maladies and the jailbreak forwards who shoot the gap and leave their D stranded on breakouts still exist. Plus it's the goaltending, stupid.
CORSI FOR EV % BY GAME, TODD NELSON
December 16 @ARI 58-68  46%
December 18 @SJS 47-48 49%
December 21 vDAL 53-84 39%
December 23 vARI 38-49 44%
A team usually sees a spike when a new coach takes over but in this case the erosion of even-strength play remains (Eakins had that part of the game established with this group) and of course special teams is a shiv every. damn. night. If they trade Petry this could get very ugly.
Note: I'll have two more posts today, noon and 5pm as I finish up the Top 20. There will be a 21-30 and 31+ post on the weekend/early next week and we'll have that wrapped up by the New Year. No show today, back on the air Saturday for SSE at noon and I'll have the Oilers—Flames GDT up tomorrow morning bright and early.  WJ updates will be here and at ON this week.