There are (again) 40 prospects worth noting in the system so I'll run 10 now and then the final grouping in another post. The Oilers system currently has three top-level talents (Leon, Darnell and Oscar) then about five who are second tier (Bogdan, Chase, Pakarinen, Jujhar, Dillon, Platzer) and a third grouping that takes us to about 17 or 18. After that, anyone could go 19-30 and I'm fairly confident it's a crapshoot after the top 9 this year.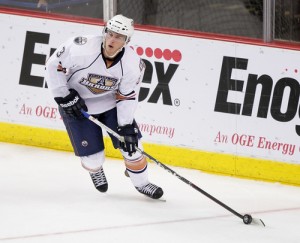 No. 21 (23): D Brandon Davidson (4GP, 0-0-0 NHL; 17GP, 2-3-5 AHL). A very nice season for the young man, made his NHL debut and was steady from the opening whistle. As with all defensemen in the system not named Nurse and Klefbom, Davidson has an uphill climb. His first NHL audition bodes well. If he makes the team and plays  seasons, I'd suggest it will be third pairing and penalty killing. He did have some offense in junior but as with many young defensemen the opportunities to impact that part of the game fades once turning pro.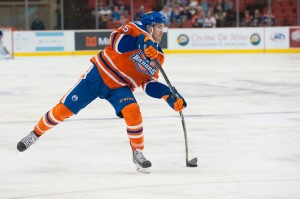 No. 22 (25): D Jordan Oesterle (24GP, 4-9-13 AHL). I considered him for the top 20 but it's hard to know how much he gives away defensively. I think he could end up being an NHL player but we need to see more of him. One area he really has an edge is skating ability, we'll just have to wait and see if he can figure out the finer aspects of positioning and defending at speed. Interesting prospect, one to follow.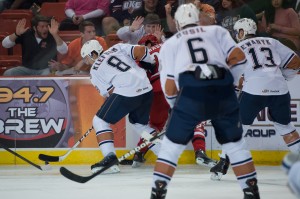 No. 23 (16) D David Musil (24GP, 0-2-2 AHL) Musil has a skating issue and at this point I'm convinced there are so many good to excellent candidates in front of him he may never get an NHL chance. His Dad had the same issues and played a long time but that was a different era. I think it's a major tell from the organization that Musil has remained in the minors while others (with less pedigree) are getting their chances. You know what's worse than not drafting the son of one of your scouts? Drafting him and then watching him get passed by lower picks and college free agents.
No. 24 (17): G Zach Nagelvoort

(13GP, 2.78 .904 NCAA) He lost the thing that made him an intriguing prospect (.929 save percentage) and now looks like most other college goalies. He has much of the season to recover but that has been an uneven start to his post-draft career. He was .920 or better every year before this one so perhaps he can recover. Just the third player from the 2014 draft to appear on the list.
No. 25 (33) L Aidan Muir (15GP, 1-5-6 NCAA). Big winger is getting some playing time as a freshman at Western Michigan. I think he has a legit chance as an Oiler because of this: Chris Dilks Muir is a 6'3″ 180 lbs. power forward. He's a decent skater for his size, though there is still some room for improvement. With his frame, there's also the potential to add a little more strength. His biggest attribute is his grit and toughness in the dirty areas of the ice along the boards and in front of the net, and that he has the hands to make plays in tight spaces."
No. 26 (24) D Ben Betker (28GP, 1-6-7 WHL). Big man is a good skater and plays heavy minutes. A concussion derailed him as things approached mid-season but he's a promising stay-at-home type with size and speed. Could he be a Matt Greene type? That's his outer marker. Back from injury now.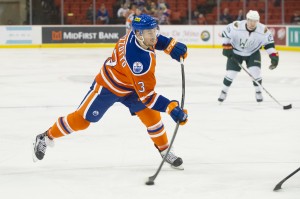 No. 27 (32) R Steve Pinizzotto (18GP, 2-2-4 NHL; 9GP, 0-6-6 AHL). 30-year old has been kicking around the AHL since 2006, latching on to an NHL job in Edmonton courtesy a strong training camp (although he did lose the roster spot to Jesse Joensuu, Pinizzotto won the job). Hard working winger with a lot of try, he's not going to be a big scorer but looks like he can chip in a little. THN calls him industrious, I think that's a great description.
No. 28 (19) F Tyler Vesel (18GP, 4-8-12 NCAA) Freshman at Nebraska-Omaha getting some more icetime as the season rolls along. The Oilers took him for a specific reason, as framed by Stu MacGregor: "We also took players entering college which gives us a longer look at them, two to four years before you have to decide whether to sign them or not." I question the wisdom of that strategy, one of the things we may see changed in the future.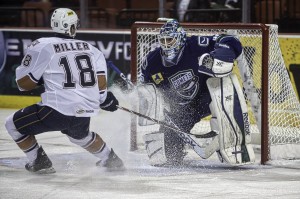 No. 29 (36) F Andrew Miller (28GP, 8-11-19 AHL) Miller is scoring at a higher than projected (by me) rate this season and good things are being written about him. The problem for Miller comes down to this: I can't projected him as the next Mark Arcobello because he's just one month younger than Mark Arcobello. There's nothing about him that stands out, so I think he's a guy who is going to need an enormous break like an expansion draft.
No. 30 (34) G Frans Tuohimaa (3GP, 4.22 .904; 16GP, 2.66 .901 ECHL) One of the last Finns standing in this organiation, Tuohimaa hasn't been special in any way this season. I don't think he's lost ground to Bunz or Rimmer but it's clear Brossoit has moved in front of the pro prospect list and the club is going to be upgrading the position. Tuohimaa may be in a little trouble as an Oilers prospect.
31-40 at 5 (unless the Oilers do something).