The Edmonton Oilers prospect list is not strong this December but it's possible one of the (final) 10 names on the winter list could emerge as an NHL player. It's a ragtag group of AHL enforcers, college scorers and junior snipers trying to find their way in the pro's. It's a long shot list but you never know.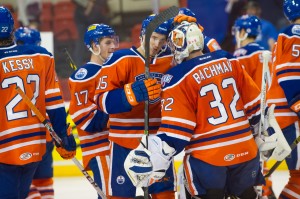 No. 31 (44) L Kale Kessy (17GP, 3-3-6 AHL). Kessy arrived in training camp this year with an extra gear and it made a significant difference. Edmonton has a line of these players now (Gazdic, Kessy, Moroz) and I don't really have any idea which one will turn out. Craig MacTavish got plenty out of Georges Laraque and Zach Stortini in their time, I wouldn't rule out Kessy as an option down the line. Gone for the season due to injury.
No. 32 (49) C Evan Campbell (15GP, 4-9-13 NCAA). The first member of the Langley Rivermen to be drafted, Campbell has been described as a 'powerhouse center' but at 6.01, 189 one imagines that's an embellishment. He is scoring at the NCAA level but his age (21) suggests that he's a long shot prospect.
No. 33 (22) R John McCarron (11GP, 0-5-5 NCAA). McCarron is a big body who can drive to the net and sometimes help score a goal. Kirk Luedeke described him as a hardnosed player, a north-south guy who can score a little. The lack of offense this season means he's a down arrow. He's a strong winger, if he signs McCarron could surprise. His resume resembles Colin McDonald at a similar point in his career.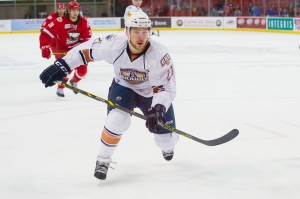 No. 34 (41) C Travis Ewanyk (28GP, 1-2-3 AHL). People forget about draft day, but he was ranked by Red Line at No. 64 overall (Oilers took him at 74). Here's what they said: Redline: The quintessential power checking centre competes like a ******* every shift and is tough to play against. The problem for Ewanyk is that he can't score, at all. I can't imagine he finds a way to have a career.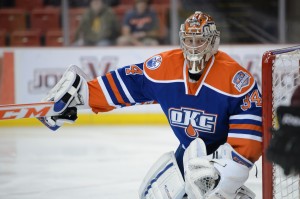 No. 35 (48) G Tyler Bunz (11GP, 2.39 .901 ECHL). There's not much between Bunz and Tuohimaa (No. 30) but the young man hasn't given us much reason to believe he's going to succeed in pro hockey. He hasn't played a lot and his best SP at one place in pro is .903.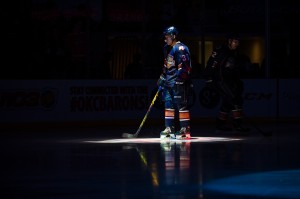 No. 36 (38) L Josh Winquist (8GP, 1-1-2 AHL; 18GP, 5-18-23 ECHL). Young man is making an impression, first with his fine play in Bakersfield and then an early flurry in Oklahoma City. I've been told by a scout that he's probably the smartest player on every team he joins but the foot speed issue is a legit concern. Still, this is a nice bet by the Oilers, better than a few of their recent draft picks.
No. 37 (37) L Daniil Zharkov (6GP, 0-0-0 KHL; 28GP, 1-3-4 VHL). Big winger (6.03, 190) is lost in Russia at this point and we may never see him again. Makes the list based on size/speed and the fact we simply have no idea how much or little he's playing. Scored 25 goals once upon a time in the OHL (at 18) so he makes the list despite feeble boxcars this year.
No 38 (29) C Liam Coughlin (34GP, 14-28-42 BCJHL). 20-year old wasn't going to make this list but a surge leading up to Christmas gets him on it right at the end. 20-year olds in the BCJHL aren't a goldmine for NHL teams, and his offensive totals fade compare to the Jones' boys (Connor Jones scored 81 points in 51 games for the Vipers in 2009-10, age 19).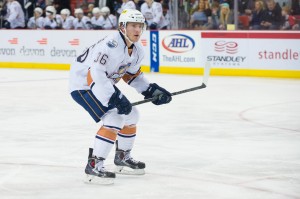 (Barons photos by Rob Ferguson, all rights reserved).
No. 39 (46) C Kellen Jones (3GP, 1-1-2 AHL ; 27GP, 7-18-25 ECHL) I think he might end up being Wayne Schaab (that's a compliment) and I think the Oilers should give the twins a lot of time in the AHL over the next several years. Dynamite penalty killer from what I've seen.
No. 40 (47) L Connor Jones (2GP, 1-0-1 AHL; 27GP, 10-26-26 ECHL) Much like his twin brother, Jones has certainly shown enough to hang around the AHL for the next several years. Look, we should expect never to see them again but they're worth roster spots on the minor league team.
Not on the list are men like Kellen Lain, CJ Ludwig, Ryan Hamilton, Ty Rimmer, Graeme Craig and Keven Bouchard. Graduating from the list one year ago are (with last December's rankings):
No. 4 Martin Marincin (over 50 NHL games, now considered graduated)
No. 7 Anton Belov (over 50 NHL games, now considered graduated)
No. 12 Mark Arcobello (over 50 NHL games)
No. 13 Taylor Fedun (no longer in organization)
No. 18 Luke Gazdic (over 50 NHL games)
No. 27 Ryan Martindale (no longer in organization)
No. 28 Richard Bachman (over 30 NHL games)
No. 40 Cameron Abney (no longer in organization)
I'll have an overview of the Winter 2014 list up tomorrow afternoon. This is not a strong list compared to 2010 winter or 2011 winter, but there is talent on this list and some of these young men should have an NHL career. Thanks for reading!