This year's top 40 list features three gems, a half dozen (or so) seriously promising prospects and a lot of question marks. I'd say this edition of the winter prospects list is the weakest since Taylor Hall was drafted and possibly before. That's not overly surprising, Edmonton has been graduating their first round picks to the NHL with alarming consistency and it's uncertain how many of the lower picks will turn out. Here's a position by position look at what's in the organization and what might happen during the spring and summer procurement seasons.
GOALTENDING
Current prospects: Laurent Brossoit (No. 16) is making great strides and could be a legit NHL option at some point in the future. Patience is important with goalies and it'll be some time before Edmonton can count on him (if ever). Zach Nagelvoort (No. 24) has a solid resume in college and below and is certainly a prospect of interest. Frans Tuohimaa (No. 30) has had a meandering route since draft day but there are some nice things. Tyler Bunz (No. 35) is about the same as Tuohimaa with more injuries and fewer good arrows. Bubbling beneath are Ty Rimmer and Keven Bouchard.
Is this an area of strength? No, this is an area of concern throughout the system.
What's the next step? It appears the Oilers will pursue all avenues, including monster college man Matt O'Connor. I think the draft will see Edmonton use an early pick at the goaltending position and would suggest Callum Booth, Daniel Vlader and Felix Sandstrom are possibles. MacKenzie Blackwood is a personal favorite because of his cool name.
Will everyone be back next season? Ben Scrivens is signed and it's likely he'll return with a more established NHL partner (think Niemi or Ward). I think Richard Bachman would be a fine tandem partner with Brossoit for the AHL team.
Will anyone be gone next season? Bunz and Tuohimaa are both RFA's without contracts for next season and I think both are in a bit of trouble in getting a new contract. Rimmer has shown some nice things but will need to pick up the pace and Bouchard needs to haul ass starting now. As with ALL goalies throughout the earth, take everything with a grain of salt because they could do a 180 in a heartbeat.
DEFENSE
 Current Prospects: Darnell Nurse (No. 2) is the best defensive prospect to come down the pipe for Edmonton in many years. He has a wide range of skills and should be a consistent 20+ minutes a night blue when he is mature. Oscar Klefbom (No. 3) won't bring as much offense but is very mobile and brings the complete kit when it comes to defensive hockey. He does need to mature and counting on him for big minutes this early is folly. Dillon Simpson (No. 8) is adjusting well to the AHL and I do think he's separating himself from the rest; it's important to remember these college kids spike early. Martin Gernat (No. 13) is sliding a little but I'm not sure if it's him or the organization souring on him. He's a talented player with a lot of tools. Joey Laleggia (No. 14) is an offensive defenseman of significant pedigree and I'm hopeful Edmonton can sign him. William Lagesson (No. 15) has impressed at the WJ's and in the USHL, there are good arrows but a lot of time before we can project him as an NHL player. Brad Hunt (No. 20) is captain chaos but he brings exceptional offense from the blue line. Brandon Davidson (No. 21), Jordan Oesterle (No. 22), David Musil (No. 23), Ben Betker (No. 26) are all profiled briefly here and have a chance to be NHL players down the line.
Is this an area of strength? Yes. These young men can't impact the NHL team immediately but added to Martin Marincin this is a strong prospect group for one position. It's so strong we're likely to see a trade at some point to address another position. Eleven of this year's 40 (27.5%) are defenders (that's about right).
What's the next step? I don't think defense will factor into the equation on draft day, not in a big way. For the Oilers, it is a time for patience and development. There's no easy answer here, Edmonton has to give Nurse and Klefbom time and put them in positions to succeed. Marincin can probably help but the organization is stubborn on him now so he may not be part of the long term solution. I think Dillon Simpson is a player we should watch closely in the next 12 months.
Will everyone be back next season? The NHL roster is really up in the air now with Jeff Petry (UFA) and Justin Schultz (RFA) both free agents during the summer. The veterans signed for next season (Mark Fayne, Niki Nikitin, Andrew Ference) are not strong and it's an extremely well paid trio. We may see a buyout of Nikitin or Ference (or a trade). Marincin and Davidson are RFA but shouldn't be expensive to sign (Marincin may be looking for a one-way deal and that might be an issue—remember, Euro kids have shown zero hesitation bolting to Europe). The defense for 2015-16 is a mess, which is good news for Nurse and Klefbom in terms of job search.
Will anyone be gone next season? Petry and Schultz are candidates and I think Nikitin is a strong candidate. At some point MacT is going to package (I know, 3-for-1) Marincin up with something and get an actual NHL defenseman and at this point I'm in favor of it.
CENTER
Current Prospects: Leon Draisaitl (No. 1) is an exceptional prospect despite the lack of offensive production in the NHL this season. The fact he won the speed competition at the skills event tells us he's a hard damn worker. God he's a wonderful kid, they are all and they deserve to play on a good team. Someday. Bogdan Yakimov (No. 4) looks like the real deal, especially if his skating improves just a little. As it is, he's a wide body who can win battles plus has enough skill to do something with the puck. Greg Chase (No. 6) could make his mark at center or wing but brings an intriguing skill/agitator skill set that makes him unique. Jujhar Khaira may also find his career ends up on the wing (and he's likely a checker) but the size and grit makes him a MacT man for sure. Kyle Platzer (No. 9)has moved up the rankings more than any other player this year and it's well deserved. He has a complete skill set and the offensive spike this year is very encouraging. Marco Roy (No. 11) has been disappointing but it's important to remember the season isn't over yet and he should earn a contract. If the Oilers don't sign him, Roy may be a spring trade candidate. Evan Campbell (No. 32), Travis Ewanyk (No. 34), Liam Coughlin (No. 38) and Kellen Jones (No. 39) are all included here.
Is this an area of strength? No but it's much better today than in the days leading up to the 2011 draft. Nuge and Draisaitl are monster figures in this team's future and finally begin the 'build up the middle' process. There are some nice options bubbling under too.
What's the next step? I think the Oilers grab a center with their first-round pick again this year. It'll be either Connor McDavid, Jack Eichel or Dylan Strome (with Pavel Zacha as the fourth option) but they're going C this year and I'm pretty comfortable in saying it this early. After that, patience and development.
Will everyone be back next season? Mark Arcobello got traded as I wrote this and Anton Lander (plus Kellen Lain) will be RFA this summer but bringing all of them back shouldn't be trouble. Nuge, Leon and Gordon will be back and the kids on the prospect list are miles from being a contract issue.
Will anyone be gone next season? Marco Roy doesn't have a contract and the Oilers have been a little more prudent in this area under MacTavish. I'd sign him but it'll be interesting to see how this works out. He is not ripping it up in his overage season.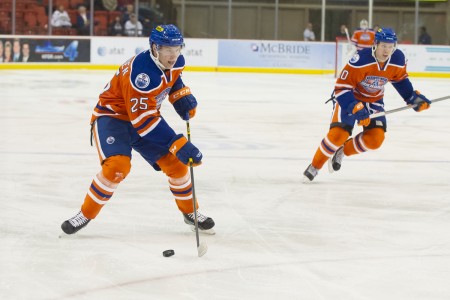 RIGHT WING
Current Prospects: Iiro Pakarinen (No. 5) is an interesting prospect who may end up playing a major role on this team in 2015 and beyond. His early season look-see was terrific and one hopes we see him again soon. Tyler Pitlick (No. 10) has taken forever and lost most of his offense along the way, but is now in the stand and deliver (or not) portion of his career. Jackson Houck (No. 12) is having an uneven season but there's been enough progress (imo) for the team to sign him. Steve Pinizzotto (No. 27), Tyler Vesel (No. 28) and Andrew Miller (No. 29) are profiled briefly here. John McCarron (No. 33) rounds out the group here.
Is this an area of strength? No. Edmonton has some nice skill in the NHL (Jordan Eberle, David Perron, Teddy Purcell, Matt Hendricks) but there isn't much bubbling under. In fact, you could certainly argue that Edmonton should be looking at this position closely at the draft this summer.
What's the next step? The list is a little misleading because any number of centers could end up being RW's down the line. Chase and Platzer are strong candidates to move over and there are others. I could see Edmonton spending a third or fourth-round pick on the position.
Will everyone be back next season? Unlikely. Tyler Pitlick is  RFA and I'm not certain he returns next fall. David Perron was being actively shopped and that may continue at the deadline and into summer (he has one year left on his deal). I'd say Eberle and Purcell are locks for 2015-16.
Will anyone be gone next season? Perron but they won't trade him without getting value so it won't be a disaster.
LEFT WING
Current Prospects: Anton Slepyshev (No. 17) is a promising prospect but we don't really know what he is at this point. A season in the AHL will give Edmonton some idea about what kind of player they received at the 2013 draft. Mitch Moroz (No. 18) is a player Edmonton held in high regard during the Tambellini regime and he brings many of the things MacT values. He could be an NHL player but it'll be awhile. Curtis Hamilton (No. 19) is actually having the best season of his pro career and could emerge from the group. The Oilers picking up Matt Fraser today suggests there are more hurdles to come for him. Aidan Muir (No. 25) is mentioned here and Kale Kessy (No. 31), Josh Winquist (No. 36), Daniil Zharkov (No. 37) and Connor Jones are mentioned here.
Is this an area of strength: Yes, at the NHL level (Hall, Yakupov, Pouliot, now Fraser, others) and maybe bubbling under too depending on Slepyshev. I would suggest drafting a LW isn't a priority this summer in Edmonton.
What's the next step? The LW's are locked and loaded. If Edmonton began next season with the current group life would be fine. This is a quality group at LW, especially if Nelson can unlock Yakupov.
Will everyone be back next season? The worry is Nail Yakupov. If the Edmonton Oilers are patient (I mean more than now) there's a player there. I worry they cut bait and send him away. It could happen at any minute now.
Will anyone be gone next season? I have a bad feeling about Nail, have for some time.
Thanks for reading!