We've been talking about this for a few hours and despite passing on the waiver opportunity, the Edmonton Oilers have in fact acquired Derek Roy from the Nashville Predators.
#Oilers acquire centre Derek Roy from Nashville for Mark Arcobello. Roy has 502 points (178G, 324A) in 692 career NHL games.

— Chris Wescott (@TheChrisWescott) December 29, 2014
ROY VOLLMAN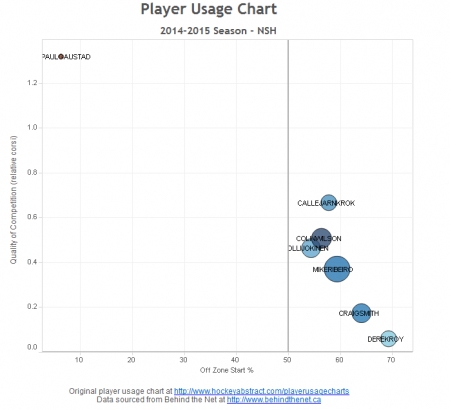 I think there are two major reasons to make this deal: Roy is still a better offensive player than Arco and Roy can play mentor to some of these kids. The other night, Todd Nelson iced a line that saw Leon Draisaitl centering Tyler Pitlick and Nail Yakupov.
That's not a solution, that's a problem. This helps address experience at center. Finally. Stubborn stubborn MacT takes a holiday.
DEREK ROY IN A BOX
Boxcars: 26GP, 1-9-10
5×5 points-per-60: 1.66 (No. 6 among forwards on the Preds)
Time on ice: 13:30 a night (11:11 EV; 1:25 PP; 0:42 PK)
Faceoffs: No. 5 option (48% on 244 sorties)
Corsi For 5×5% 52.4 (most often: Craig Smith, Matt Cullen)
The 5×5 number trails only Nuge among Oilers centers and the team does have talented wingers to go with the veteran C. Anton Lander's chances take a hit today, although Leon's future is still in the balance (for this year). I like the trade for the reasons above.
As for Mark Arcobello, this is an opportunity but I'm sure it doesn't feel that way today. He was caught between a rock and a hard place, with small and experience being the issues and lack of offense the final nail. He was a helluva Oiler and we should remember that today.
Sail on, Yale Bulldog. You gave it your all and came to us in a confusing time. I think this might be the best thing for you and wish you well.