The Edmonton Oilers pulled off a mild surprise today, plucking winger (he can play either side) Matt Fraser from the Boston Bruins. Fraser brings an interesting skill set: He's an aggressive player with a quick, hard shot (it's a difference maker in the AHL and he has had some success in the NHL, too) who has some genuine skating issues. Fraser isn't a big man but can play that heavy style the Bruins value so much.
He would have been eligible for the 2008, 2009 and 2010 entry drafts and considering his league (WHL) and role (gritty winger) it's a good bet Edmonton has known about Fraser for six or more years. He played junior as an overage player in 2010-11 and scored 36 goals. The big career spike came the following season, as Fraser scored 37 as an AHL rookie (that's a helluva total).
It's a solid bet for Edmonton but I think we need to be realistic. If he becomes the next Dan Lacouture that's probably success—if he emerges as more then it's an absolute home run. One thing that really stands out from his AHL numbers (aside from the goals) is the number of shots he took in Texas. He took 253 shots in 73 games as an AHL rookie, a splendid total.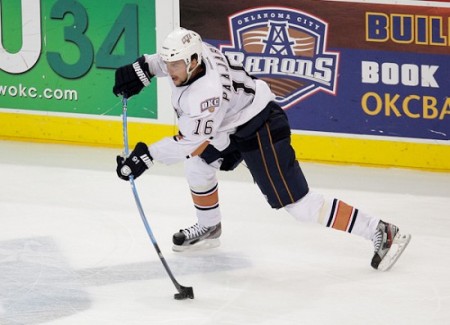 At the same time as Edmonton was announcing the Fraser claim, word hit the hockey world that Magnus Paajarvi had been placed on waivers by the St. Louis Blues. I like the Fraser claim—Steve Pinizzotto is a solid player but at 30 unlikely a long term solution—but Paajarvi's speed alone makes him an attractive option for Edmonton. If I list the Oilers depth chart on wing (Hall—Eberle, Perron—Purcell, Yakupov—Pitlick, Fraser—Hendricks—Gazdic) where does Paajarvi slot?
I'd absolutely take him for Pitlick's spot and all below save Hendricks. Fair?
We wait. Don't hold your breath though. As fast as Paajarvi is, that rugged style that made Fraser so attractive to the Oilers is not available in Paajarvi. In this way, we have a clear indication about where this organization is heading.
#Oilers activate defenceman Nikita Nikitin from injured reserve, assign defenceman Brad Hunt to the AHL's @OKCBarons.

— Edmonton Oilers (@EdmontonOilers) December 29, 2014
The Oilers activation of Nikitin means they're getting closer to having their opening night group back in action. Benoit Pouliot is getting closer but we're probably still a ways off from seeing the big man on the wing.