The rest of this season and summer could be called 'in search of the next Curtis Joseph' and for me that's a major item on the docket of Craig MacTavish over the next six months. It may be that college goalie everyone is interested in, it may be Andrei Vasilevskiy or it may be Antti Niemi but that move has to get done. MacT is building up the middle via the draft table (Darnell Nurse, Leon Draisaitl, Bogdan Yakimov) but the goaltender looks to be via free agent signing or trade. I'm not going to pontificate on the Scrivens—Fasth combination because for me that's always a better bet than a 30+ option (Hiller) because even if he does have a good season, it's another year over and you're left with Boog Powell 1975. There is no sustain in acquiring good players at the end, especially for a building team. The next Curtis Joseph, that should be the target.
Bruce Garrioch: The belief is MacTavish is willing to talk about any player on his roster, but there will be a lot of focus on winger Jordan Eberle because he appears to be the odd man out if the Oilers decide to make another move. Source
I don't see Edmonton trading Eberle unless that's the key element in a deal for a major addition at D or G. Who might it be? Well it can't be Brent Seabrook because he's a UFA in 2016 and it can't be Tyler Myers and I'm don't know why the Oilers would deal him for three parts. I think it's more likely (and prudent) we'll see the Penguins pick (acquired for Perron) added to Martin Marincin and perhaps something else for a real D or G. I know, three-for-one, but in this case it only makes sense.
Oilers can't make that Penguins pick, that pick won't help them until long after Taylor Hall has left the building. The time is now. Right now.
CHECKING LINE!
MacT completed his checking line with the Perron trade, acquiring Rob Klinkhammer to go with Boyd Gordon and Matt Hendricks. Klinkhammer is a good possession player and this line (if they roll this line) should be an effective one. I'd bet money the Oilers sign the new hire long before July 1 if he plays well. A pure MacT type with good analytics. More please.
HE SHALL BE LEON! (UPDATED)
Draisaitl assigned to The CHL, trade certainly coming in next day or two.

— Ryan Rishaug (@TSNRyanRishaug) January 4, 2015
You know, it's funny, because Leon is like the 'anti-Gagner' in that young Sam scored like crazy as a teenage rookie but never did get the possession numbers under control and could never push the river. Leon can't post the numbers, but his teenage possession stats are solid. I know that's at least a little about teammates but credit where due this is a different player. I love Leon's future and am convinced sending him back is the right thing to do. He's going to be a terrific Oiler.  Interesting "CHL" instead of "WHL in Rishaug's tweet, probably nothing.
Nurse RT @JoshVonNess: @coreypronman Who would you say has been the best D so far in this tournament? — Corey Pronman (@coreypronman) January 1, 2015
Go Canada! I've very much enjoyed watching Darnell Nurse this WJ's and I think it's clear he is both a quality prospect and in need of pro seasoning. I know the Oilers love to elevate their players immediately upon turning pro (or earlier) but would like to remind you of Larry Robinson, who spent time in the AHL before dominating NHL players for two decades. Nurse isn't Robinson, but he does have many of the same tools. Important to get it right with Darnell.
GO GO BOGDAN!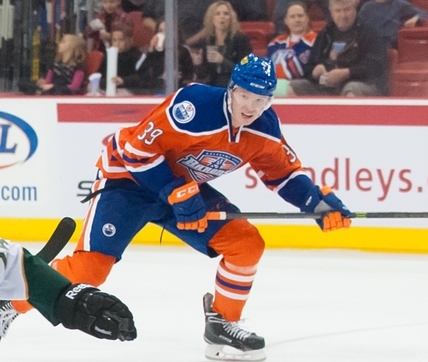 I wondered when we were going to see some offense from Bogdan Yakimov because he has all good arrows with this organization. Sometimes in life things are supposed to work out for people and Bogdan has a lot of momentum:
A MacTavish draft
Good KHL season suggesting offensive ability and history of playing against men
Strong training camp
However, until recently he wasn't getting much done offensively. A strong performance last night has him 2-4-6 in his last 7 games, with 26 shots on goal. The Oilers may have a solid forward on the way via Oklahoma City who came through the draft—a most rare item during Edmonton's Baron run in that city.
THE GAME TONIGHT
At some level, you have to absolutely be impressed with Todd Nelson. Since Craig MacTavish went back upstairs (and commenced making roster changes, lordy) the Oilers are 1-0-2 in three games. This can't happen. As difficult as it is to wrap our heads around, losing is a good thing. WHY is it a good thing? Tune in tonight to the Canada—Slovakia game and watch Connor McDavid closely. That's the goal, that's the price, and the consolation is Jack Eichel. Third prize? A set of steak knives.
Losing. It's the right thing to do. Someone tell Nelson!