Later this week, Anton Lander will play his 100th game in the NHL. Scott Cullen's excellent work on draft success tells us that  a player taken at No. 40 overall (Anton Lander was taken there in 2009) has a 34% chance of playing in 100 games in the world's best league. Success! And yet, one doubts anyone feels that way, including the Oilers and the player involved.
So far this season, Anton Lander has played four games with the big club, scoring two points. Incredible! In the previous 94 games he played in, Lander scored eight points. This year's numbers are Ruthian in comparison.
What has changed? WHY is Todd Nelson having (early) success with this player? The first place to look is icetime. Here's an overview of Lander's TOI by discipline since he arrived in the NHL in 2011-12.
ANTON LANDER TOI (BY YEAR)

Lander's PP time is all from the three most recent games but Nelson ran him over 15 EV minutes and 1.5 minutes on the PK in the one game he played in December (with MacT behind the bench helping). Lander does have a power-play point (last night) so maybe Nelson's faith will be rewarded. The Swede was his No. 1 option in the minors and Lander delivered.
DECEMBER 19TH AHL SCORING

This isn't a 29-year old AHL veteran posting a point-per-game, it's a "Doug Jarvis checker" who is getting a power-play push. That's some nice territory and Lander has done it for awhile now under Nelson in OKC. We see above that the Swede is getting PP time, I wonder if Nelson is using him with better linemates at evens?
LANDER AT EVENS OVER THE YEARS
2011-12 (43.1 CF% 5×5) linemates: Lennart Petrell (214 minutes); Ben Eager (199 minutes); Magnus Paajarvi (94 minutes); Ryan Jones (93 minutes).
2012-13 (47.6 CF% 5×5) linemates: Teemu Hartikainen (48 minutes); Ryan Jones (37 minutes); Nail Yakupov (2o minutes).
2013-14 (44.1 CF%5 5×5) linemates: David Perron (100 minutes); Luke Gazdic (56 minutes); Sam Gagner (56 minutes).
2014-15 (35.4 CF% 5×5) linemates: Nail Yakupov (39 minutes); Matt Fraser (29 minutes); Tyler Pitlick (10 minutes).
God those 11-12 linemates are a nightmare and even though I love Nail 2012-13 isn't any better. Eakins got him some help last season (Perron for sure) and this year it's a dog's breakfast. I think Todd Nelson is trying to get something going with that Kid Line (Lander, Yak, Fraser) but would bet they take a step forward when Yakupov is removed. Nail is absolutely an albatross now, saddest damn thing.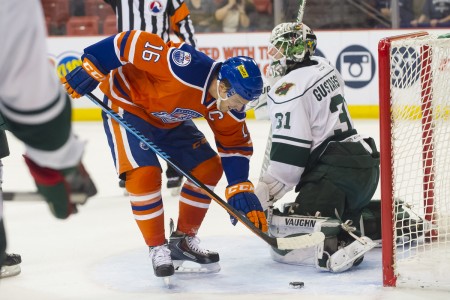 IS THIS GOING TO WORK?
Todd Nelson is walking a tightrope here in that he's auditioning for an NHL coaching job while also trying to develop players (that's his job in this role, or at least a part of it). I'm pleased he's been able to get Lander into the scoring column but worry about the player's current role. A fourth "energy" line is a tough way to break in to the NHL and if Nail remains in this hideous stickhandling slump (he's not using his brain right now, Nail's not a dummy) it could crater three careers.
It looks like coach Nelson is going to use Lander as a power-play option and that may be a way to get the young man established offensively in the NHL. Ironic, no? A prospect with a Doug Jarvis reputation getting some traction in the league because of his work on the 2PP? And what an incredible struggle that took place with the regular PP options to allow this to be an option.
WHAT COULD MAKE THINGS BETTER
At some point, I'd like to see Lander—Fraser play with either Benoit Pouliot or Teddy Purcell. I know the lines flipped a little last night, but I'm talking about 10 games (or so). Fraser has skating issues but can shoot and Lander can pass and serve as a the defensive conscience for the line. They need a winger who can retrieve, pass and carry the puck into the offensive zone. That WAS Nail in junior but he's wobbly as a passer now and is Han Solo most shifts.
Anton Lander is 23 years old and at this point it looks like this will be his best chance to make the NHL as a regular. Todd Nelson is finding innovative ways to use his skills and it appears to be working (early early days). I find myself intrigued to see how Nelson goes about unlocking the key to Nail Yakupov.
The season is interesting on an entirely new level.