Craig MacTavish is halfway through his second season as GM and has fallen ass over tea kettle into McEichel. WHY would he mess with the possibility of acquiring the latest empire builder hockey player?  Answer: He won't.
Benoit Pouliot: "Mostly, I feel bad for the guys because we played hard, battled back, then I go do something so f—ing stupid like that. It's unacceptable." Source
Not a word out of place there and Pouliot can't do that (and yet he does). I'm a fan of the player but he can't be costing his team with selfish play. Lordy that was stupid and there's a history of selfishness with this player. Here's the deal: During his contract with the Oilers, Edmonton will be in at least one playoff race. He can't be doing that, it has to stop. That said, I can't get too upset about a regulation loss in a season when the goal is No. 1 or No. 2 overall. That's the way I see it.
FIRST THINGS FIRST
http://t.co/mo1ZvAH183 #nhl Jeff Petry Should Be On Los Angeles Kings' Radar pic.twitter.com/sDIWLzARr7

— WordLink #NHL (@NHLbyWordLink) December 27, 2014
Jeff Petry SHOULD be a Detroit Red Wing after last night's game, he's a perfect fit for a veteran team that could have sustain in the postseason. The great thing about trying to finish No. 30 is that there's no need to ask after Darren Helm or any other player. It can be a straight Petry for a pick deal, hell take on some money. Jeff Petry, as he now plays, is absolutely going to sewer the McDavid statue that will one day stand alongside the Gretzky (once they drag it over from Rexall using old Skyreach equipment).
BOYD GORDON
Boyd Gordon with the towel after 2 in Van. #Oilers pic.twitter.com/UvVjEEXbFY

— The Interview Towel (@towel_the) October 6, 2013
The other guy Edmonton has to get rid of is Boyd Gordon. Absolutely not helping them get to McDavid.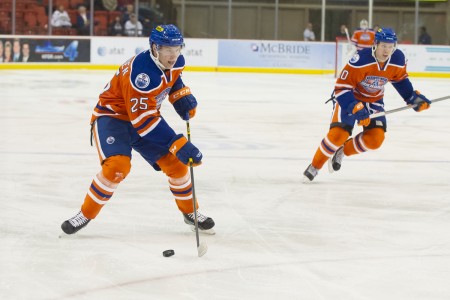 WHO PLAYS INSTEAD?
The Oilers should be auditioning Martin Marincin starting Friday. They should also be calling up (and sending back) all number of prospects to give them a cup of coffee and see how they look on NHL ice. Hopefully you never get another chance to audition kids for a 40-game stretch but this is it. Here's a short list of possible recalls by position:
Goal: Richard Bachman, Laurent Brossoit
Defense: Martin Marincin, Brandon Davidson, Dillon Simpson, Jordan Oesterle, Brad Hunt, Martin Gernat, David Musil
Center: Bogdan Yakimov, Jujhar Khaira, Travis Ewanyk
Left Wing: Curtis Hamilton, Mitch Moroz
Right Wing: Iiro Pakarinen, Josh Winquist, Steve Pinizzotto
I'm not saying call them all up, but there are legit NHL prospects here and this is a perfect time to have a prolonged look at them. Players worthy of the full 40 games include Martin Marincin, Brandon Davidson and Iiro Pakarinen. It's also true that Curtis Hamilton is having a strong year (54% EV GF/GA %) and an extended look might be interesting.
The Oilers should offload five of their veterans between now and the deadline: Jeff Petry, Boyd Gordon and Viktor Fasth, Derek Roy, Teddy Purcell (if they can). Audition the kids. It's the right thing to do.
 WILL MACT DO THIS?
Yes. Well, he'll do a version of it. Here are the standings as the teams stand this morning.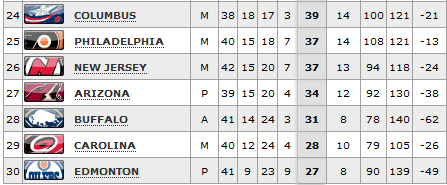 I think there are (reasonably) three contenders for the No. 30 overall position. Carolina is now drunk with Staal's and that's going to get them points but Buffalo is well and truly awful and should be considered the main threat for McEichel. MacTavish can't leave anything to chance—29th and a lost lottery ball means we're staring Lawson Crouse straight in the eyes—so it's vital to get Petry and Gordon off the roster.
I CAN'T BELIEVE YOU'RE SAYING THIS AFTER SO MANY YEARS OF SUCK!
Hey, I get it, I understand. Under ordinary circumstances this would be insane, miles from reason. What makes this different? The incredible quality at the top of the draft. One way of showing it is NHL equivalencies (I'm using Vollman here) and comparing McEichel to past No. 1 overall selections. Here's how it looks:
Connor McDavid 22-48-70
John Tavares (2009) 25-21-46
Taylor Hall (2010) 17-29-46
Jack Eichel 14-32-46
Steven Stamkos (2008) 23-20-43
Nail Yakupov (2012) 18-22-40
Nathan MacKinnon (2013) 17-22-39
Ryan Nugent-Hopkins (2011) 11-27-38
I do not expect anyone to join me on the "keep losing" bandwagon. I don't expect any season ticket holder to read this and go "hey, great idea!" and I do understand the Oilers were gifted three No. 1 overalls and still nothing rhymes. I absolutely agree the Edmonton Oilers don't deserve this, God that is so true.
Don't care. Screw that noise. Sedated for McDavid. I'm all-in. Bettman allowed a loophole, kick out the jams and drive that transport right through it. Screw 'em all, I say.
LOWDOWN WITH LOWETIDE
10 this morning, a full slate, TSN 1260. Scheduled to appear:
Bruce McCurdy, Cult of Hockey. Bruce will chime in on Todd Nelson, McDavid—Eichel, Benoit Pouliot's very very bad day.
Tim Fragle, Head Coach of the Sherwood Park Crusaders, High School Director at Vimy Hockey. We'll talk about the AJHL as an option for young hockey players.
Chris Peters, CBS Sports. World Juniors, plus his thoughts on Joey Laleggia and Zach Nagelvoort.
Rob Vollman, ESPN and Bleacher Report. Early days of Todd Nelson, trading Hall, return for Perron, Leafs.
James Mirtle, TSN Analytics/Globe and Mail. Do the Leafs need a 'de-build' or a tear down?
10-1260 text, @Lowetide_ on twitter. I'm looking forward to this group, should be very interesting.