This has been a difficult season for Taylor Hall, as the de facto 'man who pushes the river' is not as productive in his wheelhouse (5×5) this year. The drop in production is so drastic we have to go back to Hall's rookie season to find a comparable:
HALL MONITOR (BTN, HOCKEY ANALYSIS)

It's a significant drop-off in production and really should be the No. 1 concern for the Edmonton Oilers. Their best offensive player, their chance machine, isn't delivering at previous levels. He isn't 40 (Hall just turned 23) and he should be posting better numbers this season. There are reasons for the downturn:
In early November, Hall suffered a sprained medial collateral ligament in his right knee. Source
I believe he is now wearing braces on both knees.
The opposition SP is very good when he's on the ice currently.
Hall's shooting percentage is slightly below average
10% of his EV ice time this year was spent with Tyler Pitlick as his RW.
By eye, he and his line seem to be dumping the puck in a significant amount this year.
These are all things that have contributed to Hall's (significant) downturn in fortunes. A major portion of Edmonton's even-strength offense comes from Taylor Hall off the rush. Todd Nelson needs to examine those things he can control above and tweak (the Nuge—Hall—Eberle line back in business implies he's working on it).
HALL INJURED ON THE PLAY….
When we talk about injury, we acknowledge it, hold it in our mind's eye for a minute, and forget it. Taylor Hall's injuries have a cumulative impact on him, but we treat them (we just do) as unrelated irritants that rob us of enjoyment. Hall came back (likely too early) from his knee injury and doesn't seem to have that extra gear. That's from observation but it's also true he lost the skating portion of the Oilers' skill competition to Leon Draisaitl. Anecdotal evidence to be sure but significant all the same.
HALL'S INJURY HISTORY
March 5, 2011—suffers ankle injury and misses the remainder of the season.
November 2011—left shoulder injury, misses 7 games.
January 2012—head injury, misses two games.
March 18, 2012—concussion, misses the remainder of the season.
March 2013—hamstring injury, misses one game.
November 2013—left knee injury, misses 7 games.
November 3, 2014—sprained mcl (right knee), misses 6 games.
HALL VERSUS THE VOLCANO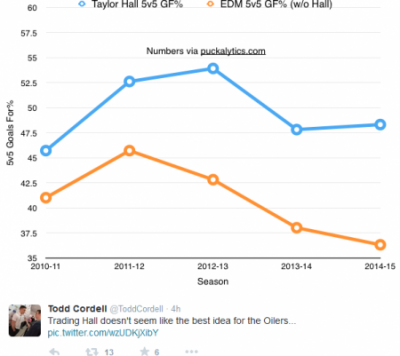 The Oilers with Taylor Hall remain wildly better than without but in a season where all is lost already I'm wondering about the wisdom of playing him if he's not 100%. There is absolutely nothing so valuable January-April that the Edmonton Oilers should spend one second worrying over. If Hall came back too soon, rest him.
If he's 100% and posting these numbers? It could be a slump and that's a fact. It could be a combination of the reasons mentioned above. It could also be something more sinister, a gifted athlete wearing down from the day-to-day grind of the NHL.
For all our sakes, I pray this isn't the case.
LOWDOWN WITH LOWETIDE
Today on the Lowdown (TSN 1260, 10am):
Dennis King, Oilogosphere icon. Oilers, Leafs and MLB HOF.
Jesse Spector, The Sporting News. Baseball!
Ryan Batty, Copper and Blue. Oilers and what they can accomplish with the rest of the season.
Jeff Krushell, Krush performance. MLB hall and the importance of sleep.
10-1260 text and @Lowetide_ on twitter. Talk soon!