So I'm sitting 12 rows up and straight behind the Chicago net and two Oilers forwards find the puck and miles of open ice around Edmonton's blue. I recognize both from their skating strides (it's funny how distinctive that is for a player, like a batter's swing in baseball) and I'm yelling 'SHOOT' to Nail before he hits the outskirts of Chicago. That damned kid drove to the net like a bat of hell and put it all to rest. The crowd went wild.
Todd Nelson cannot be stopped.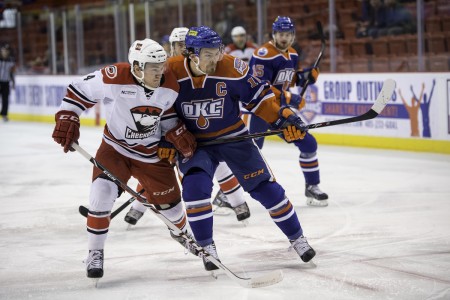 The forward hit the blue line in full stride and wired a perfect pass (music!) to Teddy Purcell who matched it at least with a gorgeous seeing-eye rocket to Derek Roy who just happened to be visiting the slot at the perfect moment. Bang! Oilers score. My mind centers on the forward who passed the puck. From my view, I thought…but it couldn't be! Too good for school, too skilled for Lander, must have been another. And damned if the passer doesn't joint the celebration and it is indeed Area 51.
Todd Nelson cannot be stopped.
I'm at the game with my Daughter, and have been fretting over Oscar Klefbom's work load (to my eye, at the game, he was getting a lot of heavy work) and one sortie featured the young Swede getting hammered by the big 'Hawks forwards. My Daughter says "they're beating up on Oscar" and I smile, both because she's engaged in the game and because I've clearly said Oscar enough for her to know who he is.
In the ensuing sortie, it's a tire fire around Edmonton's net and a puck beats Scrivens and it's all over. Except. Except Oscar is in the one spot on the ice where he could do something about the goal to come, and the kid saved the day brilliantly.
Todd Nelson cannot be stopped.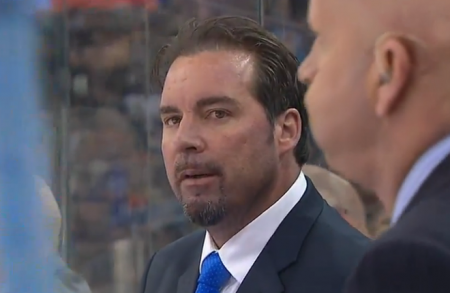 Todd Nelson cannot be stopped. Since flying solo his Oilers are 3-1-2 after starting the season 7-22-7. Incredible. Nelson has produced 27% of Edmonton's points in 14% of their games. Incredible. The Oilers GF-GA in those games is 18-14 (+4) after starting the season 77-127 (-50).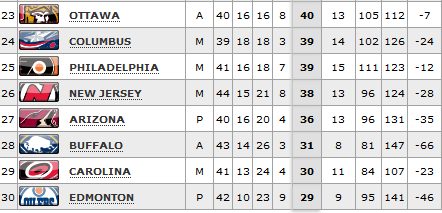 Looking at this and factoring in the actual rosters, I suspect both Carolina and Edmonton surge (surge?) past Buffalo and we may see one other team (Arizona, New Jersey, Philadelphia) dive. If the Nelson spike continues through end January, I don't see this team picking No. 1 or No. 2 unless they win the lottery. Wouldn't that be a hoot? Oilers finish 27th and win the lottery? Old man Snider would come out of his shoes on the follow through to Bettman!
HIGHLIGHTS –> @Roy9ner leads the #Oilers with three points in tonight's big victory | VIDEO > http://t.co/BE2zL9PIG4 pic.twitter.com/j8ATszMO4M

— Edmonton Oilers (@EdmontonOilers) January 10, 2015
One of the things this blog tries not to do is filter back to previous items in an 'I told you so' manner. Oilers fans are familiar with the problems of the team and frankly I'll credit the bunch of us who visit this site daily for being ahead of the curve on many of the problems this team faces today. I wrote at length this summer about center and balance and Derek Roy's performance (I believe) reflects the importance of the decision.
My question today, the one I've been mulling, is 'how much credit/blame to we give to Craig MacTavish' for being so very late to recognize this? It's hyperbole to state Dallas Eakins lost his job because of the shortsighted actions of the GM, right? Or is it?
Balance. Craig MacTavish will be the GM this summer, his third. He and the people advising him must learn about balance on the roster. Not balance if she comes, not balance when they mature, not balance some sweet day.  Balance. From day one, minute one. Craig MacTavish owes it to the fans, his players, the organization he runs and his owner. Enough enough enough.
THE TOP 30 PLAYERS IN THE 2015 DRAFT
(1) C Connor McDavid, Erie Otters (OHL) Hard target No. 1.
(2) C Jack Eichel, Boston U (NCAA) Hard target No. 2.
(3) D Noah Hanifin, Boston College (NCAA) Closed well at world juniors. Impressive talent.
(4) C Dylan Strome, Erie Otters (OHL) 6.03, approaching 2 points-per-game in world's best jr league.
(6) R Mitch Marner, London Knights (OHL) 79 points in 39 GP and he was blocking shots last night.
(5) D Zach Werenski, Michigan (NCAA). Range of skills, trending.
(7) C Nick Merkley, Kelowna (WHL). Powerful skater with plus playmaking ability. Crazy offensive season.
(8) C Pavel Zacha, Sarnia Sting (OHL) Huge forward impressed at WJ. Bet the Oilers love him.
(13) R Mikko Rantanen, TPS Turku (SML). Big winger with terrific skills. A fun player to watch.
(10) D Oliver Kylington, Farjestad (SEL) 6.0, 174. Two-way defender with terrific speed and an across the board skill set.
(9) D Ivan Provorov, Brandon Wheat Kings (WHL) Love his skills, he's going to be a favorite.
(14) Nikita Korostelev, Sarnia Sting (OHL). Good size, speed, skill. I bet he moves up the list before June.
(11) C Mathew Barzal, Seattle Thunderbirds (WHL) Intelligent offensive player with exceptional passing ability and speed.
(12) L Lawson Crouse, Kingston Frontenacs (OHL). Big, big winger with some skill. The new Lucic hopeful?
(16) R Daniel Sprong, Charlettown Islanders (QMJHL) Dynamic scorer, excellent skater.
(15) C Jansen Harkins, Prince George Cougars (WHL) Two-way center with emerging offense. Intelligent.
(18) Evgeni Svechnikov, Cape Breton Screaming Eagles (QMJHL). Major skill, size, speed.
(17) D Jeremy Roy, Sherbrooke Phoenix (QMJHL) Quality two-way defender. Smart player.
(19) C Jeremy Bracco, USND (USHL). NO idea why this small skill center isn't getting more attention.
(20) C Travis Konecny, Ottawa 67's (OHL). Skill F, slightly undersized. Started slowly, coming along now.
(22) L Dennis Yan, Shawinigan Cataractes (QMJHL). Skill winger scoring well in a good junior league.
(23) C Colin White, USND (USHL). Skill center scoring well, famous early.
(26) C Anthony Beauvillier, Shawinigan Cataractes (QMJHL). Small, exceptionally skilled center.
(21) D Jakub Zboril, Saint John Seadogs (QMJHL). A puck-moving defender with size.
(24) C Filip Chlapik, Charlottetown Islanders (QMJHL). Impressive young player, very creative.
(NR) L Jake Debrusk, Swift Current (WHL). Trending an impressive.
(27) L Ryan Gropp, Seattle Thunderbirds (WHL). Has a plus shot, skates well, good size. Throwback winger.
(NR) R Jens Looke, Brynas (SHL). Terrific young skill winger impressed at WJ's.
(29) C Kyle Connor, Youngstown (USHL). Scoring center isn't lighting it up this year, highly regarded.
(25) R Brock Boeser, Waterloo Blackhawks (USHL). Appears to be a talented tank.
Note: Saturday Sports Extra hits the air at noon today, with co-host Bruce McCurdy! Bruce and I will talk about the Oilers, Oil Kings, MLB, we'll tee up the WHL trade deadline with Cody Nickolet and talk soccer with Armen Bedakian. Stay tuned for Bruce! TSN 1260 at noon.