It hasn't been announced but Bob McKenzie is a lock on these things so Bob Green will increase his role under Bob Nicholson in this bizarre winter of Bob's. Where Craig and Stu and Todd land lord only knows. It gives us some time to mull over what a 'perfect fit' scouting group and a 'perfect draft' might look like. Let's begin with what I consider a solid draft weekend:
OILERS 2013 DRAFT
Darnell Nurse at No. 7—Bob McKenzie No. 9
Marc-Olivier Roy at No. 56—Bob McKenzie No. 59
Bogdan Yakimov at No. 83—Pronman No. 73
Anton Slepyshev at No. 88—Pronman No. 45
Jackson Houck at No. 94—Pronman No. 91
Kyle Platzer at No. 96—Pronman No. 151 (reach)
There ARE arguments that can be made against this list (Nichushkin and Ristolainen were available at No. 7) and I'm absolutely convinced one of the reasons Craig MacTavish went with Nurse is 'need over bpa' at the Oilers turn. That said, every pick but Platzer is 'in the range' based on Bob McKenzie and Corey Pronman. I'd say that's a successful draft but do agree taking defensemen early is unwise. When we look back on the draft in 10 years, Nurse may be a splendid defender but it's unlikely he'll have delivered the kind of offense we associate with a No. 7 overall selection.
OILERS 2011 DRAFT
Ryan Nugent-Hopkins at No. 1—Bob McKenzie No. 1
Oscar Klefbom at No. 19—Bob McKenzie No. 21
David Musil at No. 31—Bob McKenzie No. 41
Samu Perhonen at No. 62—Red Line No. 88
Travis Ewanyk at No. 74—Red Line No. 64
Dillon Simpson at No. 92—Red Line No. 74
I like this draft too (Tobias Rieder was selected after No. 100 overall and was ranked No. 58 by Red Line) although there were some unusual picks in the third round. I liked Simpson and Rieder on draft day more than Perhonen and Ewanyk but the overall haul was quite good. Steve Tambellini not getting Rieder signed is a big damn deal and yes I do blame him (he's the same guy who allowed Petry to get into that 'final season before UFA' zone, too). I do think the scouts went too soon for Perhonen and Ewanyk but that's (once again) drafting for need.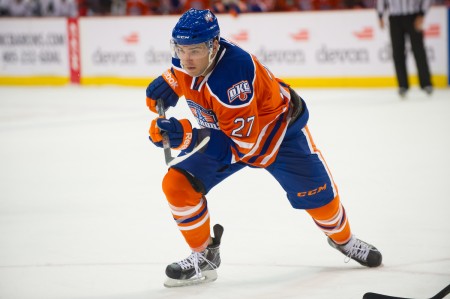 I liked those drafts but the 2012 and 2014 editions had some issues right away. I questioned (at the time and now) both the 2012 and 2014 weekends. In both cases, the Oilers headed walkabout inside the top 100—better known as taking reach picks.
OILERS 2012 DRAFT
Nail Yakupov at No. 1—Bob McKenzie No. 1
Mitchell Moroz at No. 32—Bob McKenzie No. 56
Jujhar Khaira at No. 63—Red Line No. 108
Daniil Zharkov at No. 91—Bob McKenzie No. 48
Erik Gustafsson at No. 93—Not Ranked
The Yakupov selection has become controversial since draft day but I thought it was the right call then and see no reason to deny it today. Moroz was a different item, as I wrote draft weekend:
Finally, a note on the scouting staff and Stu MacGregor. I don't think their draft was a strong one, as they clearly went after "need" as opposed to "best player available." Although the overall quality of the draft was not strong, the pick at #32 meant they were passing on too much talent by taking Moroz. The scouting staff better be right, or this pick will be remembered for a long time. Source
The Khaira pick suffered from the same issues, a reach selection based on need. It should be mentioned that no one from No. 31-No. 75 in the 2012 draft has yet emerged as a top flight NHL player—although Damon Severson looks like he'll be the first and Fredrik Andersen (No. 87) is looking like a keeper as a keeper.
OILERS 2014 DRAFT
Leon Draisaitl at No. 3—Bob McKenzie No. 4
William Lagesson at No. 91—Corey Pronman No. 60
This is a little different draft and my dissatisfaction with it didn't come until after 100 picks were gone. It was a very weird draft because the range of opinions produced a crazy-ass second and third round list. There were TONS of talented players left on the list when Edmonton chose Zach Nagelvoort, Liam Coughlin, Tyler Vesel and Keven Bouchard. Tons. Here's what I wrote draft weekend:
This was not a good draft year overall, but I believe the Oilers made it less effective than it could have been via goalies and saw him good. Source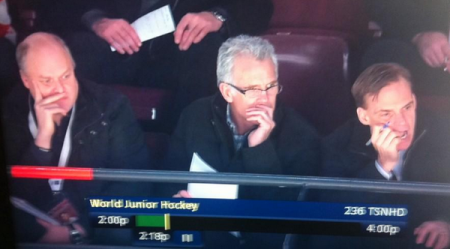 FORENSICS FORENSICS FORENSICS
So if the Forensic department calls us today and asks our advice on drafting, we can agree that the best plan is to:
Value skill above all other things.
Take best player available. Always. The GM may be charged with adding talent in specific spots but will have more ammo with better prospects. Oilers have never learned this lesson, not ever.
Let math do the work. Travis Ewanyk was a long shot the moment he was selected, the Oilers need to learn that and they haven't. I thought Edmonton learned the lesson in 2013 but appeared to have turned their backs on it in 2014. That's an issue. Michael Parkatti works with the Oilers and even though I haven't asked (and he hasn't volunteered) I would guess 2013 lined up pretty well with his numbers and 2014 was a walkabout. The Oilers need to stop this, in fact they should be identifying the players who scored well in the math model and how they're progressing. These men might make attractive acquisitions.
Don't take goalies early (Oilers have learned this).
Don't take defensemen early (Oilers rarely do this but did in the case of Nurse).
Speed matters, even more than size. Oilers have learned and unlearned this many times over the years.
Don't walkabout in the top 100. Edmonton has been better in the MacGregor era.
In an unusual draft like 2014 (or 2003) make better use of those late picks.
Stop mining areas currently frequented that have produced nothing. I'm looking at you BCJHL.
Print off the Bob McKenzie list and compare it to your own list. If a player is ranked on the McKenzie list, and not on the Oilers list, why? There should be a very good reason and it can't be 'saw him bad' or 'he never looks good when I see him' and that's for sure. Have a good long look at the Pronman list, too.
STOP chasing Coke Machines. Jesus, Mary and Joseph the Oilers could be a much better hockey team based on changing that one thing at the draft table since the turn of the century.
Anything else?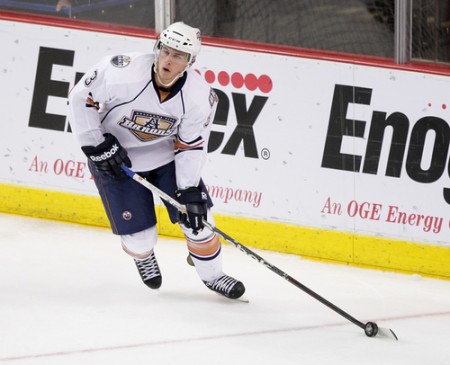 OILERS RFA LIST AND PRUNING
Every year the Oilers take a long look at their RFA list and prune it. I love MacT in this area, he's a killer. If there's any doubt it's here's your hat what's your hurry? The only surprise for me came last year when Curtis Hamilton was retained. Here's a mid-season look at the list and what I think we may see:
Nail Yakupov: As frustrating as his entry-level deal has been for both sides, I can't see a divorce. Edmonton may trade him but if they don't, a one or two year bridge deal is most likely.
Justin Schultz: I think another bridge deal is the answer, MacT looks very smart now for avoiding that long term deal.
Martin Marincin: Sign him to a one-way deal and bring him up for good. You can't tell me with a straight face Nikitin is better now and MM is young and progressing. Oilers need to get over themselves and call this player up today.
Anton Lander: Sign him and use him. Lander has now played 100 NHL games and none of them better than Friday night. Nelson may have saved him.
Keith Aulie: Two-way deal, he is big and can play defense.
Brad Hunt: I like Brad Hunt but can't relax when he's playing. Does that make sense? MacT will sign him.
Brandon Davidson: He's a young defender who has potential. He gets signed for sure, may lose him on waivers at some point.
Tyler Pitlick: I think they probably spend the money and roster spot on Klinkhammer. Pitlick just can't stay healthy. Two-way deal likely. Waiver worry.
Matt Fraser: I like his offense but skating is an issue. I don't think he's going to make it. Likely lost on waivers eventually.
Curtis Hamilton: It's likely he'll get an NHL look this year, still unsure of his future. I'll guess he won't be back.
Andrew Miller: I think he's a tweener and don't think he'll be back unless it's an AHL-only deal.
Kellen Lain: AHL depth, don't know if he warrants a 50-man spot. I don't think he gets one.
Frans Tuohimaa: I don't think he'll be back.
Tyler Bunz: I don't think he'll be back.
So, I'm guessing the Oilers flush Bunz, Tuohimaa, Hamilton, Fraser and offer AHL-only deals to Miller and Lain. That's six off the books and they'll need all of them. Tambellini wouldn't do any of this but MacT is a different personality altogether. I don't think Edmonton keeps anyone they have doubt about and that may include Tyler Pitlick. Klinkhammer's impact on that 4line can't be lost on management and that's the job Pitlick was applying for this season.
I think Edmonton will also say goodbye (either deadline or summer) to Jeff Petry, Viktor Fasth, Derek Roy, Jesse Joensuu, Steve Pinizzotto and Ryan Hamilton. Rob Klinkhammer is likely to be signed in my opinion. It's only been a few games but lordy that 4line is a monster. I think the club will also retain Richard Bachman.
CHL POINTS PER 60 (ESTIMATE)
Marco Roy 4.22
Jackson Houck 2.9
Kyle Platzer 2.75
Greg Chase 2.48
Leon Draisaitl 2.44
Darnell Nurse 2.40
Ben Betker 1.13
Great stuff coming out of CHL STATS and the points-per-60 is fascinating. This is an estimate based on points and estimated ice-time. It shows Marco Roy miles ahead of everyone (due mostly to not getting a lot of special teams time if I'm reading things correctly). Draisaitl, Nurse and Chase are already signed and I think they'll get Roy, Houck, Platzer and Betker under contract before the draft.
LOWDOWN WITH LOWETIDE
10 this morning, TSN 1260 and it's going to be a fun show! Scheduled to appear:
Scott Burnside, ESPN. We'll talk NHL All-Star game and the suddenly average Pacific Division.
Michael Parkatti, Boys on the Bus. Nurse's winter, Leon's WHL expectations and the quality of the 2015 draft.
Dennis King. Oilers Friday and Oilers Sunday plus NFL.
Travis Yost, TSN. Bills hire a coach, Sens and Oilers.
10-1260 text, @Lowetide_ on twitter. See you on the radio!