The Oilers need a goalie and how—if we made a list of games in which the wind abandoned the sails for this team during 2014-15 it would contain most every game. Why don't we do that—make a list—but instead of ghastly goals against let's make a list of lofty goals, things the Edmonton Oilers should do beginning tonight. As you no doubt agree, it's going to be awhile before we hit the ice with this list, as most of the problems are above ice level.
THINGS TO DO!
Figure out the criteria that allows Edmonton to put a low value on Jeff Petry—and fire that criteria into the sun.
Figure out the criteria that allows Edmonton to put a high value on Niki Nikitin—and fire that criteria into the sun.
Make a list of possible mentors for Justin Schultz—someone in their prime—and make that defenseman an offseason target.
Make a list of possible goalies with enough experience and ability to play in front of this team successfully.
Find skilled forwards who make less than $6M a year.
Find the courage to send some of these kids to the AHL next fall.
Leon Draisaitl zurück in der WHL. Wie er zurückkommen will? http://t.co/fG35Rdmexm pic.twitter.com/qr6Bgbj4gt

— NHL (@NHL) January 8, 2015
Leon had two assists last night, now 4GP, 3-3-6 on the season with the Kelowna Rockets. Hope he's having fun! (Current NHLE: 82gp, 18-19-37).
PETRY DISHES EVERYWHERE
Jim Matheson: Pro scouts around the league are keeping a very close eye on Oilers defenceman Jeff Petry, even if he's got a minus-20 plus/minus rating now. They see him as a No. 5 rental D-man, at least on a Stanley Cup contender. The Blues are looking for a third-pairing guy. They're not in love with Ian Cole, who is playing with Barret Jackman. Most asked question of scouts? "Are the Oilers going to sign Petry?" Probably not. Source
Matt Henderson: However, as per our source close to situation, when Petry's agent contacted the Oilers to discuss possible negotiations he was told that the club was trying to move him. No contract talks of any nature have happened. Source
One can never be certain of these things—maybe the Oilers talked contract and maybe they're done talking because they are not comfortable with the number that would satisfy Petry—but it's a damn shame from here. The scouts did their job, the development people did theirs, and now another NHL team will get the benefit of all those things. Seems crazy, but here we are. As for the No. 5 slotting, I'd argue that and suspect a winning team like Los Angeles will get him for less than 100 cents on the dollar.
WHEN will the Oilers learn that keeping actual NHL players is a key to winning? How many mid-20's blue are free agents this summer? I count Jeff Petry and Cody Franson, both playing for organizations who haven't won in a long time. Would Dean Lombardi set Petry free? No. This should never have gotten to this point and I do blame Steve Tambellini above all here, with acknowledgement Craig MacTavish needed to get a longer deal last summer.
From earlier this week: Darnell Nurse was instrumental in Canada's gold medal win. Full story- http://t.co/NFjdUIn6G9 pic.twitter.com/mCxEl6501S

— GTHL Hockey (@GTHLHockey) January 11, 2015
Darnell Nurse had a strong night last evening, two assists and +1. He is 22GP, 7-16-23 +8 for the year (NHLE: 82gp, 8-18-26). One of the locks for next season (imo) is Nurse and Oscar Klefbom playing close to 40 minutes a night combined for the 2015-16 Oilers. I suspect they'll be in the top four opening night, along with Justin Schultz. Lordy.
GREATEST TANK BATTLES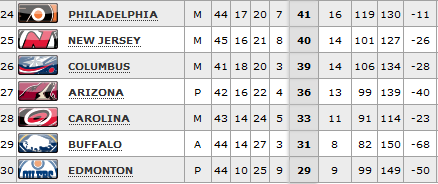 The Oilers 5×5 Corsi for (49.2) and Fenwick all (48.7) for the season still hovers around 50% for the year but we'll soon have enough Nelson games to get a very good look at Eakins—Nelson trending. It's early days (and frankly some of these early games are giving wonky results because of game state) but the last three games Corsi for (all) has been 51% (CHI) 52% (FLA) and 46% (STL). Coach Nelson is 3-3-2 in his eight solo games and his GM gave him a 2C plus a solid checking line (which Eakins had early but it went away a little after Joensuu's drift).
My suspicion is we're going to get to the end of the season and see an improved roster but middling possession results compared to Eakins' run. Dallas Eakins first sojourn into NHL coaching was sewered by goaltending. I'd swear to it in a court of law.
MCKENZIE TALKS HALL
Bob McKenzie:  "Maybe a little bit. I don't think the Edmonton Oilers are committed to trading Taylor Hall. They're certainly not shopping Taylor Hall. But because of the season the Edmonton Oilers have had, they, right to the top, the hierarchy there, they've gone through a real extensive decision-making process. 'Who do we want to keep? Who do we want to move? Do we want to move a core player like Taylor Hall?'
More: "I don't think they've come to a final conclusion on that. But I do believe there are teams calling the Edmonton Oilers saying, 'Hey, would you consider trading Taylor Hall?' And those teams haven't been told, 'Not a chance in the world.'
More: "So at this point in time, they're not fully committed to trading a core player like Taylor Hall, but I think they're at least entertaining the notion of it. My guess is, if it were to happen, it'd be much more likely to happen in the summer than the deadline. But again, not guaranteed that it will happen at all." Source
If the Oilers trade Taylor Hall, it better be for the motherlode. This is beyond the pale, folks. How can you trade your best player in the name of getting better? I've been a fan of bad teams since a kid and they all have one thing in common: They blame failure on the wrong things. How many mirrors are there in the Oilers offices? Answer: Not enough. Not nearly enough.
LOWDOWN WITH LOWETIDE
10 this morning, TSN 1260. Scheduled to appear:
Dennis King. We'll talk Hall, Petry, the long march into madness.
Andrew Bucholtz, 55-yard Line. Eskimos signed a quarterback!
Matt Henderson, Hockeybuzz and Oilers Nation. His confirmation above re: Petry's contract situation will be the main topic.
10-1260 text, @Lowetide_ on twitter. See you on the radio!