This is Ryan Nugent-Hopkins. In speaking to Travis Yost from TSN yesterday, he made the point that Nuge may have reached the point where he is more 'untouchable' than Taylor Hall. I'm not there yet, for me RNH needs to play at this level for awhile longer to be considered established, but it does tell us that:
the changing of the guard may be occurring as we speak
the No. 1 overall picks in 2010 and 2011 were outstanding
Yak not developing is a big damn deal
Free agent goalie Matt O'Connor confirmed on TPS last night that he has heard from half a dozen teams including #Oilers GM Craig MacTavish.

— Guy Flaming (@TPS_Guy) January 16, 2015
The Oilers do win these constests, examples this century include Ty Conklin and more recently Justin Schultz. The resume is terrific and Edmonton's depth chart has to impress this young man (he might cut through it like a knife through butter).
Jack Eichel, USA
I think the Oilers take a center at the draft this season but the the club doesn't have to 'draft for need' as they have most certainly done in the past (I'd suggest 2013 first round was the latest example but there were others).
THE TOP 30 PLAYERS IN THE 2015 DRAFT
(1) C Connor McDavid, Erie Otters (OHL) 22gp, 19-38-57 (2.59)
(2) C Jack Eichel, Boston U (NCAA) 19gp, 10-22-32 (1.68)
(5) R Mitch Marner, London Knights (OHL) 41gp, 33-53-86 (2.10)
(4) C Dylan Strome, Erie Otters (OHL) 42gp, 28-49-77 (1.83)
(3) D Noah Hanifin, Boston College (NCAA) 21gp, 3-9-12 (0.57)
(10) D Oliver Kylington, Farjestad (SHL) 13gp, 3-3-6 (0.46)
(6) D Zach Werenski, Michigan (NCAA). 18gp, 3-12-15 (0.83)
(9) R Mikko Rantanen, TPS Turku (SML). 35gp, 3-11-14 (0.40)
(11) D Ivan Provorov, Brandon Wheat Kings (WHL) 39gp, 11-40-51 (1.31)
(17) Evgeni Svechnikov, Cape Breton Screaming Eagles (QMJHL). 32gp, 16-30-46 (1.44)
(7) C Nick Merkley, Kelowna (WHL). 45gp, 14-50-64 (1.42)
(16) C Jansen Harkins, Prince George Cougars (WHL) 43gp, 13-37-50 (1.16)
(13) C Mathew Barzal, Seattle Thunderbirds (WHL) 16gp, 7-11-18 (1.13)
(8) C Pavel Zacha, Sarnia Sting (OHL) 26gp, 11-12-23 (0.88)
(18) D Jeremy Roy, Sherbrooke Phoenix (QMJHL) 38gp, 5-33-38 (1.00)
(25) C Filip Chlapik, Charlottetown Islanders (QMJHL). 40gp, 19-28-47 (1.18)
(23) C Anthony Beauvillier, Shawinigan Cataractes (QMJHL). 44gp, 30-34-64 (1.45)
(12) R Nikita Korostelev, Sarnia Sting (OHL). 34gp, 16-20-36 (1.06)
(15) R Daniel Sprong, Charlettown Islanders (QMJHL) 44gp, 22-26-48 (1.09)
(26) L Jake Debrusk, Swift Current (WHL). 45gp, 24-21-45 (1.00)
(NR) D Mitchell Vande Sompel, Oshawa (OHL) 36gp, 6-34-40 (1.11)
(14) L Lawson Crouse, Kingston Frontenacs (OHL). 28gp, 14-7-21 (0.75)
(28) R Jens Looke, Brynas (SHL). 31gp, 2-4-6 (0.19)
(20) C Travis Konecny, Ottawa 67's (OHL). 41gp, 19-22-41 (1.00)
(24) D Jakub Zboril, Saint John Seadogs (QMJHL). 33gp, 8-14-22 (0.67)
(19) C Jeremy Bracco, USND (USHL). 9gp, 5-7-12 (1.33)
(21) L Dennis Yan, Shawinigan Cataractes (QMJHL). 35gp, 19-21-40 (1.14)
(29) C Kyle Connor, Youngstown (USHL). 28gp, 12-22-34 (1.21)
(27) L Ryan Gropp, Seattle Thunderbirds (WHL). 39gp, 16-18-34 (0.87)
(30) R Brock Boeser, Waterloo Blackhawks (USHL). 29gp, 19-17-36 (1.24)
Lots of movement this week, owing mostly to more familiarity with these kids and the boxcars starting to separate. There will be more Euro's (KHL, SHL, SML) as we head toward spring and really we have to suss out where men like Crouse and Zacha are going to settle. The math doesn't love them anywhere close to the scouts view, so we have another case to watch as we go through the process. I've been reading on Kylington this week, that's the reason for his spike. I have Marner at No. 3 this week but it's not close to decided in my mind—that might be the worst spot in the draft.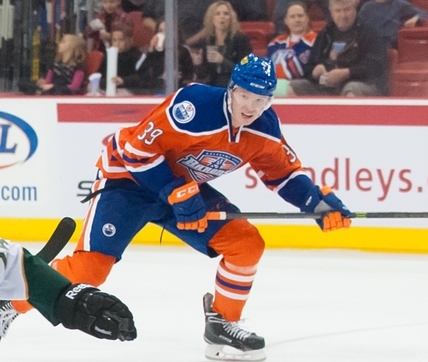 THE CPHL
I've mentioned this so much it must exasperate you but it seems SO wasteful to send unready kids to the AHL from junior and Europe. If these young men aren't in a prominent role by Christmas I have to think the better plan is to have a 'Double-A' league that is best described by the ECHL. OR maybe you run a 'winter league' like baseball, where all the new hires from junior, college and Europe play in an Arizona Fall League to separate themselves good or bad. Here are 2013 draft picks who are currently playing in the AHL:
No. 15 overall Ryan Pulock (NYI) 29gp, 12-5-17
No. 19 overall Kerby Rychel (CBJ) 35gp, 10-13-23
No. 20 overall Anthony Mantha (DET) 25gp, 6-6-12
No. 22 overall Emile Poirier (CAL) 31gp, 12-12-24
No. 24 overall Hunter Shinkaruk (VAN) 36gp, 5-8-13
No. 27 overall Marko Dano (CBJ) 25gp, 8-5-13
No. 30 overall Ryan Hartman (CHI) 39gp, 6-8-14

No. 34 overall Jacob De La Rose (MON) 31gp, 4-2-6

No. 41 overall Robert Hagg (PHI) 30gp, 3-11-14

No. 46 overall Gustav Olofsson (MIN) 1gp, 0-0-0

No. 57 overall William Carrier (STL) 36gp, 3-3-6

No. 64 overall Jonathan Ismael Diaby (NAS) 25gp, 0-0-0

No. 71 overall Connor Crisp (MON) 21gp, 1-1-2

No. 83 overall Bogdan Yakimov (EDM) 33gp, 3-10-13
No. 86 overall Sven Andrighetto (MON) 23gp, 9-9-18
No. 91 overall JC Lipon (WPG) 39gp, 1-10-11

No. 95 overall Felix Girard (NAS) 37gp, 3-5-8

No. 103 overall Justin Auger (LAK) 34gp, 6-10-16
No. 124 overall Kristers Gudlevskis (TB) 19gp, 2.85 .900
No. 146 overall Patrik Bartosak (LAK) 13gp, 2.29 .911
No. 154 overall Henri Ikonen (TB) 37gp, 4-5-9

No. 160 overall Myles Bell (NJD) 2gp, 0-0-0

No. 166 overall Alan Quine (NYI) 36gp, 9-19-28
No. 170 overall Mackenzie Skapski (NYR) 21gp, 2.56 .910
No. 172 overall Antoine Bibeau (TOR) 16gp, 2.44 .919
No. 186 overall Joel Vermin (TB) 34gp, 7-8-15
No. 190 overall Brendan Kichton (WPG) 31gp, 3-7-10
No. 206 overall MacKenzie Weegar (FLA) 19gp, 1-4-5
I'd also suggest a player like Anton Slepyshev might benefit from a few months in a league lower than the AHL. Will this ever happen again? I don't think so. Would it benefit these players? I think it might, meaning a savings of millions for NHL teams. There are a bunch from the 2012 draft too AND a Arizona Fall League or CPHL league would allow teams to sign junior free agents and put them there too.
Here are the original CPHL rules from the mid-sixites:
The NHL developed a second minor league, the CPHL (Central Professional Hockey League). It was a de facto development league. The clubs built all kinds of roster requirements (each club carried only 15 players and 10 of those had to be under 23) in order to fast track the cream of each organization to a higher tier. The result was a much better average in terms of developing young talent, as these kids had somewhere to go once they turned pro. Source
TONIGHT'S GAME
Not much to say, I'm going to enjoy Jeff Petry in his final games as an Oiler and wonder just how bad Martin Marincin must be in OKC (because if he can't play over Nikitin it must be awful).