Well ladies and men, he appears to be unstoppable. 5-4-2 on his own and he hasn't solved the power play yet. When the special teams rhyme and the rhythm section tightens, we may be looking at something very good. Todd Nelson has this bunch believing in themselves mere weeks after they appeared unable to talk and chew gum at the same time. Whatever else he may be, and whatever else he may become, last night showed absolutely Todd Nelson is at least one thing: Coach.
NUUUGGEE!!
Wonderful season, he's really kicking out the jams now. On his way to another 50-point season despite an addled power play, he's basically a taller Dave Keon and hasn't turned 22. The Oilers will have better days during the length of his deal and when they do all those crazy wonderful turnovers and plum passes are going to cash and count for something grand. Of all the players on the roster, it's pretty clear whatever the future brings baby Nuge is going to be a part of it. Funny how things work out, isn't it? I'd still like to see this level of play for awhile before we crown him King but there's simply zero doubt he's splendid. His 23 EV points are inside the league's Top 25 and if Nelson can unlock the power play it'll be music. For now, he's a most deserving All-Star.

 ANTON LANDER, SIX PACES
Remember when we talked about waiting five years for a prospect? Well, maybe there needs to be a line that says "and take away one for every season the Oilers ruin with short sightedness" because it sure bloody looks like our Doug Jarvis is making himself useful. He has now passed 100 NHL games (Scott Cullen's numbers suggest a No. 40 overall selection has a 34% chance of playing 100 games) and he looks good right now, as though he belongs. I'm not smart enough or versed enough in the ways of turning prospects into NHL players but the relationship between coach and player has to be a key element. If there's one thing this season taught me, it's that lesson.
You know what's funny? The relationship Doug Jarvis had with a coach was a key element in his success too. Quoting a December 2009 entry on this blog:
Roger Neilson coached Jarvis in Peterborough when the young center was in junior. When the Habs traded for Jarvis, Neilson got on the phone and called Scotty Bowman to tell him Montreal had just acquired the league's best faceoff man. And he meant the NHL!
Lander has a strange skill set reputation for a young player, kind of all leather no bat. He SHOULD become more useful—improved defensively as he matures and improved offensively as he learns how to remain in the areas where goals are scored without getting hammered every five seconds—as time rolls on. A player can learn to score as he matures, an example being Habs winger Gilles Tremblay (Scotty Bowman: "He didn't have a big scoring touch in junior because he was always interested in backchecking – and that's how he made the Canadiens" Source). It starts with a coach who believes in you.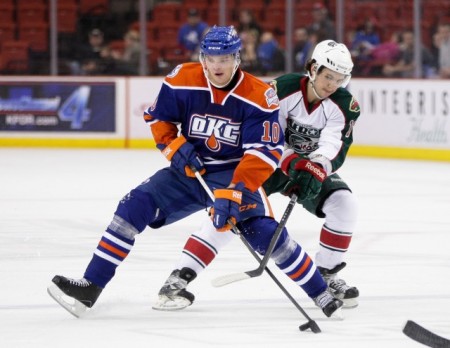 DRAFT TARGETS
Craig MacTavish spoke at length about the draft (including a willingness to trade one of the first rounders) yesterday and there are several items of real interest to me. Over the next while I'll be discussing them, but wanted to begin with this one:
MacT:  "We've realized that we have to do a better job evaluating and procuring talent into our organization. You should be able to get two core members out of every draft and we're below that.  By core members I mean top-six forwards, top-four defencemen, maybe a third-line centre and a goaltender. You have to draft with that philosophy in mind." Source
The last time Edmonton exited a draft with two players who fit MacT's description? 2002, Stoll & Greene. The Oilers are likely to come away with two players who fit the template from 2011 (Nuge & Klefbom)  and possibly 2010 (Hall & Marincin). They are unlikely to get that from the 2012 and 2014 draft but 2013 may provide them with two (Nurse and Yakimov, Slepyshev, Platzer or Chase).
One way Edmonton can absolutely improve today is by using MacT's words to draft ALL of their players. By that I mean " top-six forwards, top-four defencemen, maybe a third-line centre and a goaltender." If we use that as a template, much of what has been drafted during the Stu MacGregor era would not have been selected. Examples would include Troy Hesketh, Cameron Abney, Kyle Bigos, David Musil, Travis Ewanyk and Mitchell Moroz—some of those names are high second-round picks.
The blame fell to the scouts and MacGregor but the reality is this: As MacTavish says in the article, the final say is with the GM. There's no way to know if David Musil was chosen by the scouts and they can't fire Steve Tambellini again, so we have a new world order in which the scouts scout and Bob Green takes the stone tablets to MacTavish, where he makes the final say. If the ONLY thing this exercise does is keep the Oilers from drafting fourth lines and third pairings, then it's worth it.
Oilers' MacTavish willing to deal 2015 draft selection for player farther along http://t.co/gnDk4zuRhM pic.twitter.com/ObrdFRjYqn

— theScore NHL (@theScoreNHL) January 20, 2015
If they end up drafting No. 3 and decide Hanifin and Strome have less value than a (say) trade that brings Couturier here? I'm fine with that but they better be right. I think the Oilers take the pick and I bet the five guys they have on their radar are McDavid, Eichel, Hanifin, Strome and Zacha. Just a guess on my part but if you wrote down 'big center with skill' that's absolutely the focus in my opinion. Hanifin is intriguing but doesn't bring enough offense. If you look at the top 10:
LT 2015 TOP 10
(1) C Connor McDavid, Erie Otters (OHL) 22gp, 19-38-57 (2.59)
(2) C Jack Eichel, Boston U (NCAA) 19gp, 10-22-32 (1.68)
(5) R Mitch Marner, London Knights (OHL) 41gp, 33-53-86 (2.10)
(4) C Dylan Strome, Erie Otters (OHL) 42gp, 28-49-77 (1.83)
(3) D Noah Hanifin, Boston College (NCAA) 21gp, 3-9-12 (0.57)
(10) D Oliver Kylington, Farjestad (SHL) 13gp, 3-3-6 (0.46)
(6) D Zach Werenski, Michigan (NCAA). 18gp, 3-12-15 (0.83)
(9) R Mikko Rantanen, TPS Turku (SML). 35gp, 3-11-14 (0.40)
(11) D Ivan Provorov, Brandon Wheat Kings (WHL) 39gp, 11-40-51 (1.31)
(17) Evgeni Svechnikov, Cape Breton Screaming Eagles (QMJHL). 32gp, 16-30-46 (1.44)
 I can't see Edmonton taking Marner or Werenski. No sir. It's McDavid, Eichel, Hanifin, Strome, Zacha, maybe Kylington. That's my bet. And if they finish No. 28 overall and the No. 27 team wins the lottery? We may have to talk about Lawson Crouse.
OILERS LAST 10 GAMES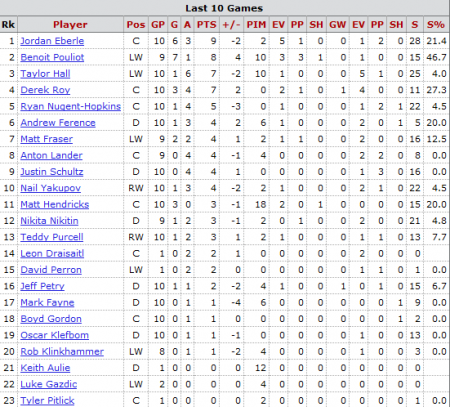 For all the talk of Taylor Hall's slump he still has seven points in his last 10 games and the 4% shooting percentage will turn. Nuge isn't scoring much either lately he's at 4.5% along with Nail Yakupov. They're all over 20 shots during the 10 games so that's a good sign. If they keep doing that, we should see better results. Man it's nice to see Jordan Eberle cash some and Benoit Pouliot is riding a 46% shooting percentage. Not bad, not bad. It's an absolute delight to see Lander among the top 9 scorers and if Matt Fraser can score two every 10 he'll have a career. The defensemen don't have any -7's over the last 10 and for me Niki Nikitin appears to be settling in a little. Lordy that would be a big damn deal if the Russian started helping.
LOWDOWN WITH LOWETIDE
10 this morning, TSN 1260. Scheduled to appear:
Bruce McCurdy, Cult of Hockey at the Edmonton Journal. Is Todd Nelson a witch?
Nathan Dempsey, Campus Director Vimy Hockey. All-stars and moving up the depth chart.
Andrew Bucholtz, 55-Yard Line. Lots of CFL happenings, including coach of the year.
Rob Soria, The Hockey Writers. Can the rebuild be saved, and Australian Open.
              10-1260 text, @Lowetide_ on twitter.  
Const. David Matthew Wynn, 42, has died, confirm #RCMP #StAlbert pic.twitter.com/9cAOAMwvCh — St. Albert Gazette (@stalbertgazette) January 21, 2015
RIP Mr. Wynn. Thank you for your service and your sacrifice.