Our long national nightmare is almost over as our beloved game is returned from the depths of boredom. We're in a really exciting time now with the trade deadline in sight and callups on the way. Oilers fans are all too familiar with this time of year but there are good things on the way.
Todd Nelson says he expects Hall in the lineup tomorrow after leaving practice early today. #Oilers

— Chris Wescott (@TheChrisWescott) January 26, 2015
It was all over twitter today, Hall's tweak and the worry, but things seem to be fine now. We talked about him on the weekend, and the gap before and after the injury is very stark:
Boxcars before injury: 11gp, 6-4-10 (.909)
Boxcars after injury: 30gp, 5-14-19 (.633)
Shooting Percentage before injury: 16.67 (6 goals on 36 shots)
Shooting Percentage after injury:  5.7 (5 goals on 87 shots)
      He did seem to have a little more torque just before the break, here's hoping Chance returns and Edmonton can make a nice run here in the second half. That top line is going to need many nights of multiple points if this team has any chance to approach 25 wins this season.
THE SCHEDULE
Tuesday: Home to the Wild. Minnesota is 2-6-2 in their last 10 and Edmonton is 4-4-2 in the same time frame. Devan Dubnyk will play for Minnesota, Zach Parise has 19 goals and Edmonton's scoring leaders have 12 (Nuge and Eberle).
Thursday: Home to the Sabres. If Edmonton wins this game I think we can safely say they'll need a lottery win to secure McDavid. The Oilers can trade Petry and three more and not approach the pure horribleness of Buffalo's roster. I can't imagine how much damage MacT would have to inflict on this roster to get them below the Sabres.
Saturday: At Calgary. It would be very nice to win the game and have our kids outplay their youngsters. I haven't really had expectations of an Oilers—Flames tilt since the night Sutter was new and Savard scored the only goal in a 1-0 win. That was 15 years ago.
Expected record: 1-1-1.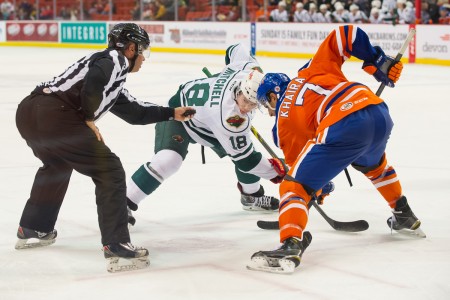 THE TRANSACTIONS
This could come at any time but trades (Petry, etc) and injury may mean recalls to Edmonton from Oklahoma City. It's interesting to see the group of players who have scored well in the last five games before AS break:
Iiro Pakarinen 4-2-6
Bogdan Yakimov 3-1-4
Andrew Miller 2-2-4
Curtis Hamilton 1-2-3
Kellen Jones 1-2-3
Brad Hunt 1-2-3
Martin Marincin 0-3-3
Jujhar Khaira 1-1-2
David Musil 0-2-2
The recall of Anton Lander opened up an opportunity for Yakimov (and Khaira), I'm thinking a Pakarinen callup might help a winger like Josh Winquist (who is injured) or the Jones' boys. As discussed this morning, it looks like the organization sees Brandon Davidson, Dillon Simpson and Jordan Oesterle as the likely recall options, but Hunt and Marincin have been posting crooked numbers in the last five games. It's a nice problem to have, all these prospects.
Hearing AHL California announcement Friday. Edmonton Oilers relocate in Bakersfield. Condors keep name. Adopt Oiler colors. — Terry Jones (@sunterryjones) January 26, 2015
Well, we knew it was coming, doesn't make it fun. I'll speak with Eric Rodgers about the move and this year's Barons tomorrow on the Lowdown. This year's Barons may be the most exciting in terms of future, guys like Pakarinen may be a revelation. You can expect a large increase in Buck Owens references, and we say goodbye to Joe Ely and that wonderful music from Oklahoma.
Strike the Oilers off the list of teams that might have interest in Mike Richards. A simple "No" was the answer to the question about MR.

— John Shannon (@JSportsnet) January 26, 2015
Makes sense, he's just too risky with that contract. Richards was a terrific player but he is no longer that player. Dean Lombardi is (I think) the smartest GM in the league but he'd have to be Pollock to make this fly. Now watch, Richards will get claimed tomorrow. By Ed Snider!