The Edmonton Oilers can dip into the draft pool during the final 33 games of the season by simply getting Nail Yakupov straightened out. I think it's reasonable to suggest Todd Nelson could secure an NHL head coaching job by doing it and we saw flashes of a breakout last game. It's there, it's in the ether. Watching Nail right now is like watching a mannish boy find his way in life: Frustration after frustration followed by small, painful growth. All you're really looking for is a spark and youth, determination and skill should light the way. You need that spark.
WHAT WOULD 32 GOOD GAMES LOOK LIKE?
Let's have a quick look at what Nail's been doing so far in his NHL career:
Boxcars per 82gp based on career previous to this season: 21-20-41
Boxcars this season: 48gp, 5-7-12
Expected boxcars remainder of season based on previous career numbers: 33gp, 9-8-17
Expected boxcars based on this year's numbers: 33gp, 3-5-8
We don't have TOI but he appears to be getting reasonable minutes and remember there's some urgency to get him turning north. I'm going to peg it at 17 points the rest of the season, giving Nail 29 for the year. That's his average for the previous seasons and there's no doubt it would show recovery. Is that enough? If Nail ends the season with 81gp, 14-15-29 totals, is that enough to save him? Or is he off to Montreal in a deal for Lars Eller and Dustin Tokarski?
MACTAVISH'S PROCUREMENT RECORD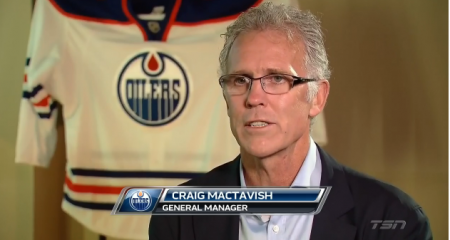 Interesting conversation yesterday morning on the blog, I was in at the beginning but couldn't get back to it because of the radio show. It revolved around my assertion that MacTavish could find another Boyd Gordon in the summer and that the club might consider trading him at the deadline. There are two main points I'd like to make:
MacT's veteran additions (Gordon, Perron for 1.5 years, Hendricks, Pouliot, Roy, Klinkhammer) at forward have been very good. I think we can trust him to repeat that transaction over and over again.
You don't trade Gordon if the plan is to push for the playoffs in 2015-16. You're more likely to look at trading Yakupov to Montreal for Eller and Tokarski, though.
I don't think the Oilers have been good (for years) in procuring defensemen (Ference, Nikitin, even Fayne a little) via free agency. For that reason, my expectation is they'll trade for a Phaneuf, Weber or Seabrook this summer.
I like the bet MacT made in goal (Scrivens, Fasth) but don't expect he'll take a chance like that again. A Tokarski or Lehner addition could happen at the low end and Antti Niemi is the player type at the high end.
Anyway, MacT has a growing reputation of being able to identify solid veteran forwards. I'd suggest his only blind spot there was Leon Draisaitl and it ended up costing his coach in a big way. I don't think that mistake will happen again. I have far less confidence in MacT than one year ago and he may never be a good GM. I think he's a very smart man who has probably learned a lot this year.
WHAT A DIFFERENCE A DAY MAKES!

On December 29 (above) the Oilers are the No. 30 team overall, seven wins and Dallas Eakins is gone baby gone. Worst goal differential in the league and only Carolina is in sight. On that morning, you would have given Edmonton a very good chance at McEichel.

On January 29 (above) we see the impact of the 5-5-2 run under Todd Nelson. The team is -3 in those games, miles better than the first 36 games and have scored 34-37 under the new coach (2.83-3.08). Previous to Nelson's arrival those numbers were 2.11-3.42, so despite a downward trend in the possession numbers Edmonton is getting better scoreboard results. The Sabres? Since December 29 they are 0-12-0 and have a goal differential of 17-54. If Taylor Hall can walk, he'll want to play.
The #Oilers are moving their #AHL team to Bakersfield, CA, announcement coming today. I break it down here: http://t.co/rutJQLOnr6 #yeg

— Alex Thomas (@Alex_Thomas14) January 29, 2015
I think the main reason Oilers fans should be happy about this move had to do with prospect development. In OKC, there was pressure to win games and if you give a good coach veterans he's going to play them. In 2011-12, the rookie seasons for Tyler Pitlick, Curtis Hamilton and others, the Barons ran with so many veterans the mind boggles. Yann Danis (30) in goal, Bryan Helmer (39) and Bryan Rodney (27) on defense and forwards Josh Green (33), Ryan Keller (27) and Tristan Grant (27) all took significant at-bats away from prospects. As well, players sent down (Lenny Petrell, Gilbert Brule) also impacted things.
In fairness, Craig MacTavish has already changed much in this area. To compare, let's look at  a successful NHL team. This season, the Detroit Red Wings 20-year old kids are all getting their minor league at-bats:
Anthony Mantha 30gp, 6-7-13
Andreas Athanasiou 25gp, 7-9-16
Martin Frk 9gp, 1-0-1 (and then 22gp, 15-12-27 in ECHL)
Notice that Frk, a highly-touted prospect on draft day, struggled in the AHL for playing time so was sent to the ECHL. Let's look at the 20-year old Barons:
Bogdan Yakimov 38gp, 6-11-17
Josh Winquist 16gp, 4-4-8  (after going 18gp, 5-18-23 in ECHL)
Jujhar Khaira 38gp, 5-2-7
Mitchell Moroz 33gp, 0-3-3
Moroz should be in the ECHL—not to humiliate but to develop—but after that I think we can be satisfied the current system under MacT is allowing enough at-bats for everyone. It's an important item, I do believe Oilers kids were squeezed in the past and it impacted their development. It's also interesting to see that Yakimov is in the range with the two quality kids in the Wings system. Winquist could be an exceptional find, well done Bob Green. The emphasis on prospect development should only improve in Bakersfield.
LOWDOWN WITH LOWETIDE
Interesting lineup today, I can't wait for this one. TSN1260 at 10, scheduled to appear:
Dennis King will discuss the Oilers—Sabres and Super Bowl weekend. We'll try to find time to make a list of blue for MacT, including Weber and Seabrook.
Brian King, NonStop Sports Picks. We'll talk Super Bowl and CFL offseason.
Paul Brown, 100.3 The Bear. Legendary broadcaster drops in to discuss his career and his love of sports. Epic!
Corey Graham, TSN1260. Oil Kings won last night against Kelowna. We'll chat Leon, Jarry and the playoffs.
10-1260 text, @Lowetide_ on twitter and make sure to follow @Lieutenant_Eric because he's cool. See you on the radio!