The Edmonton Oilers' scouts have been taking a beating since Bob Nicholson appeared on Toronto radio and delivered blows upon them. Maybe the 'overnight sensation' that Anton Lander is becoming will give later picks—Pitlick, Marincin, Hamilton—some cover and allow them to develop. For a fan base that talks a lot about the Detroit system, surely we can recognize Lander as an absolute comparable to the Holland tunnel.
| | | | | | |
| --- | --- | --- | --- | --- | --- |
| PLAYER | BOXCARS | CORSI FOR % | OZ STARTS | 5X5 PER 60 | 5×4 PER 60 |
| ANTON LANDER | 12gp, 1-6-7 | 46.2 | 45.9 | 2.30 | 5.33 |
That's some pretty nice hockeying there, Anton Lander. Keep it up! The MacGregor era second-round picks (Lander, Pitlick, Marincin, Musil, Moroz, Roy) may have one success if Lander can sustain his fine work this season. Scott Cullen's work suggests a second-round selection has a 28% chance of success (success=100 NHL games), meaning Edmonton should get 1.68 players out of the MacGregor six when all is said and done. The Oilers will probably fire MacGregor into the sun over the summer (along with the scouts) but the Nicholson verbal assaulted the wrong era of Oilers drafts. 2007 men, and the years around it. That's where to start the shooting and Kevin Prendergast hasn't been near a draft table since.
ON NOW: Bob McKenzie's Mid-Season Draft Ranking on TSN1 pic.twitter.com/zRzR5PMSFA

— TSN (@TSN_Sports) January 30, 2015
McKenzie list is the draft Bible and his midseason edition scrolled out last night on TSN. Let's have a look at the 60 names and view the  names through an Oilers lens. Edmonton's picks this morning are No. 2, No. 23 and No. 32.
MCKENZIE'S LIST
C Connor McDavid. Actual Jesus.
C Jake Eichel. Franchise player.
D Noah Hanifin. Complete skill set, just turned 18. New Pietrangelo?
C Dylan Strome. Exceptional offensive player, the good Strome and the other guy is terrific.
R Mitch Marner. Elite offensive player in junior, listed as a RW.
L Lawson Crouse. Two-way winger, he'll need to be Gainey in order to cover this bet.
C Pavel Zacha. Big, fast, strong. Hasn't displayed the skill to be taken this high, especially in this draft.
D Zach Werenski. May be hurt or helped by similarity to Hanifin. The better offensive player of the two.
R Mikko Rantanen. Big, strong power winger whose offense is perhaps a little shy.
C Mathew Barzal. Gifted C just back from injury, he's going to have to catch up to the pace.
D Oliver Kylington. Wonderful range of skills, could be best defender in the draft.
D Ivan Provorov. Considerable evidence he'll be the best offensive defenseman in the draft.
C Kyle Connor. I'd be leery of taking a USHL player here.
L Paul Bittner. Big two-way winger, I like him but not this much.
R Travis Konecny. Coming alive after slow start, highly skilled.
D Jakub Zboril. A puck-moving defender with size.
D Brando Carlo. Huge defenseman with some skill. A trending player.
C Colin White. Skill center hasn't played much.
C Nick Merkley. Powerful skater with plus playmaking ability. This is too low by plenty.
R Timo Meier. Exceptional prospect, very good offensive player in junior.
R Evgeny Svechnikov. Major skill, size, speed.
L Jordan Greenway. Huge winger with some skill. Way too high here based on math.
D Erik Cernak. I don't know much about him. 6.03, 203.
C Filip Chlapik. Impressive young player, very creative.
D Jeremy Roy. Quality two-way defender. Smart player.
R Brock Boeser. Appears to be a talented tank.
D Thomas Chabot. Terrific skater.
L Jake DeBrusk. Skilled winger, he's having an excellent run.
C Jeremy Bracco. NO idea why this small skill center isn't getting more attention.
C Nicholas Roy. Tall, rangy playmaker who can play center or wing.
LOWETIDE LIST (McKenzie's No. in brackets)
(1) C Connor McDavid, Erie Otters (OHL)

(2) C Jack Eichel, Boston U (NCAA)

(5) C Mitch Marner, London Knights (OHL)

(3) D Noah Hanifin, Boston College (NCAA)

(4) C Dylan Strome, Erie Otters (OHL)

(11) D Oliver Kylington, Farjestad (SHL)

(8) D Zach Werenski, Michigan (NCAA).
(9) R Mikko Rantanen, TPS Turku (SML). 
(12) D Ivan Provorov, Brandon Wheat Kings (WHL)
(10) C Nick Merkley, Kelowna (WHL).
(21) L Evgeni Svechnikov, Cape Breton (QMJHL).
(29) D Jeremy Roy, Sherbrooke Phoenix (QMJHL)
(58) C Anthony Beauvillier, Shawinigan Cataractes (QMJHL).
(7) C Pavel Zacha, Sarnia Sting (OHL)
(6) L Lawson Crouse, Kingston Frontenacs (OHL).
(31) C Jansen Harkins, Prince George Cougars (WHL)
(10) C Mathew Barzal, Seattle Thunderbirds (WHL)
(24) C Filip Chlapik, Charlottetown Islanders (QMJHL).
(32) R Daniel Sprong, Charlettown Islanders (QMJHL)
(20) R Timo Meier, Halifax Mooseheads (QMJHL).
(40) R Nikita Korostelev, Sarnia Sting (OHL)
(15) C Travis Konecny, Ottawa 67's (OHL).
(28) L Jake Debrusk, Swift Current (WHL).
(NR) D Mitchell Vande Sompel, Oshawa (OHL) 
(52) L Dennis Yan, Shawinigan Cataractes (QMJHL).
(38) R Jens Looke, Brynas (SHL).
(16) D Jakub Zboril, Saint John Seadogs (QMJHL).
(29) C Jeremy Bracco, USND (USHL).
(13) C Kyle Connor, Youngstown (USHL).
(56) L Ryan Gropp, Seattle Thunderbirds (WHL).
Using the McKenzie numbers (and my list), Edmonton should see the following players as 'best available' when they select:
No. 2: Franchise center Jack Eichel.
No. 23: Intelligent two-way defender Jeremy Roy.
No. 32: Brilliant offensive center Anthony Beauvillier.
I'd predict Edmonton drafts:
No. 2: Jack Eichel
No. 23: Paul Bittner
No. 32: Mackenzie Blackwood
In a perfect world Edmonton selects:
No. 2: Jack Eichel
No. 23: Timo Meier
No. 32: Jake Debrusk
We wait.
LAST 10 GAMES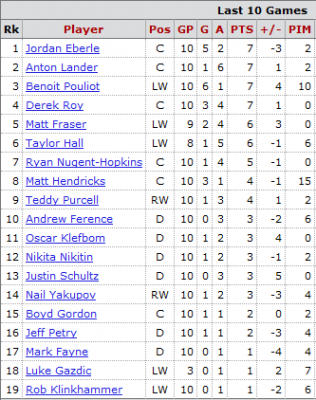 The great thing about this? Some real depth in offense. I know the numbers above come after a win against Buffalo but there are seven forwards here scoring at .500/game or above. There are 28 goals (2.80 per game) and the same number against in that time. Don't look now but Klefbom—Schultz may actually be a thing.
REPLACING NIKI
Based on verbal coming from management, I'd say any of Brandon Davidson, Jordan Oesterle or Dillon Simpson could get the call. Keith Aulie may play in front of them (Nelson seems quite traditional in end-of-roster management so far) and of course there's whipping boy Martin Marincin also in photo. The fact Edmonton suits haven't mentioned David Musil and Martin Gernat is a tell, and somewhere on the planet Frank Musil is no doubt fuming.
I'll say Davidson gets the call and be shocked when they send out the press release telling us Chris Hajt has been activated. Dylan Olsen is also a (distant) possibility.
LOWDOWN WITH LOWETIDE
Stellar show to end the week! TSN 1260, 10 this morning:
Steve Lansky, Big Mouth Sports. Leafs falling, Super Bowl.
Guy Flaming, Leon's play and McKenzie's list.
Jeff Hauser, Radio Hauser and Super Bowl.
10-1260 text, @Lowetide_ on twitter. Talk soon!