Don't look now but there are signs of chemistry between Justin Schultz and Oscar Klefbom, they may end up being a pairing next season. Coach Nelson may feel he can run that pairing with a veteran duo (Ference/Fayne or Nikitin/Fayne) and then a third pairing that might be Darnell Nurse/Nikitin. I know, I know, they could always trade for Shea Weber but failing another Pronger deal, it seems to me spending money on a free agent this summer would be lunacy.
LOWETIDE TOP 30 PLAYERS IN THE 2015 DRAFT
(1)C Connor McDavid, Erie Otters (OHL) Brock Otten: Everyone knows about his offensive talents (elite speed and vision), his overall game has improved.
(2)C Jack Eichel, Boston U (NCAA) Scout: "But off the rush, I would say Eichel's is better. That's where he can be the most dangerous."
(4)D Noah Hanifin, Boston College (NCAA) Scout: "W

orld-class wheels, elite offensive skills and can run a power play.

"



(5)C Dylan Strome, Erie Otters (OHL) Brock Otten: Strome is the prototypical 2015 NHL centerman. Big, strong, and skilled.
(3)R Mitch Marner, London Knights (OHL) Brock Otten:  His play with London has been absolutely exceptional the last few months.
(6) D Oliver Kylington, Farjestad (SHL) Goran Stubb, Central Scouting: "He's a mobile, good, two-way defenseman with excellent skating ability. He loves to join the rush and plays a solid positional game in the defensive zone; he makes a good first pass."
(7) D Zach Werenski, Michigan (NCAA). He makes good decisions with the puck as well as reading plays defensively. He skates well, is collected with puck, and able to make solid outlet passes.
(9) D Ivan Provorov, Brandon Wheat Kings (WHL) Cody Nickolet: He's smart, he skates well, he moves the puck hard and accurately and he can play in any situation you put him in. Think of a guy like Mark Giordano.
(8) R Mikko Rantanen, TPS Turku (SML). Rantanen is a combination of elite-level hockey sense, silky smooth hands, and nimble skating. EP

(10) C Nick Merkley, Kelowna (WHL). Cody Nickolet: Merkley brings a number of attributes to the table including a second-to-none playmaking skillset among WHL draft-eligibles. Along with that he has a smooth but powerful skating stride and the ability to slow the game down.
(11) L Evgeni Svechnikov, Cape Breton (QMJHL). Incredibly skilled offensive winger. Has a remarkably accurate shot to go along with some magic hands.EP

(12) D Jeremy Roy, Sherbrooke Phoenix (QMJHL) Intelligent defenceman that plays high-percentage hockey and is a catalyst for positive plays in all three zones. EP

(17) C Mathew Barzal, Seattle Thunderbirds (WHL) Cody Nickolet: Barzal has 4 assists tonight and it's only in the 2nd. Has generated plenty of chances since his return, teammates finishing tonight.

(13) C Anthony Beauvillier, Shawinigan Cataractes (QMJHL). A dynamic scoring center with good hockey sense. Not very large in stature, but makes up for it in speed, skill, and cunning. EP

(14) C Pavel Zacha, Sarnia Sting (OHL) Brock Otten: With his size, speed, and desire to involve himself physically, he impacts the game in so many different ways.
(20) R Timo Meier, Halifax Mooseheads (QMJHL). A physically dominant winger with the ability to play in a skill or character role. EP

(19) R Daniel Sprong, Charlettown Islanders (QMJHL) A prolific scoring winger who possesses an elite-level skillset: has dynamic skating ability, is a creative passer, and has incredible puckhandling ability.EP
(22) C Travis Konecny, Ottawa 67's (OHL). Brock Otten: a solid two-way forward who competes hard without the puck. Konecny's speed is his best asset, as he's able to transition quickly.
(15) L Lawson Crouse, Kingston Frontenacs (OHL). Brock Otten: His two-way game is incredibly polished and he makes so many plays (whether it be a good pass, a forced turnover, a check to separate his man from the puck) that don't make it on the score sheet.
(16) C Jansen Harkins, Prince George Cougars (WHL) Cody Nickolet: Harkins is the smartest WHL player in the draft from a hockey sense perspective, displaying great positioning and work ethic, projecting as a guy who can fill a wide array of roles at the next level.
(18) C Filip Chlapik, Charlottetown Islanders (QMJHL). Tall, lean playmaker with a lot of skill.
(23) L Jake Debrusk, Swift Current (WHL). Cody Nickolet: has a good frame, has power to his skating game, shows creative puck distribution skill while also possessing a goal-scorers mentality.
(24) D Mitchell Vande Sompel, Oshawa (OHL) Brock Otten: Whether it be in transition, or on the power play, Vande Sompel's head for the game in the offensive end is on display.
(26) R Jens Looke, Brynas (SHL). Skilled winger, solid at WJ's.

(27) D Jakub Zboril, Saint John Seadogs (QMJHL). Puck-moving defenseman with plenty of jump. EP
(21) R Nikita Korostelev, Sarnia Sting (OHL). Brock Otten: If he were to improve his speed, he could be scary good. He's got a terrific shot and massive goal scoring potential at the next level.
(28) C Jeremy Bracco, USND (USHL). Undersized scorer. 
(29) C Kyle Connor, Youngstown (USHL). Skill center ranked high on BM's list.
(NR) R Roope Hintz, Ilves (SML) A highly intelligent Finn who can play the role of scorer or playmaker; has killer instincts and a keen eye for scoring opportunities. Very high hockey-IQ and has incredible awareness on the ice. EP.
(NR) R Brock Boeser, Waterloo (USHL). A dynamic offensive winger and natural goal scorer. Has great instincts and is able to quickly get into position for premium scoring chances.
I think the Oilers will pass Arizona and Carolina eventually, Buffalo will win the lottery and the draft will go like this:
Buffalo—Connor McDavid
Arizona—Jack Eichel
Carolina—Noah Hanifin
Edmonton—Dylan Strome
I'm fine with that, especially if the Oilers can grab a pile of luck at No. 23 (Beauvillier or Meier) and No. 32 (Debrusk or Vande Sompel). This draft could sustain Edmonton through 2030 if they get it right. Get it right!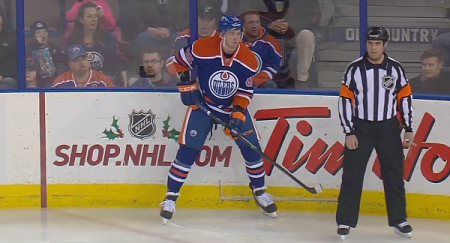 NIKITA IS THE OTHER SIDE OF ANY GIVEN LINE IN TIME
Niki Nikitin's best hockey of the season came right before the injury that looked like (and looks like) a season ender. As for replacements, my guess is Brandon Davidson and my hope is Martin Marincin but for tonight Keith Aulie draws in. The Oilers will recall someone, probably today. MacT gets stubborn on guys, Marincin may be headed out ala Theo Peckham.
BEAT CALGARY
There was a time in this fair land when the railroad did not run and the Calgary Flames lost consistently to the Edmonton Oilers. October 3, 20o1 and Marc Savard scored the only goal for an up and coming Flames outfit and lordy it's been reversed since that day. If you look at the rosters there's no screaming hell the other way but Calgary found a way. Todd Nelson can do himself an enormous favor by becoming known as the guy who turned around that damn Oilers—Flames rivalry. Starting tonight, please and thank you!
JUNIOR JUNIOR
Leon Draisaitl is now 10gp, 5-10-15 in junior.
Zach Nagelvoort has his SP up to .910 after some fine goalering last and this weekend.
Tyler Vesel appears to be an actual prospect.
Greg Chase is enjoying his time with the Victoria Royals.
Curtis Hamilton is playing the best hockey of his pro career and I'd love to see him recalled. Those two-way types have value. He's about the same age now as Fernando Pisani was when entering pro hockey. I'm not saying he's Pisani but he's used his last chance Texaco pretty well this season. Is what I'm saying.