The one great thing about being an Oilers fan is there's always a trade coming around the corner. Craig MacTavish started his GM career having fun, fun, fun but has slowed since Bob Nicholson took the T-Bird away (Bob Nicholson took the T-Bird away). I expect we'll see some real activity in the coming weeks and one of the key indicators for Edmonton is a road trip. After tonight, the town team travels to Toronto, Newark, Long Island, Montreal, Ottawa and Winnipeg.
DEAL OR NO DEAL
| | | |
| --- | --- | --- |
| PLAYER | % | RETURN |
| JEFF PETRY | 90 | 3RD RD PICK |
| VIKTOR FASTH | 75 | 5TH RD PICK |
| DEREK ROY | 70 | 4TH RD PICK |
| ROB KLINKHAMMER | 30 | 6TH RD PICK |
| BOYD GORDON | 20 | 2ND RD PICK |
| MATT HENDRICKS | 20 | 3RD RD PICK |
TSN did this last night so I thought it might be cool to post this and then tweak as we get closer. I'm not suggesting the Oilers trade Gordon or Hendricks (or Klinkhammer) but if any overpay is out there, well, if the value is there MacT will have to consider it. AND I'm not saying Gordon should be moved for a second-round pick, that's an estimate (as they all are) of current return. Settle down, for Gord sakes. I expect we'll see two deals for sure—Petry and Fasth—with Roy also possible. I haven't listed Andrew Ference despite rumors because I don't believe it. If the LA KIngs trade today for Jeff Petry it wouldn't surprise me at all. Hell, we might get to see Luke Gazdic play defense! That's a MacT move from a dozen years ago.
Pelaajakoordinaattori Matti Virmanen mediateamin haastattelussa. Kohta starttaa Nuorten turnaus! #VaasanSport #Liiga pic.twitter.com/oGlAkEIZZi

— Vaasan Sport (@VaasanSport) January 9, 2015
THE MATTI VIRMANEN FAN CLUB
Matti Virmanen's draft bets—Samu Perhonen, Frans Tuohimaa—and his free agent bets—Anton Belov, Jesse Joensuu, Iiro Pakarinen, Lenny Petrell—may not seem like an enormous contribution to the cause. Then again, it only takes one and that one may be Pakarinen. The Oilers haven't (that I can see) spent too many bullets in Finland and they don't have any home runs. Pakarinen might be the one, though. He's clearly talented enough to be a complete player in the AHL and next step is NHL. The Oilers have some nice things in the minors—Martin Marincin, Bogdan Yakimov, Dillon Simpson—and adding a free agent Finn who can make the grade is a very nice item.
HAVE YOU EVER NOTICED?
Watch something long enough and you see patterns develop. One of MacT's traits as a coach was complete indifference to draft pedigree. During his time as coach, the first round picks (Rita, Mikhnov, Hemsky, Niinimaki, Pouliot, Dubnyk, Schremp, Cogliano, Gagner, Plante, Eberle) didn't have any edge over the depth guys. His best players (Pisani, Horcoff, Chimera, Stoll, Greene, Brodziak) came outside Round 1.
What does that mean for the current group? Well I'd guess that Bogdan Yakimov, Jujhar Khaira and Greg Chase probably have a better than normal chance at making it. Craig MacTavish cheers for the underdog, to a fault. That's one reason I think Brandon Davidson has as good a chance as Martin Marincin in this organization.
LAST 10 GAMES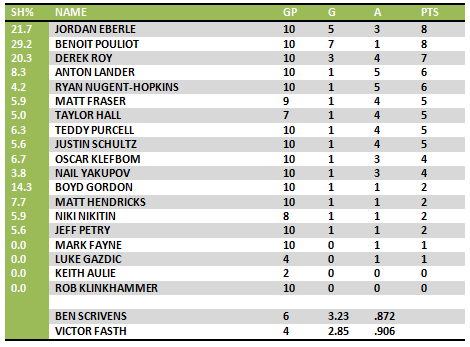 Several forwards are sky high in the shooting percentage (Eberle, Pouliot, Roy, Gordon a little bit) and of course many are too low based on their established levels (Hall, Nuge, Nail). So much of this road trip depends on what we hear about Hall and Pouliot this morning. If both are injured, and Pakarinen plus Gazdic play tonight, what will the lines look like? I think Yakupov might be your 1L. Viktor Fasth has been outplaying Ben Scrivens of late, his trade value is improved (is my guess). I don't know that the Oilers win tonight, but stopping Todd Nelson is proving to be harder than most NHL teams think it will be—it may be his death stare. Jesus Lord the man can look intimidating. I suspect he'll wear a leather jacket with a switchblade logo should the team every make the playoffs.
BLOG: #Oilers collegiate prospect Joey LaLeggia named NCHC co-player of the month>> http://t.co/7nm96L0suj

— Chris Wescott (@TheChrisWescott) February 4, 2015
Oilers have a very interesting prospect here, I hope they sign him and put him in Bakersfield. Laleggia should be a PP demon and could eventually make the show on that one item alone. Is he better at that discipline than Brad Hunt? Hunt is 31, 3-10-13 on the power play this season, Laleggia is 24, 3-3-6.  Hunt has 97 shots this season, Laleggia 89 (in 7 fewer games). Hopefully we get to compare both next season in California.
LOWDOWN WITH LOWETIDE
A busy show with a range of topics. This morning, 10, TSN1260.
Bruce McCurdy, Cult of Hockey. Is Klefbom—Schultz real, Is Todd Nelson the Fonz?
Ask the Coach with Dan Auchenberg of Vimy Hockey. Basic skills and their supreme importance.
Andrew Bucholtz, 55-Yard Line. NFL raids impacting CFL free agency.
Jeff Krushell, Krush Performance. 10 days (or so) to pitchers and catchers!
10-1260 text, @Lowetide_ on twitter. Talk soon!